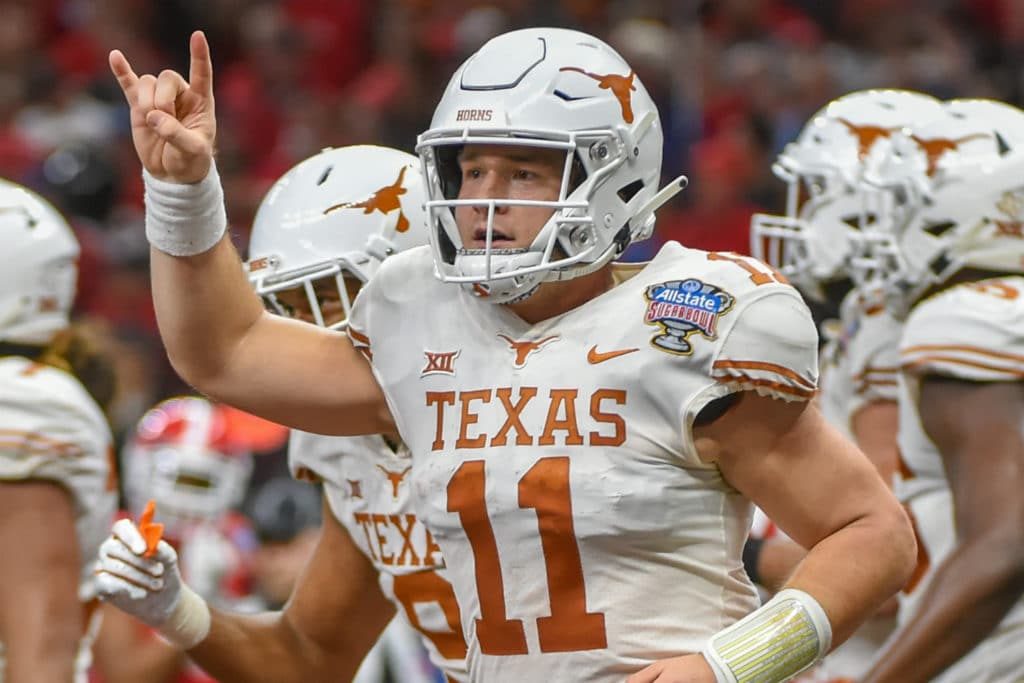 Despite having many heavily flawed teams, the Big 12 has proven to be one of the more intriguing Power 5 conferences in recent years. Even if most of these teams don't know the definition of defense, it won't stop them from going after the chance to play for a conference championship in December at AT&T Stadium. Bring out the candidates!
Big 12 Projected Final Standings:
Oklahoma: 8-1 (11-1)
Texas: 7-2 (10-2)
Baylor: 6-3 (9-3)
Texas Tech: 6-3 (9-3)
Iowa State: 6-3 (8-4)
Oklahoma State: 5-4 (8-4)
TCU: 4-5 (7-5)
Kansas State: 1-8 (3-9)
West Virginia: 1-8 (2-10)
Kansas: 1-8 (3-9)
Oklahoma
Just when you thought the Sooners were done trotting out elite quarterbacks, along comes Jalen Hurts to prove you wrong. The fourth-year transfer from Alabama isn't as much of a passing threat as either of his previous two predecessors, but Lincoln Riley is more than capable of chiseling an offense to fit his skillset. He'll have wide receivers CeeDee Lamb, Lee Morris and tight end Grant Calcaterra to look for on the perimeter with Jadon Hasselwood hoping to make an immediate impact. Trey Sermon and Kennedy Brooks will hope to put up great numbers on the ground once again. Meanwhile, linebackers Kenneth Murray and Ronnie Perkins face the task of stopping the other nine Big 12 offenses. 
Offensive MVP: Jalen Hurts
Defensive MVP: Kenneth Murray
Texas
Throughout last season, the Longhorns were defined by three words; 1. Texas 2. Is       3. Back. There's plenty of reason to think such a narrative will carry into 2019l. Sam Ehlinger is a legitimate dual-threat quarterback, as his 41 total touchdowns would tell you. He'll have Keaontay Ingram in the backfield with Collin Johnson and Devin Duvernay on the perimeter. The defense loses some fire power, but Anthony Wheeler hopes to lead a young unit, which includes safety B.J. Foster, to a conference title.
Offensive MVP: Sam Ehlinger
Defensive MVP: Anthony Wheeler
Baylor
Though they're not nearly at the level they were under Art Briles, I think the Baylor Bears will be the surprise team in the Big 12 this season. They bring back one of the better QBs in the conference in Charlie Brewer who not only leads the team in passing statistics but also led them with seven rushing touchdowns a year ago. Denzel Mims and Chris Platt (not PRATT) lead a deep receiving core that will work well with Brewer throughout the season. They also bring back running back John LoVett, but he'll need to step it up in order to give the Bears a legitimate ground game. 
Offensive MVP: Charlie Brewer
Defensive MVP: Clay Johnston
Texas Tech
The Raiders will bring back both Alan Bowman and Jett Duffey, quarterbacks who each got lots of playing time a year ago. Outside of them, the offense has lots of holes and they'll have to find a way to replicate what Kliff Kingsbury brought to the table as the head coach. However, I think they'll be able to benefit from an easy schedule, one that includes home games against Oklahoma State, Iowa State and TCU. The Red Raiders will use that home-field advantage, plus their air-raid attack, to win lots of close games en route to a fourth-place finish in the conference.  
Offensive MVP: Jett Duffey
Defensive MVP: Jordyn Brooks
Iowa State
Brock Purdy will keep the Cyclones in a lot of ball games through the air and on the ground. However, there isn't as much for Iowa State to work with beyond that with David Montgomery and Hakeem Butler both having graduated. On the flip side, they're able to host tough opponents such as Iowa, Texas, Oklahoma State and TCU which could help their standing in the Big 12. 
Offensive MVP: Brock Purdy
Defensive MVP: Greg Eisworth
Oklahoma State
Spencer Sanders and Dru Brown are currently battling for the starting quarterback spot in Stillwater. They'll have a nice group of receivers led by Tylan Wallace, who's looking to surpass 1,000 yards and 10 touchdowns for the second straight year. Malcolm Rodriguez leads a young defense looking to make a splash, but the running game may need to step up, including Chubba Hubbard, who led the team last year. 
Offensive MVP: Tylan Wallace
Defensive MVP: Malcolm Rodriguez
TCU
Michael Collins is ready to take over as the team's full-time starting quarterback. He'll have one of the conference's best receivers in Jalen Reagor to look for down the field while Sewo Olonilua leads a strong stable of running backs. The defense has some talent but it won't be enough to compete with the conference's elite squads. 
Offensive MVP: Michael Collins
Defensive MVP: Garret Wallow
Kansas State
Head coach Bill Snyder has a thing for making games interesting for the Wildcats. The same can't be said for who he puts on the field. Though K-State returns their starting quarterback in Skylar Thompson, they lose their top running back to the NFL and their top receiver transferred to Mississippi State. They return much of their defense, but they'll need to step up in order to compete in the conference.
Offensive MVP: Skylar Thompson
Defensive MVP: Da'Quan Patton
West Virginia
To say the Mountaineers will look different from a year ago would be an understatement. The team loses air-raid extraordinaire Will Grier along with David Sills and Gary Jennings Jr who had 28 combined receiving touchdowns. They even lose Dana Holgorsen, the man behind the West Virginia offense. Regardless of who replaces each player, the Mountaineers, much lie their mascot, will have a steep hill to climb, one that will keep them in the lower ranks of the Big 12 this season.
Offensive MVP: Kennedy McKoy
Defensive MVP: Josh Norwood
Kansas
I think Les Miles has what it takes to bring Kansas to a level it hasn;t seen in a long time. They won't contend for conference titles on a consistent basis, but Miles has shown that he's capable of establishing and maintaining a winning culture. That will not happen this season. Despite the return of Pookah Williams Jr. as the team's top rusher, there's not much to be impressed on the offensive end plus the defense has yet to show they have what it takes to contend in the conference. However, I do think they'll make some noise this season, when they beat Kansas state for the first time in over 10 years. 
Offensive MVP: Pookah Williams Jr. 

Defensive MVP: Mike Lee

Big 12 Championship
The conference title once again runs through the red river as Oklahoma and Texas will face off in the Big 12 Championship game. The Sooners will go in with their same dominant offense while Sam Ehlinger will have solidified himself as one of the best dual-threat QBs in the country by now. The teams will exchange blows on offense throughout the contest. However, it'll be Lincoln Riley's play-calling that will give Oklahoma its third-straight Big 12 title and yet another appearance in the College Football Playoff. 
Oklahoma 35, Texas 31

Check out more College Football Previews below: