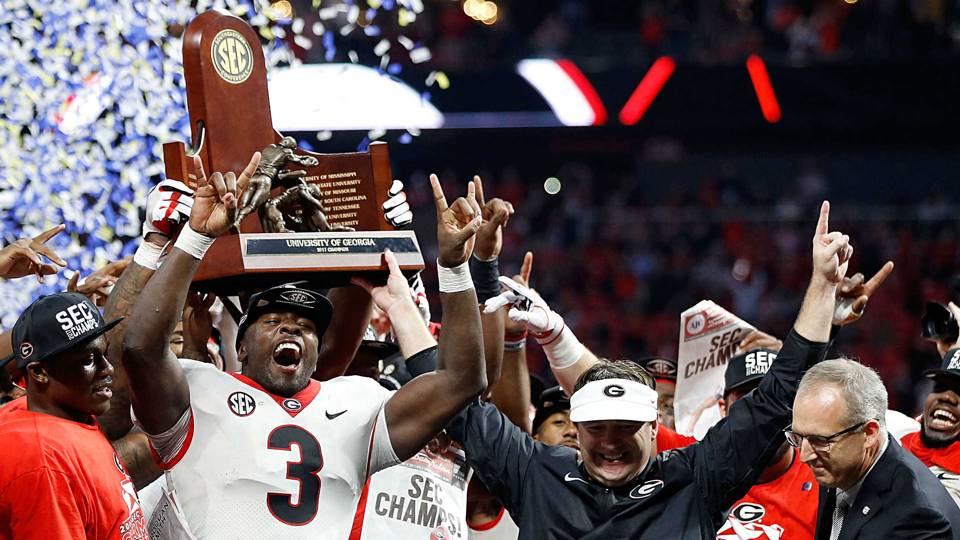 Less than a month away from kicking off the College Football season, we here at Nosebleed continue to look at the top divisions in the NCAA. Earlier this week, we looked at Benjamin Jenkins' preview of the SEC West, and today, I will give us a look into the other side of one of the most competitive conferences in collegiate play. Follow @NosebleedSport_ on Twitter for updates on previews before the year begins.
SEC East Projected Order of Finish:
Georgia (11-1) (7-1 in SEC)
Florida (10-2) (6-2 in SEC)
South Carolina (8-4) (5-3 in SEC)
Tennessee (8-4) (4-4 in SEC)
Missouri (8-4) (4-4 in SEC)
Kentucky (6-6) (2-6 in SEC)
Vanderbilt (4-8) (1-7 in SEC)
Georgia
This year will be the first time in a few years where it didn't seem almost obvious that Georgia was the frontrunner to win the SEC East. Florida has gotten a lot better this year, while South Carolina, Tennessee, and Missouri are all dark horse candidates. In the end, it's the Bulldogs who end up on top. Even a loss in Jacksonville to the Gators can't keep Athens from the title game.
Offensive MVP: Jake Fromm
Defensive MVP: Malik Herring
Florida
After an above average 2019 season, Florida will excel this year and march its way into second place in the SEC East and falls just one disappointing loss short of facing off with Bama in the SEC title game. Franks will take a big step this year and be one of the best parts of this offense, while corner CJ Henderson will continue to shut down receivers nonstop. They take L's against LSU and South Carolina, the latter being one they wish they could take back.
Offensive MVP: Feliepe Franks
Defensive MVP: CJ Henderson
South Carolina
The Gamecocks enter the year coming off a disappointing Belk Bowl in Charlotte against the Virginia Cavaliers, the same place where they will play Week 1 against UNC. This year won't be a cakewalk, as they have arguably the most difficult schedule in college football. Home games against Bama, Florida, and Clemson will not be easy, and neither will road matchups against Georgia, Tennessee, and A&M. However, Bentley will really take a step forward this year and become a reliable QB for Carolina. His connections with Bryan Edwards will be too much to handle for some teams, and the addition of former five-star running back Tavien Feaster will only open up the passing game even more.
Offensive MVP: Jake Bentley
Defensive MVP: Jaycee Horn
Tennessee
You could go either way for the Tennessee-Missouri standings position, but Tennessee defeats Missouri to take the number four spot, as the Tigers ridiculously easy schedule backfires on them and makes them unprepared for the Vols. The speedy back Ty Chandler paired with Jarrett Guarantano behind center will lead for a dynamic duo, while Darrell Taylor will rush the edge on the defensive side to make an impact over there.
Offensive MVP: Ty Chandler
Defensive MVP: Darrell Taylor
Missouri
As mentioned in the Tennessee analysis, the Tigers have perhaps one of the easiest schedules in college football, and some believe they could finish as high as second in the East. However, I'm not one of these believers. Missouri has a bowl ban for the season, preventing them from playing for much purpose. Players like Kelly Bryant are just trying to boost their draft stock since there is no bowl game in play. Mizzou's defense is still not great, and that will come back to bite them in a few matchups.
Offensive MVP: Larry Rountree III
Defensive MVP: Cale Garrett
Kentucky
What a great year the Wildcats had in 2018. Led by Benny Snell and Josh Allen, UK finished 10-3 after a win in the Citrus Bowl versus Penn State. Now, the honeymoon is over. Snell and Allen, among others, both left for the NFL, and this hurts them significantly. It's not all bad, though. Terry Wilson at QB will be the main component of their offense, and linebacker Kash Daniel is an amazing leader for the defense. This may not matter for their win-loss record all that much, but look on the bright side Wildcat fans, Vandy still exists.
Offensive MVP: Terry Wilson
Defensive MVP: Kash Daniel
Vanderbilt
This isn't anything new. It's hard for Vanderbilt to compete in this conference, as they rarely pull many big recruits. Their biggest offensive strength is senior wideout Kalija Lipscomb, as he looks for his first 1,000 yard season for the Commodores after falling just short last year. On defense, they look to sophomore linebacker Alston Orji to have a breakout year. But again, this conference is too difficult for Vandy, and they'll find themselves last in the East again.
Offensive MVP: Kalija Lipscomb
Defensive MVP: Alston Orji