In an era where almost every tweet is controversial, Phil Hughes of all people may have had the most offensive tweet of 2019.
Before I begin my diatribe of complete lunacy I would like to make a disclaimer that whatever I am about to say has nothing to do with Phil Hughes the man. I'm sure Phillip is a wonderful wannabe chef, baseball tosser, restaurateur, husband and Lightning fan (toughhhh playoff exit pal). His twitter bio says so, so I believe him. I also want to thank Mr. Hughes as he was a big part of helping my favorite baseball team the New York Yankees win the World Series title in 2009. For that I am forever grateful. Phil also had a tremendous career and made some serious dough ($82 million!) so I'm happy for him that at age 33, he can basically do whatever he wants for the rest of his life.
I am a nobody compared to Phil Hughes and I will acknowledge that whole heartedly. If Sir Phillip was the beach I am just a mere grain of sand on that beach. I mean I just graduated college and have to live with my parents for the foreseeable future. I'm trying to get to the point where I can afford a cheap cockroach filled apartment somewhere in the lovely tri-state area. I am a broke boy. So, overall Phil you pretty much own me and are better than me in every way possible. The pendulum swings HEAVILY in your favor.
However, there is one thing that we are even in. We both have freedom of speech. So, I'm going to use my first amendment rights (I was a History minor if you couldn't tell already) to say that Sir Phillip Hughes had by far the most offensive tweet of 2019.
I mean Phil, come on bro. That's quite honestly one of the most disgusting things on the internet I've ever seen. There is a video called "2 Girls 1 Cup" out there and I still consider this to be more gross. Here's the deal Phil I do like your intentions to unite our society, however you don't start by tweeting garbage like this. This will do quite the opposite. It will cause complete mayhem and chaos on the Twitter streets.
So in the spirt of discussion I'm gonna break down to you Sir Phillip why from at least a sports perspective our New York fan bases simply can not unite and why we simply can't, "cheer for 'em all".
Yankees and Mets Fans
How can we not start with this? I mean Phillip you made a damn combined jersey of the two! The reasons these two fan-bases can't get along is a mixed drink of jealousy and little brother syndrome from one side, combined with pompous and arrogant behavior from the other. From a Yankees fans perspective, I am going to be honest we always expect to win and put out the best team in the sport.
We always expect the top free-agent and always expect for a major move to be made at the deadline. That's part of the reason why I think GM Brian Cashman was held at gunpoint by the Darien, CT Police for a stolen car last night. (He never actually stole a car if you want the full story go to google). Those policemen in Connecticut who were probably Yankees fans, expected a big name pitcher at the deadline and didn't get it. That's how much we expect to winners.
Us Yankees fans also will rub the "27 rings" in your face at all times and wear our gold chains and pinstriped jerseys with complete arrogance. The Yankees are like the New England Patriots of baseball, but better. They run a tight ship, consistently produce winners and are simply the most successful franchise in sports history. There is no circus out of Yankee Stadium, just plenty of World Series banners. You played for the damn team Phil! You should know this!
For the Mets fans it probably drives them nuts. I wouldn't know I'm a calm, collected Yankees fan. As far as my baseball fandom goes I am a winner. Mets fans from what I gather through my 22 years of life, live a miserable existence. They are jealous of the Yankees success, but will never admit it even though it is glaringly obvious. They hate being the little brother. Historically when things go wrong for the Mets they tend to get worse and worse before they get better (which they never do). This is the definition of a loser franchise. I mean they have a banner of a damn Wild Card game appearance.
They lost the game too! I could go on all day, but monstrosities like that are the reasons we can't "root for each other" Phil.
Jets and Giants Fans
Ok Phillip let's move to football. Again, I'll start from a perspective of my favorite team the Jets. Us Jets fans have had our hearts just completely shattered and broken so many times it's absurd. We are very similar to Mets fans in regards to a circus like atmosphere (although signs are starting to point in the right direction). As a Jets fan you think you've seen it all, then they do something else and make you think again about your love for the entire sport of football as a whole. Us Jets fans are also completely irrational humans.
When we have horrible football teams that will in all likelihood go 4-12, we tend to think 10-6 and a playoff spot is "realistic". I honestly think this Jets football team right now has a great roster and a terrific franchise QB that will finally lead us to the promise land. I think this team will go 9-7. I don't even think it is irrational, but Giants fans among other fan-bases probably would disagree.
For Giants fans boy do they not know how good they have it. They beat Tom Brady in the Super Bowl twice and still hate on their Quarterback. Listen, I get Eli is terrible now and makes some pretty questionable looking faces,
but he outdueled the best QB in the history of the game twice, in the most important game of the year. In my opinion he is the Forrest Gump of football. Just like Forrest Gump, you have no idea how Eli has accomplished what he has, but in the end he will end up in the hall of fame. Yet Giants fans seem to forget their two incredible Super Bowl rings he brought them. Just ungrateful if you ask me. If Sam Darnold won even ONE Super Bowl and stunk up the joint the rest of his career, I as a Jets fan would NEVER criticize him.
Giants fans also have some terrible tailgates compared to Jets fans. It's like comparing a funeral home atmosphere to a club in Vegas. Us Jets fans…. we know how to throw a few brews down the hatch a lot better than Giants fans. Those tailgates at Metlife are great evidence of that.
So Sir Phillip, there is another example. But there's more!
Knicks and Nets Fans
I'm not gonna lie, I don't really watch the NBA and I could care less about both these teams. All I know is the Knicks had cleared a lot of cap space the past couple of years and tanked all this year to not get Zion, Kevin Durant or Kyrie Irving. Instead they see KD and Kyrie go to the Nets who have little to no success as a franchise either. You just hate to see it for the Knicks. Good for the Nets though. The grass on top of the Barclays Center and the Islanders leaving must have really caught KD and Kyrie's eyes. That and a ridiculous amount of money. More money than either of us will ever see Phillip. On their beach you are the grain of sand. Now you know how it feels.
Rangers, Islanders, Devils
I'm getting really tired. This is the most I've typed since my History 451 paper last December. (Shout out to the legend Bill Murphy and his giant beer gut). However there three more fan bases to cover here Phil. I would consider yourself lucky that I took the time out of my busy schedule to educate you on New York sports. Its quite sad I have to do this considering you played here for almost a decade. How many wonderful people like myself would do that for a another person after an insulting and offensive tweet like the one you had today. Hell, I think looking directly into the sun would have been more pleasing than looking at that combined jersey.
However neither of us here have all day and night so I will digress into our last teams here. As a Rangers fan the Islanders and Devils are 1A and 1B on the hate list. Both the Devils and Islanders fan bases really hate the Rangers and in my opinion dislike but mostly feel indifferent about each other. The reason they hate us is because they ain't us.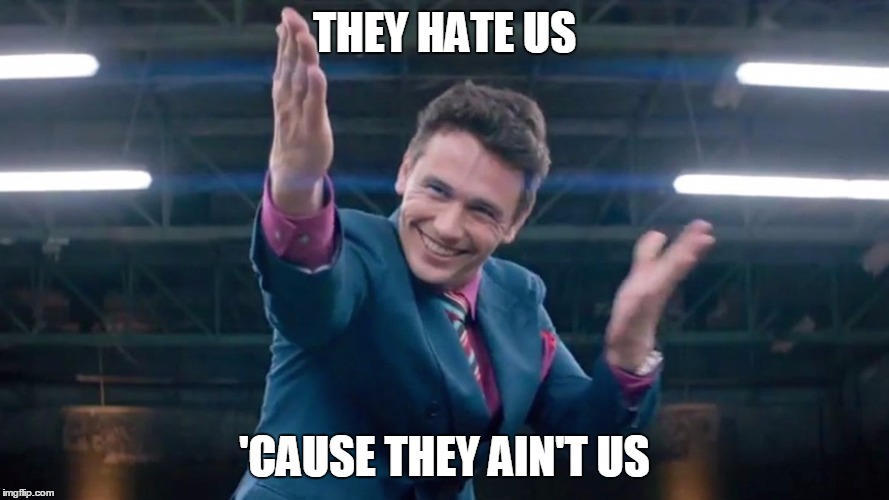 The Rangers are the big brother to both those teams. For starters the Blueshirts get many high priced free agents and star players like Artemi Panarin (suck on that Isles fans) over the Islanders and Devils. For example, Panarin even left money on the table to play for the Ranger opposed to the Isles. It must suck for both those fan bases. They both more or less feel like small market teams in a big market because of the Rangers. The Rangers also play in a significantly better arena than both Islanders and Devils. You can't compete with MSG the world's most famous arena.
I mean the Islanders play part time as of right now in an arena that has a scoreboard completely off center.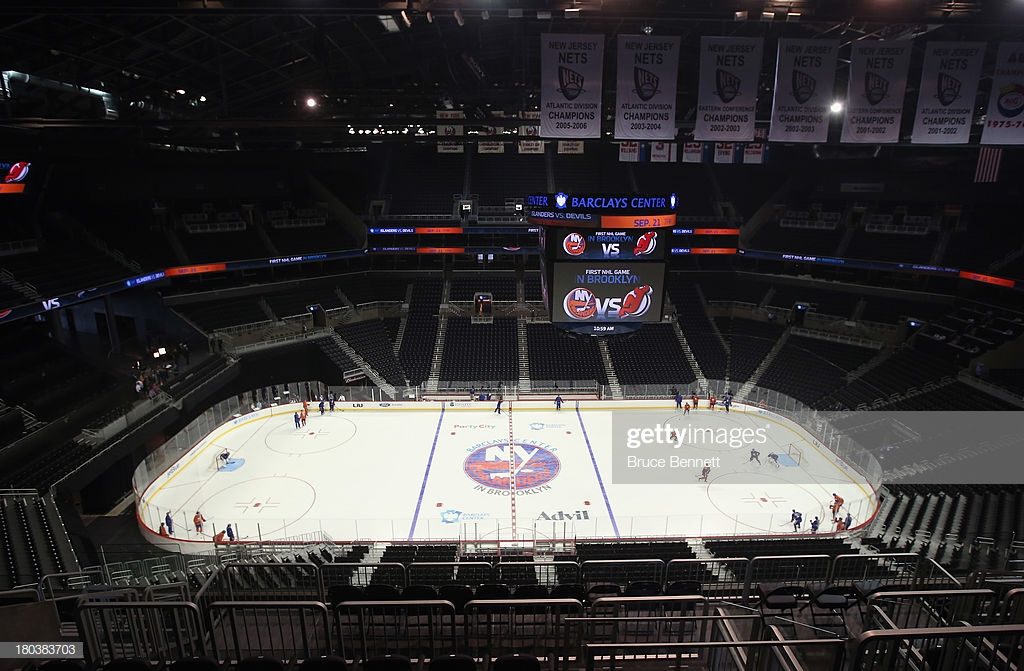 They also have a stupid car in the corner like it's the KHL or some Euro League.
Us Rangers fans are very similar to Yankees fans. Minus the part of championships. That's where the Devils and Islanders have some clout. The Rangers do have four Stanley Cups which is tied with the Islanders and one more than the Devils, but the Rangers won three of those when there were only SIX teams. When you think about it the last almost 80 years the Rangers have won only one Stanley Cup (Thanks to that legend Mark Messier curb stumping the Canucks in '94).
The Islanders had one of the best dynasty's in the history of sports in the 1980's. The Devils were one of the most consistent franchises in hockey in the 1990's until the early 2010's (they are starting to re-surge again). However, they still aren't even close to the level the Rangers are on. That definitely has to sting.
Islanders fans are a lot like Mets, Jets and Knicks Phil. They have some pretty bad rock bottom moments and have a hard time becoming consistent winners due to self inflicted circuses. They also until recently (Isles will play in new Belmont arena starting in 2021) couldn't find a suitable NHL arena to play in for the entire existence of their franchise.
The Devils fans had some of their Stanley Cup parades in the 90's and early 2000's from the parking lot of their arena at the time in the Meadowlands.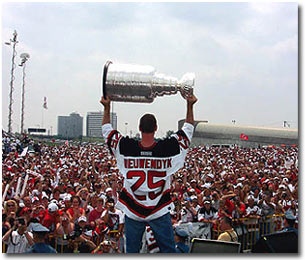 That's pretty embarrassing. However, they still aren't anywhere near the level of loserism as the Islanders fan-base is.
Conclusion
Well Sir Phillip I hope you enjoyed this little diatribe of mine. I also hope you can change your ways in the way you tweet. There are many children out there that probably at one point looked up to you. If you continue to tweet offensive garbage like you did with that combined Yankees-Mets jersey then what example are you setting not only for those children, but for our society? I'll go ahead and answer that one for you Phil…. Not a very good one. I do hope one day we can meet and you can chef me up some of your world famous dishes (I wouldn't blame you if you intentionally gave me food poisoning after this article) considering you are a "wanna be chef". Until then I'd take a long look at that keyboard and think before you tweet. Your welcome Phillip.
Update: