By: Zach Wylie
Round 1
1. Cincinnati Bengals – Joe Burrow, QB, LSU
This is still an obvious choice. I just don't see the Dolphins putting together a good enough trade for this to not happen. Burrow's legacy begins in Cincy.
2. Los Angeles Chargers – Tua Tagovailoa, QB, Alabama (MOCK TRADE)
Woah!! Big trade here! In what is a somewhat shocking move, it is not the Miami Dolphins who trade up to get their star quarterback. It's the Los Angeles Chargers. The Redskins slide back in the first and pick up LA's 2021 first round pick for their trouble. Meanwhile, LA gets a new face and Tua moves back west. The incredible talent of the Alabama star is too much for the Chargers to risk waiting for, and they jump the Lions. Which means…
3. Detroit Lions – Chase Young, DE, Ohio State
The Lions may be the biggest benefactor of any trade that involves some team and the Washington Redskins. If the Dolphins or Chargers trade up to the 2nd pick, it means that team is more likely than not taking Tua, so the Lions get lucky and nab arguably the best athlete in the draft. Say your prayers, Lions fans. This is possible, but a trade would have to happen.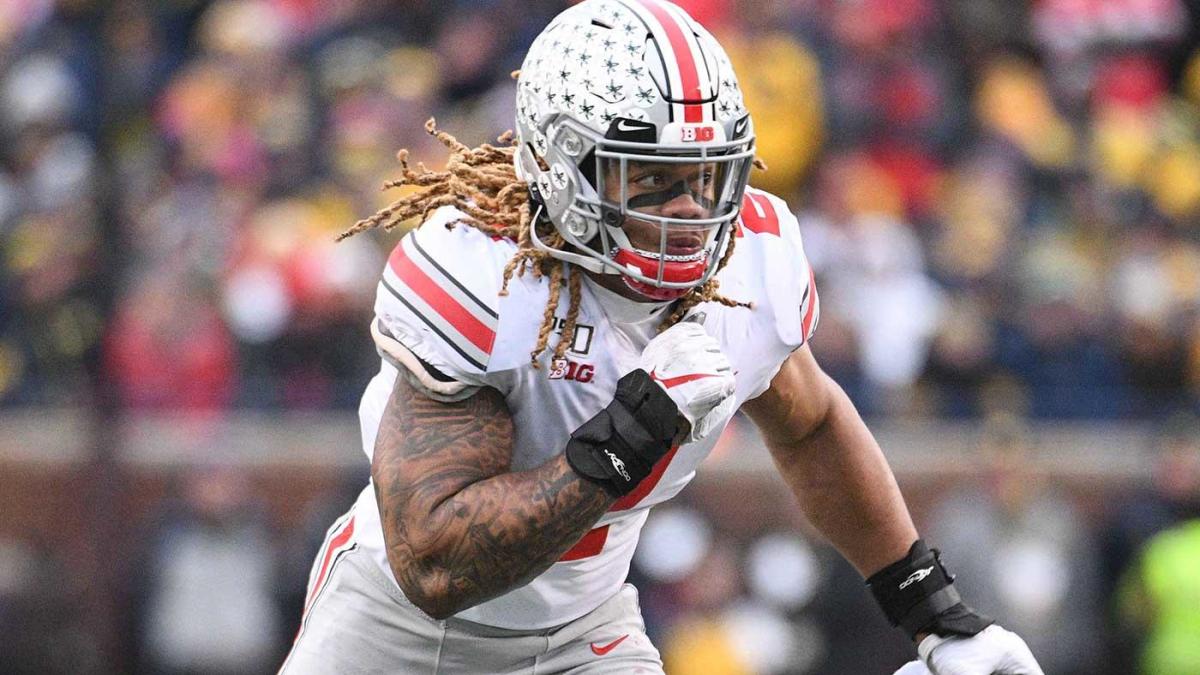 4. New York Giants – Isaiah Simmons, LB/S, Clemson
Speaking of great athletes, Simmons is heading to East Rutherford and Nosebleed writer and Giants fan Colline Mullane agrees… While there is some doubt in my mind Gettleman makes the right choice here, I think he'll be excited by the prospect of taking a guy who can play multiple spots. However, as fellow writer Nathan Baakko pointed out to me recently, those guys don't always turn out. Somewhat of a risk here, but I believe it's worth it.
5. Miami Dolphins – Justin Herbert, QB, Oregon
From what I have seen on social media, Dolphins fans would not exactly be thrilled at the thought of not getting Tua or Burrow. Herbert is not a bad consolation prize. Well, depending on who you ask. Ask a Dolphins fan and they may say otherwise. But at this point, it's take him, or trade back. They take the former.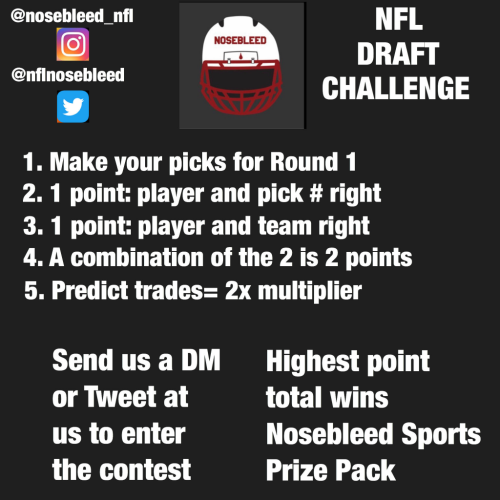 6. Washington Redskins – Ceedee Lamb, WR, Oklahoma (MOCK TRADE)
Redskins make a move that some fans will find questionable since they don't end up with Chase Young. However, what they get back is not bad at all. With Lamb and McLaurin as his top two receivers, it opens up the field a lot more for Haskins to make plays. And they get a 2021 first rounder? Pretty good deal.
7. Carolina Panthers – Javon Kinlaw, DT, South Carolina
Some people may argue that Brown is more likely to go before Kinlaw. But in the last few weeks, the Gamecock has received more attention. With his 6'6″ massive frame, he has the ability to really become one of the top inside pass rushers in the league. The Panthers defense is looking nowhere near as strong as it used to be, and this pick only increases their strength.
8. Arizona Cardinals – Mekhi Becton, OT, Louisville
Nothing changes from my last mock with this pick. Becton is the best tackle available and provides instant relief for Kyler Murray in the pocket.
9. Jacksonville Jaguars – Jeff Okudah, CB, Ohio State
The Jaguars need that "it" factor back in their secondary. With Ramsey and Bouye both heading elsewhere within the last 6 months, Jacksonville needs help and fast. Insert Okudah, who is the most polished corner available in this year's draft.
10. Cleveland Browns – Jedrick Wills, OT, Alabama
Wills went late in my last mock draft and once realizing this was unlikely, I made the adjustment. While Josh Jones, who went in this spot, would be an exceptional choice, Wills is too talented to let slip into the late rounds and even the Browns will see that.
11. New York Jets – Jerry Jeudy, WR, Alabama
With Ceedee Lamb taken with the 6th pick, the Jets are left to take the next best choice. Jeudy is no consolation prize, though. He has the ability to be the best receiver in this draft, and may have the most upside. He is an athletic freak and will make an instant impact for Darnold and the Jets offense.
To draft an offensive lineman or a wide receiver? That is the question. Whether tis nobler to protect Sam Darnold or to take arms against opposing secondaries with speed on the perimeter. 

-James Murphy
12. Las Vegas Raiders – Henry Ruggs III, WR, Alabama
One of the fastest players available in the draft is heading to Vegas. Ruggs' speed catches Gruden's eye, allowing Derek Carr or whoever their quarterback will be to have a #1 receiver to throw to.
13. San Francisco 49ers – CJ Henderson, CB, Florida
A lockdown defender with the Gators, Henderson was a top-recruit that performed really well. His stock has increased a lot lately, as his combine numbers really gave him a needed boost up the boards. Pair him across from Richard Sherman, and the best defense in the NFL just got even better.
14. Tampa Bay Buccaneers – Josh Jones, OT, Houston
Protection, protection, protection. That's what Tom Brady needs to be successful in Tampa Bay, or what he now calls "Tompa Bay." He already has weapons with Evans and Godwin, so now he just can't take so many hits. Jones is one of the more underrated prospects of the draft, and here he has a great chance to thrive in Arians' offense.
15. Denver Broncos – Tristan Wirfs, OT, Iowa
The Broncos could use some help on the outside or on the inside. Protecting Lock is going to be very important for the team's success, and Wirfs could move from tackle to guard, or could also just stay on the ends. Either way, Wirfs is a great steal for Denver here and should be happy.
16. Atlanta Falcons – K'Lavon Chaisson, DE, LSU
Speaking of steals, Chaisson would be the perfect for Atlanta. Putting him at the weak side linebacker spot would put him in the best situation. They already have Takk McKinley and Dante Fowler on the edge, and moving him back a little bit would make this pass rush one of the most lethal in the league.
17. Dallas Cowboys – Grant Delpit, S, LSU
Again, this does not change from the last mock. It's hard for me to explain this pick other than the logic that Delpit just seems like a Cowboys player. Jerry would love to take the All-American safety here, and he gets his wish.
18. Miami Dolphins – Andrew Thomas, OT, Georgia
A former top-5 projection, Thomas has been a victim of the draft being in April. Had we done the draft right after the season, he was looking at a very early pick. However, times have changed and his draft stock has dropped. Thomas still has great potential, however, and the Dolphins get a guy to watch Herbert's blindside.
19. Las Vegas Raiders – Xavier McKinney, S, Alabama
In my last mock, I had the Raiders taking QB Jordan Love. This pick is assuming the Raiders stick with Derek Carr for at least one more season, and maybe wait for the next draft class to go QB. With the signing of Damarious Randall, the Raiders still have to replace Jeff Heath as a starter, who is good, but in my opinion should be coming off the bench. McKinney fills that spot here, as his ceiling is very high.
20. Jacksonville Jaguars – Derrick Brown, DT, Auburn
Brown is another guy whose draft stock has been hurt the months leading up to the draft. An NFL ready player, Brown's ability to play isn't in question, but how high is his ceiling? Where can he go once he enters the NFL? The Jaguars hope he can go far and add him to help reinvent their offensive line.
21. Philadelphia Eagles – Justin Jefferson, WR, LSU
The Eagles need a guy they can trust to make plays, and who better to take here than National Champion Justin Jefferson. Their current WR room consists of washed up vets and young guys who mid-to-low potential. Jefferson can reenergize this group and help Wentz.
22. Minnesota Vikings – Kristian Fulton, CB, LSU
No change here. The Vikings need a corner ASAP and Fulton is a great pick. Minnesota can hopefully get some production from Holton Hill and Mike Hughes, but if not, Fulton should be able to come in and become that #1 guy they need.
23. New England Patriots – Denzel Mims, WR, Baylor
Whoever is going to be the Patriots quarterback, whether it's Cam, Winston, Stidham, or a rookie, they need a target. At 6'3″, Mims is one of the most underrated receivers in this draft class. He ran a 4.38 40-yard dash, too. That speed with that height? This dude could be unstoppable.
24. New Orleans Saints – Jordan Love, QB, Utah State
The Saints need to start preparing for life after Brees. He has one or two years left for his career, and I'm sorry, but Taysom Hill is not the answer. Great athlete, very mediocre quarterback. Saints take Love here to prep him under Brees for a season or two, similar to the Patrick Mahomes situation, and then let him take the reins as the new face of New Orleans.
25. Minnesota Vikings – Yetur Gross-Matos, DE, Penn State
With Mims and Jefferson both off the board, Minnesota decides to take a different route and address their defensive line after losing Pro Bowler Everson Griffen. Gross-Matos jumps into a lineup that has bred defensive ends for years now and becomes their next All-Pro level guy.
26. Miami Dolphins – Jonathan Taylor, RB, Wisconsin
The Dolphins starting running back right now is Jordan Howard…Yeah that's not good. I mean, most of this team isn't great, but still. Taylor can come in and make huge plays for a squad that desperately needs it. He's the best running back available and the Fins take him at 26.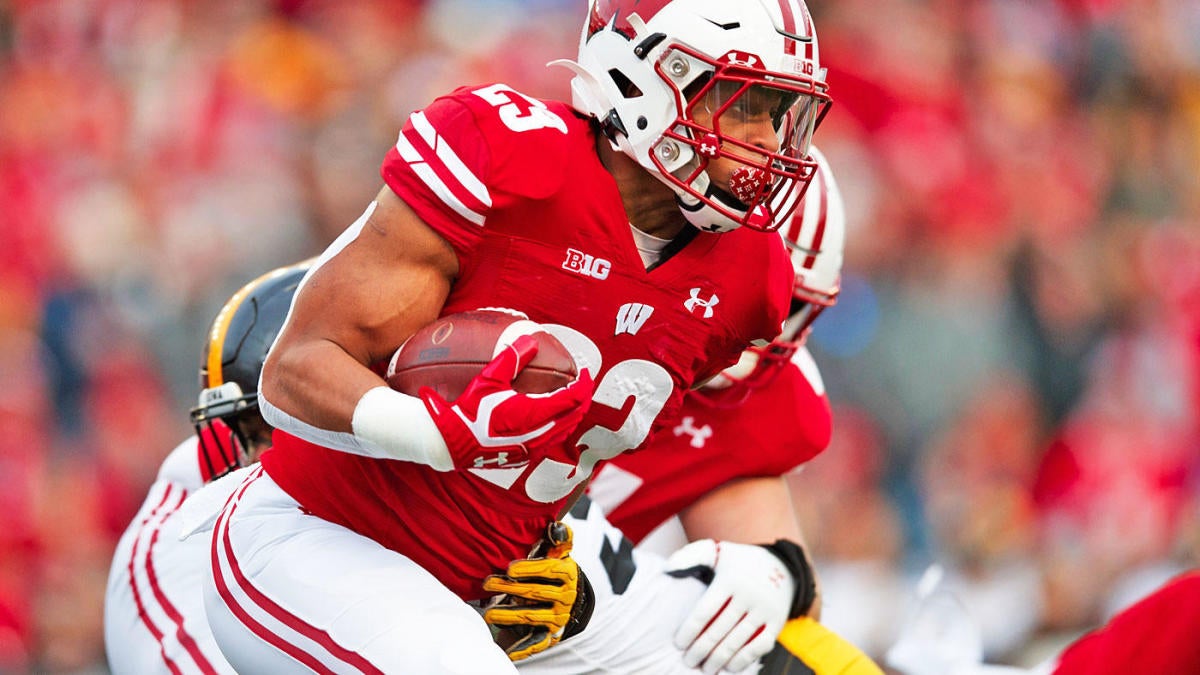 27. Seattle Seahawks – Zack Baun, DE, Wisconsin
Baun has shot up draft boards in just the last week. I couldn't see him getting drafted first round just a few days ago. However, after seeing all the talk he's getting and watching some film, Baun would be a great fit in Seattle, especially if someone else signs Clowney.
28. Baltimore Ravens – Kenneth Murray, LB, Oklahoma
The Ravens defense is already one of the best in the NFL and sliding Murray into the linebacker position makes them even better. Great pick for Baltimore at 28.
29. Tennessee Titans – Brycen Hopkins, TE, Purdue
The Titans jump up to grab the guy they want to replace Delanie Walker with. Hopkins has drawn some first round interest from teams, as his athletic ability is something a lot of teams are looking for in a tight end.
30. Green Bay Packers – Cole Kmet, TE, Notre Dame
The Packers have cycled through tight ends so much over the past few years. They've had a number of options from Jimmy Graham to Jermichael Finley to Jared Cook to many more. Now, they get the starter they've been looking for. They go up to grab Kmet, who was a very impressive target at Notre Dame.
31. San Francisco 49ers – Jalen Reagor, WR, TCU
After missing out on all of Jeudy, Lamb, and Ruggs earlier, the 49ers get a guy for Jimmy G. Reagor is one of the more "under-the-radar" picks of the draft, but has great ability to make an impact on an offense whose top receiver is now Deebo Samuel.
32. Kansas City Chiefs – Jeff Gladney, CB, TCU
Gladney can move into the slot or play on the outside for the Super Bowl champs. Either way, he is a huge help. This defense is good, but it can still be better than what it is. Adding the TCU corner puts them in nice position for a back-to-back title run.
Round 2
33. Cincinnati Bengals – AJ Epenesa, DE, Iowa
34. Indianapolis Colts – Tee Higgins, WR, Clemson
35. Detroit Lions – AJ Terrell, CB, Clemson
36. New York Giants – Austin Jackson, OT, USC
37. Los Angeles Chargers – Isaiah Wilson, OT, Georgia
38. Carolina Panthers – Trevon Diggs, CB, Alabama
39. Miami Dolphins – Antoine Winfield Jr, S, Minnesota
40. Houston Texans – Julian Okwara, DE, Notre Dame
41. Cleveland Browns – Cesar Ruiz, OL, Michigan
42. Jacksonville Jaguars – Patrick Queen, LB, LSU
43. Chicago Bears – Lucas Niang, OT, TCU
44. Indianapolis Colts – Jacob Eason, QB, Washington
45. Tampa Bay Buccaneers – Ezra Cleveland, OT, Boise State
46. Denver Broncos – Noah Igbinoghene, CB, Auburn
47. Atlanta Falcons – Damon Arnette, CB, Ohio State
48. New York Jets – Terrell Lewis, DE, Alabama
49. Pittsburgh Steelers – Ross Blacklock, DT, TCU
50. Chicago Bears – Bryce Hall, CB, Virginia
51. Dallas Cowboys – Joshua Uche, DE, Michigan
52. Los Angeles Rams – Akeem Davis-Gaither, LB, Appalachian State
53. Philadelphia Eagles – Jaylon Johnson, CB, Utah
54. Buffalo Bills – JK Dobbins, RB, Ohio State
55. Baltimore Ravens – Laviska Shenault Jr, WR, Colorado
56. Miami Dolphins – Jonah Jackson, OL, Ohio State
57. Houston Texans – Marlon Davidson, DT, Auburn
58. Minnesota Vikings – Donovan Peoples-Jones, WR, Michigan
59. Seattle Seahawks – Prince Tega Wanogho, OT, Auburn
60. Baltimore Ravens – Curtis Weaver, DE, Boise State
61. Tennessee Titans – Raekwon Davis, DT, Alabama
62. Green Bay Packers – Justin Madubuike, DT, Texas A&M
63.Kansas City Chiefs – D'Andre Swift, RB, Georgia
64. Seattle Seahawks – Lloyd Cushenberry, OL, LSU
Round 3
65. Cincinnati Bengals – Willie Gay Jr, LB, Mississippi State
66. Washington Redskins – Chase Claypool, WR, Notre Dame
67. Detroit Lions – Kyle Dugger, S, Lenoir-Rhyne
68. New York Jets – Matt Hennessy, OL, Temple
69. Carolina Panthers – Brandon Aiyuk, WR, Arizona State
70. Miami Dolphins – Darrell Taylor, DE, Tennessee
71. Los Angeles Chargers – Cameron Dantzler, CB, Mississippi State
72. Arizona Cardinals – Malik Harrison, LB, Ohio State
73. Jacksonville Jaguars – Darnay Holmes, CB, UCLA
74. Cleveland Browns – Ashtyn Davis, S, California
75. Indianapolis Colts – Davon Hamilton, DT, Ohio State
76. Tampa Bay Buccaneers – Zack Moss, RB, Utah
77. Denver Broncos – Matthew Peart, OT, UConn
78. Atlanta Falcons – Jordyn Brooks, LB, Texas Tech
79. New York Jets – Adam Trautman, TE, Dayton
80. Las Vegas Raiders – Troy Pride Jr, CB, Notre Dame
81. Las Vegas Raiders – Rashard Lawrence, DT, LSU
82. Dallas Cowboys – Robert Hunt, OL, Louisiana
83. Denver Broncos – KJ Hamler, WR, Penn State
84. Los Angeles Rams – Bryan Edwards, WR, South Carolina
85. Detroit Lions – KJ Hill, WR, Ohio State
86. Buffalo Bills – Jonathan Greenard, DE, Florida
87. New England Patriots – Clyde Edwards-Helaire, RB, LSU
88. New Orleans Saints – Amik Robertson, CB, Louisiana Tech
89. Minnesota Vikings – Jordan Elliott, DT, Missouri
90. Houston Texans – Michael Pittman, WR, USC
91. Oakland Raiders – Jabari Zuniga, DE, Florida
92. Baltimore Ravens – Damien Lewis, OL, LSU
93. Tennessee Titans – Jake Fromm, QB, Georgia
94. Green Bay Packers – Lynn Bowden, WR, Kentucky
95. Denver Broncos – Troy Dye, LB, Oregon
96. Kansas City Chiefs – Jeremy Chinn, S, Southern Illinois
97. Cleveland Browns – Collin Johnson, WR, Texas
98. New England Patriots – Kenny Willekes, DE, Michigan State
99. New York Giants – Bradlee Anae, DE, Utah
100. New England Patriots – Hunter Bryant, TE, Washington
101. Seattle Seahawks – Thaddeus Moss, TE, LSU
102. Pittsburgh Steelers – Jalen Hurts, QB, Oklahoma
103. Philadelphia Eagles – Cam Akers, RB, Florida State
104. Los Angeles Rams – Khalid Kareem, DE, Notre Dame
105. Minnesota Vikings – Ben Bartch, OT, St. John (MN)
106. Baltimore Ravens – Saahdiq Charles, OT, LSU