By: Drew Shrager
This Quarterback draft class is stacked with talent as it has the chance of three quarterbacks going in the top 10 for the upcoming draft. Below is how I would group these talented group of QB's who are trying to get their chance to start for a franchise on the next level.
Tier 1: Superstar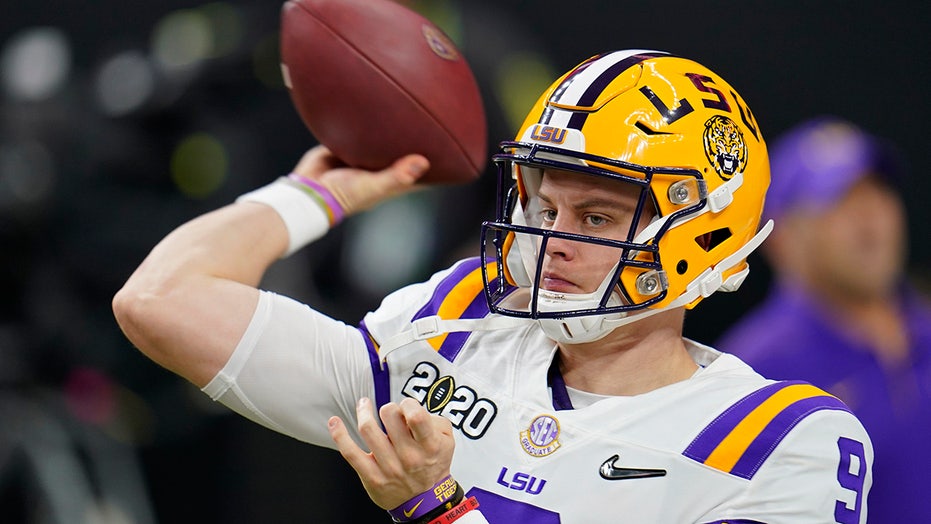 Joe Burrow (LSU)
Joe Burrow is in a league of his own right now. He has just about locked himself in for being the Number 1 overall pick to the Bengals, as his season with LSU was filled with ridiculous highlights, unbelievable numbers, and a national championship to top it all off. Burrow is the considered the highly graded quarterback since Andrew Luck back in 2012, with a quarterback rating of over 98, and Luck was a star from the second he joined the NFL so it goes to show how many people think this kid is going to be great. The sky is the limit for this kid despite his hand size.
Tier 2: Superstar Potential
Tua Tagovailoa (Alabama)
Many people thought Tua would be in the position that Joe Burrow is in right now. After posting an unbelievable season in 2019 and a great start this year, his season was cut short due to a gruesome hip injury that he suffered against Mississippi State. This injury, at one point was thought to maybe sideline Tua forever. But after having successful surgery and working hard to get back to full health as well as showcasing his skills in front of many scouts, people are back on the Tua hype-train. Experts are saying that he is the healthiest he has ever been and that alone brings upon excitement to see if he will become the superstar in the NFL that he once was at Alabama.
Justin Herbert (Oregon)
Apart from maybe Joe Burrow, Herbert has the best mechanics in the draft class. If you want any proof of how good this kid is, go check out the video of him launching a football 62 yards flat-footed. He blossomed in the Oregon system, showing flashes of what he can bring to the table for an NFL team, and in the eyes of the NFL experts, he could easily be the most successful QB in this class if put in the right system. It will be interesting to see what a team like the Dolphins decide to do with their No. 5 overall pick because either one of these quarterbacks, Herbert or Tua, can be more than great for a franchise.
Tier 3: Take a Risk and it just might pay off
Jordan Love (Utah State)
This kid might be the most interesting kid in the draft. This QB out of Utah State put up outstanding numbers last season, leading the Aggies to the programs first ever bowl game victory against Kent St last season. But the biggest question of him regards his decision making on the field. He tends to throw risky passes leading to a ton of interceptions. But the arm strength is more then there. He has shown that his accuracy and strength is amongst the best in this class. Almost reminds you of a kid named Patrick Mahomes coming out of college just a few years ago with his ability to just launch the football down the field. The question remains… which team will take the chance on this kid and will it pay off?
Jacob Eason (Washington)
Eason is an interesting kid as well. He is 6'6 and 231 pounds allowing him to make tons of deeps throws. His accuracy is what needs some work though which is why some people were a little but surprised that he didn't return to Washington for his senior year. The major problem with him is that he likes the use that power all the time, meaning he darts fastballs towards his receiver, causing some overthrows and turnovers. But with that, he showed at some points that with that strong arm, he has the ability to make tough throws in tight windows because the defenders can't catch up the ball. With two years starting under his belt, it becomes up to the team to see if taking a guy like Eason, who for sure has potential to be a great quarterback in this league, is the correct pick.
Tier 4: Could still be a difference maker
Jalen Hurts (Oklahoma) – Don't count out what Jalen Hurts can do on the football field as he was doubted for most of career in college football. His career was filled with 4 college football playoff appearances, SEC freshman of the year, 2 national championships, and the list goes on and on. He is a born winner and can easily translate that for an NFL team.
Jake Fromm (Georgia)- Fromm showed a ton of potential during his early years at Georgia but the way he struggled last year wasn't entirely his fault. His offensive line couldn't stay healthy and he had young receivers who really weren't ready for the college football stage yet. Despite the down year last year, Fromm has always shown good decision making and very good accuracy during his career, two things that can easily make him into a franchise QB at the next level.
Anthony Gordon (Washington State) – Gordon put himself on the map after following in the footsteps of Gardener Minshew at Washington State. Last season, he led all of FBS in passing yards, so you know that he can throw the rock. This looks to be another one of those Mike Leach produced quarterbacks who can find himself becoming a starter in the right franchise. We might be looking at another interview with his Washington State head coach saying "I told you guys this kid is amazing."
Obviously, there are a ton more quarterbacks in this draft that will be drafted. And who knows what those quarterbacks will bring to the table, but as of right now, these 8 quarterbacks are the most talented in this really good 2020 class of quarterbacks.