Madden 20: Detroit Lions
By: Nosebleed Beto
2021 Offseason
I'm not exactly sure what to make of the 2021 season for the Detroit Lions, we had some games where we looked dominant and others where we couldn't get anything going. All I know is that changes needed to be made, and in my last season with an imported draft class, the draft would be more important than ever. I also knew it would be time to say goodbye to some key contributors for this franchise. The complete roster overhaul was underway, and hardly anyone was safe. But, there's a feeling in my stomach that we're not THAT far away. I truly believe with a solid offseason we can compete for a wildcard spot this upcoming year, I also feel as we seem to get better, the rest of the NFC North seems to be getting worse, except the Bears, who are coming off a Super Bowl appearance.
COACHING CHANGES
There isn't a real way to hire assistant coaches/coordinators in Madden, which is kinda unfortunate, I mean even NCAA 14 had coordinators. Nonetheless I am going to pretend like I moved on from my current defensive coordinator in favor of a new one, this is mostly because I have decided to switch from a 3-4 defense to a 4-3. I want Isaiah Simmons, in the middle of my defense as the quarterback. Left End Dashawn Hand is five overall ratings better as a DT than an end. This change makes one of my biggest offseason needs a solid pass rushing left end.
On the offensive side of the ball I am happy with the game plans and playbooks that we have been using and competing with. I'm hoping this change will help take our defense to the next level.
TAKING A LOOK AT THE CURRENT ROSTER
Going into the offseason you can see the foundation of my team really coming together, my specialist positions are solid on offense, however I will look to add a true slot WR this off season, either in the draft or through free agency. I need to make a final decision at my QB position but with the 2nd pick in the draft I think the decision will somewhat be made for me, as if Trevor Lawrence is there, I don't think you can pass him up. The right side of my offensive line could use some help but is OKAY for now, so this is more of a late round address through the draft. Other than left end my defensive starters are pretty solid, I wouldn't mind adding another solid outside man to man corner so I can play Kendall Fuller primarily in the slot on plays where the opposition have three receivers on the field. A 2nd DT is a developmental position as I have two former bama boys in Dashawn Hand and A'Shawn Robinson, but could use someone at the elite level to really put pressure on offensive lines with four guys.
My list of needs going into the offseason were:
LE
RT
RG
SLWR
DT2
CB2
QB
Punter
FREE AGENCY AND PRE-DRAFT TRADING
I unfortunately came into free agency with very limited funds, and for some reason even if you trade away large contracts you don't see an immediate change in salary cap like when you make trades in 2K or Chel. Like all GMs I had a solid plan for what needs we wanted to address with our limited funds, and we made it happen. I made offers to two players, Albert Wilson (SLWR) and Chavarius Ward (CB)
They both signed with me.
With my cap situation tight, I decided the rest of my offseason additions would have to come through the draft or preseason signings. If you recall from offseason blog one, I traded away my 3rd and 4th round picks in this draft to accumulate draft capital last year. So, I had even more work to do this year in order to get myself my goal of around 10 picks. Here's the deals I made: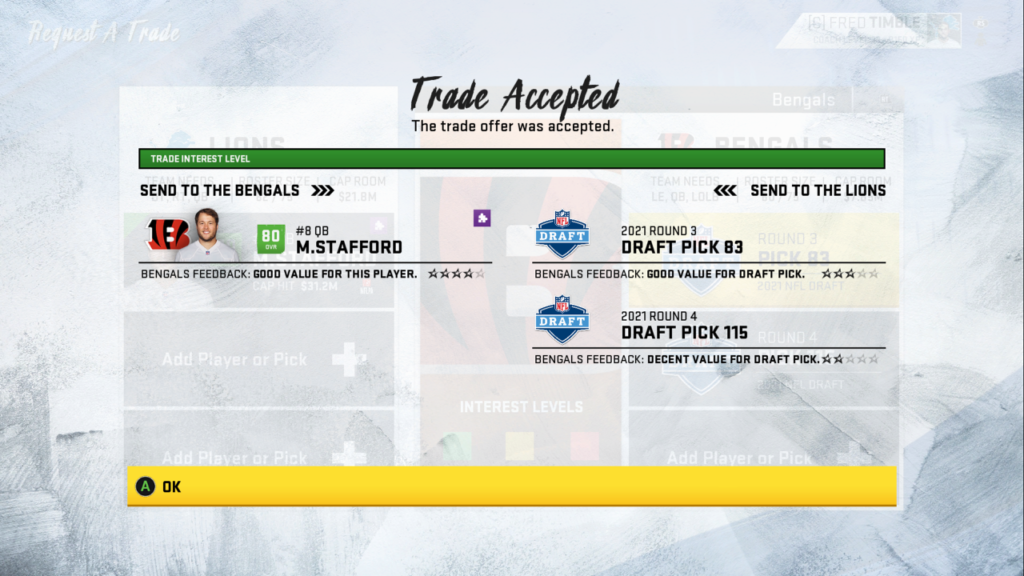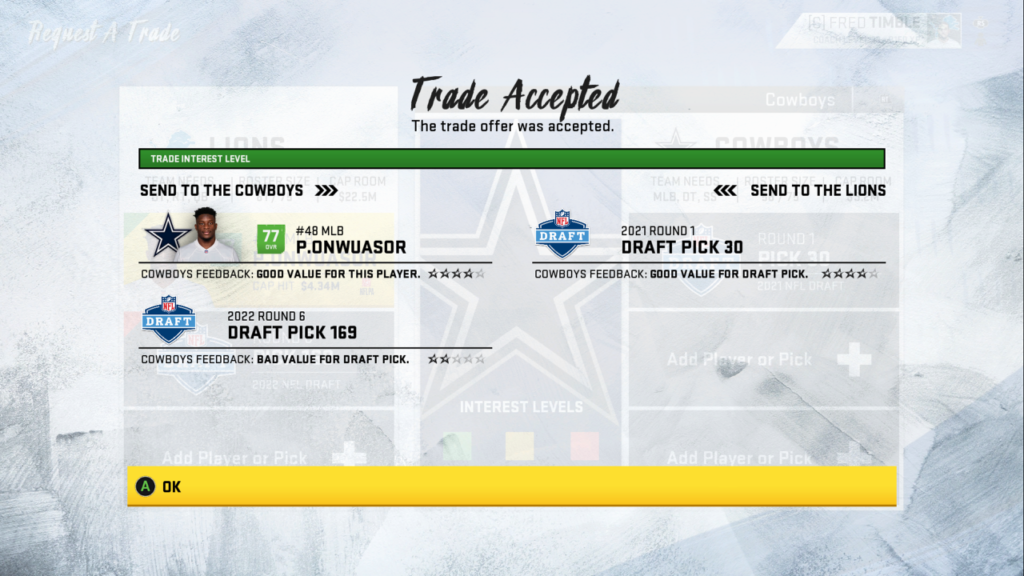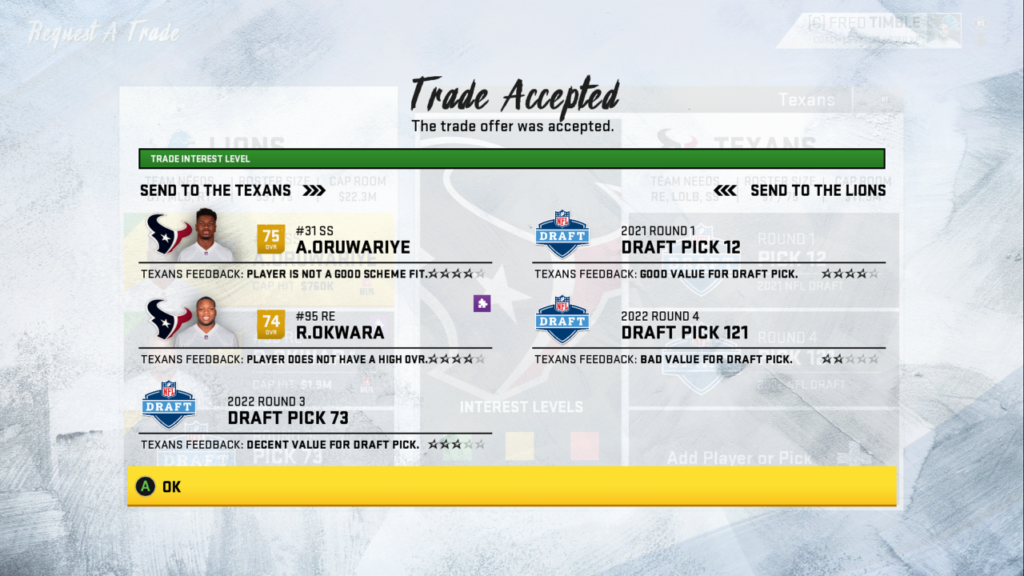 BUILDING MY DRAFT BOARD
This season was a top-heavy draft at most positions, but I had found some sleepers that could help my team on day one, here was my draft board heading into the draft: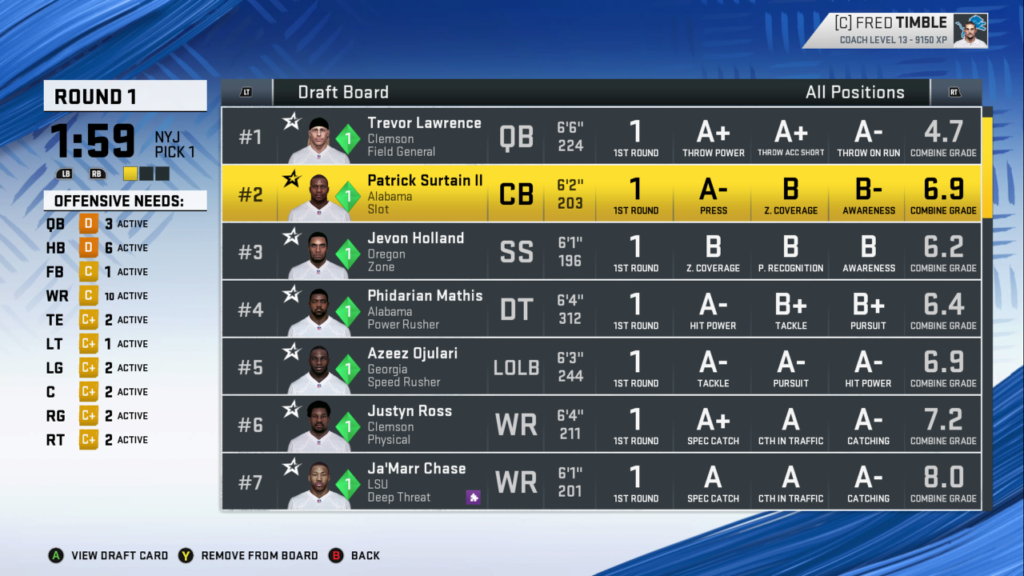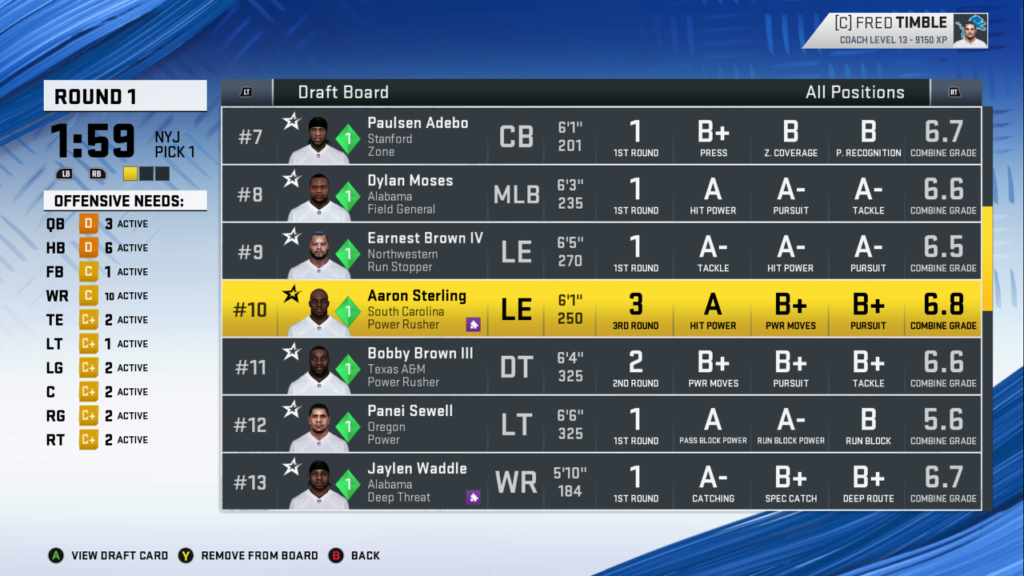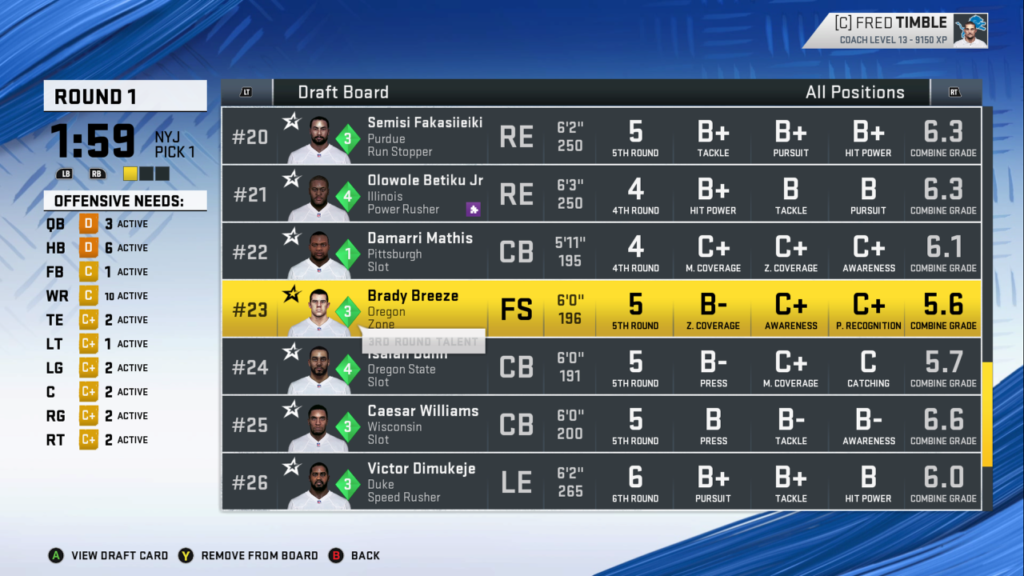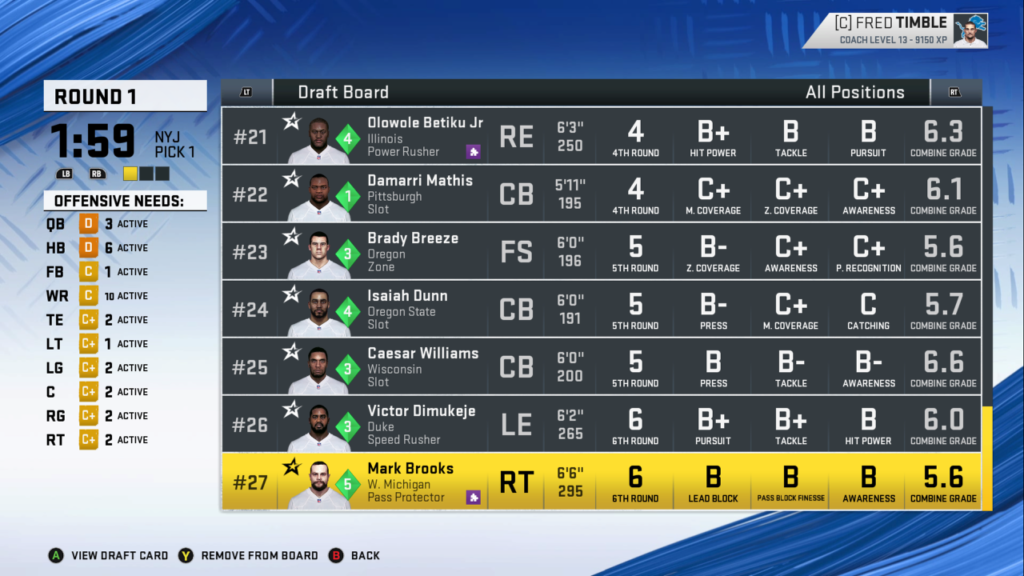 THE DRAFT:
With the 2nd overall pick in the 2021 NFL Draft the Detroit Lions Select………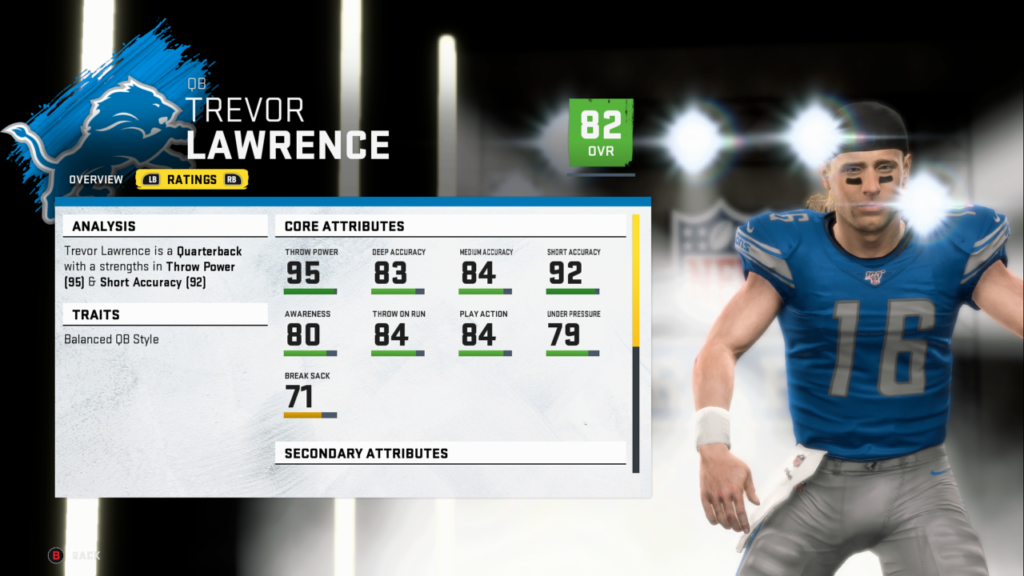 The draft continued and it may have been one of the best overall drafts I have ever had in my Madden career I was extremely happy with the results, and snagging potentially the steal of the draft in the 7th round made it even better….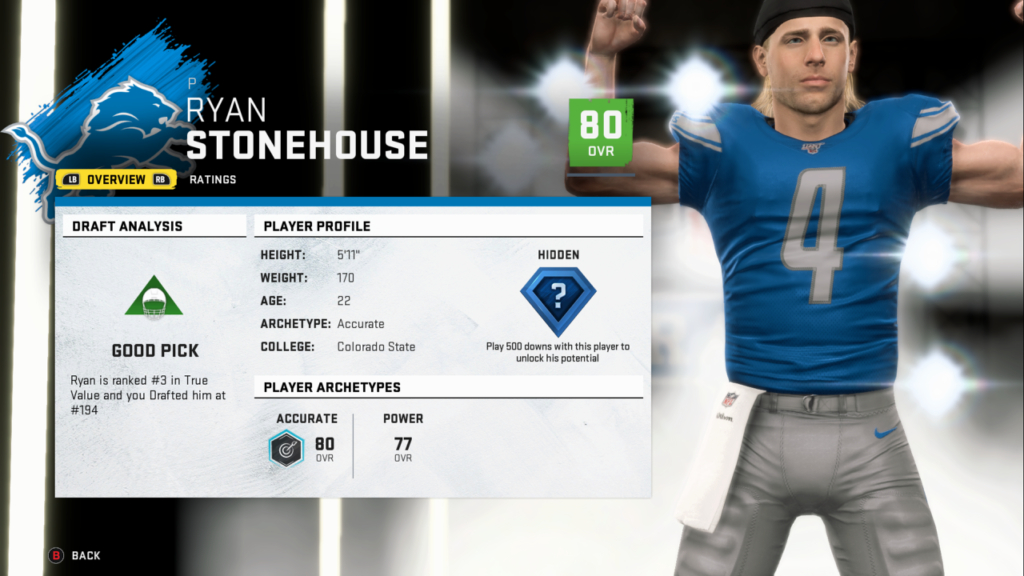 Here's the complete results of my draft: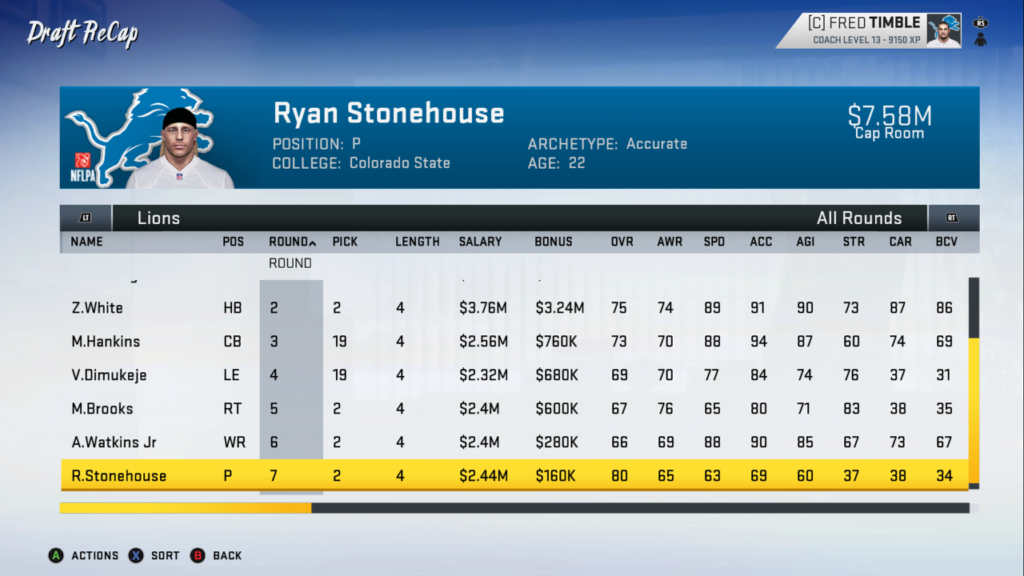 PRE-SEASON AROUND THE NFL AND SETTING THE ROSTER
Taking a look around the league before starting the new season, the NFL will look a bit different going into year 3 of this franchise. Future Hall of Famers Tom Brady and Andy Reid have retired, and who's replacing Brady in New England you ask? Mitchell Trubisky, who rides the best season of his career in Chicago to a new deal in a new city. The Pats continued to poach NFC North talent as they signed RB Dalvin Cook away from the Vikings. They also added MLB Zach Cunningham to help their defense. The Packers and Redskins were both big players in free agency. The skins added TE OJ Howard and CB Gareon Conley among a few others. The division rival Packers added DT Dontari Poe to sure up their front seven. There was a lot of movement for coaches in the NFL also, Mike Tomlin moved teams for the 3rd time in three seasons going from Pittsburgh to Minnesota and now landing in New York with the Jets. Sean McVay and Wonderkid Jordan Love team up in Dallas to try and revamp the Cowboys glory days. Jon Gruden replaces Tomlin in Minnesota after his 10-year contract in Oakland/Las Vegas falls about six years short. Adam Gase somehow continues to get head coaching jobs as he replaces Anthony Lynn in LA with the Chargers.
For Freddy T and the Lions, we keep on chugging along, this year in search of 7 wins at least. We added Michael Badgley shortly before the season started as Matt Prater called it a career in the offseason. I also had to make a couple of tough cuts, none easier than this guy though.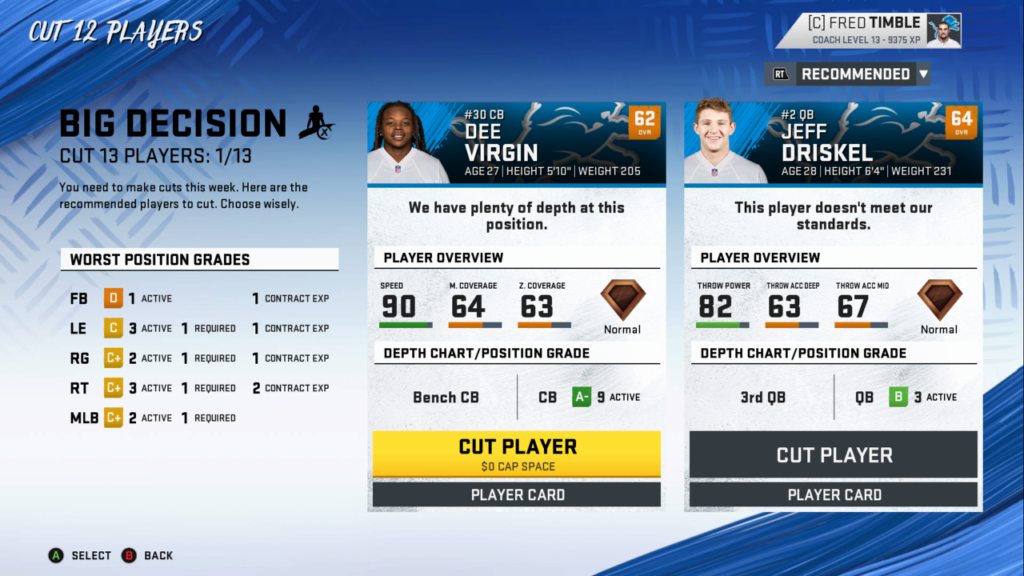 Here's how the 2022 Detroit Lions will line-up to start the year: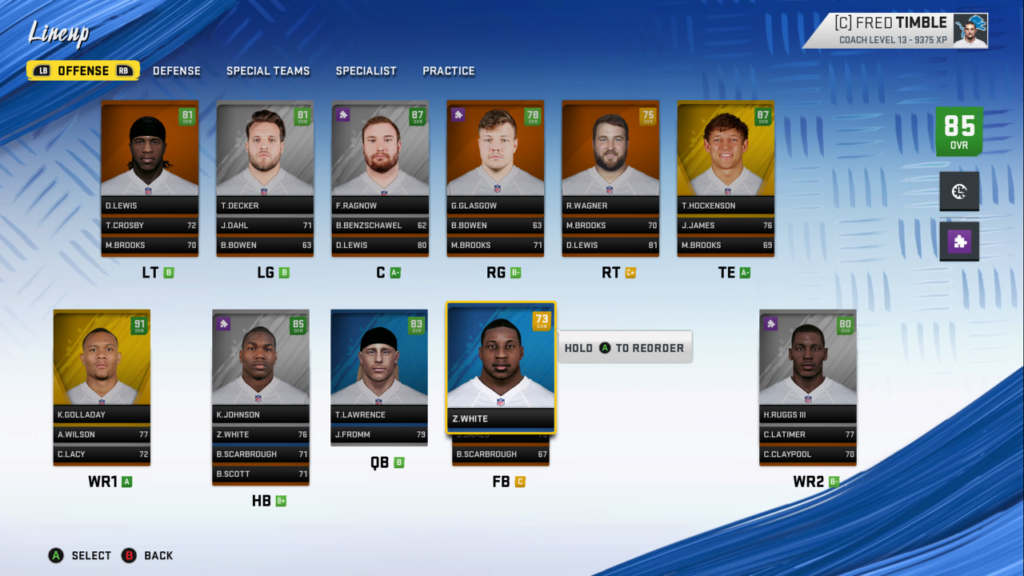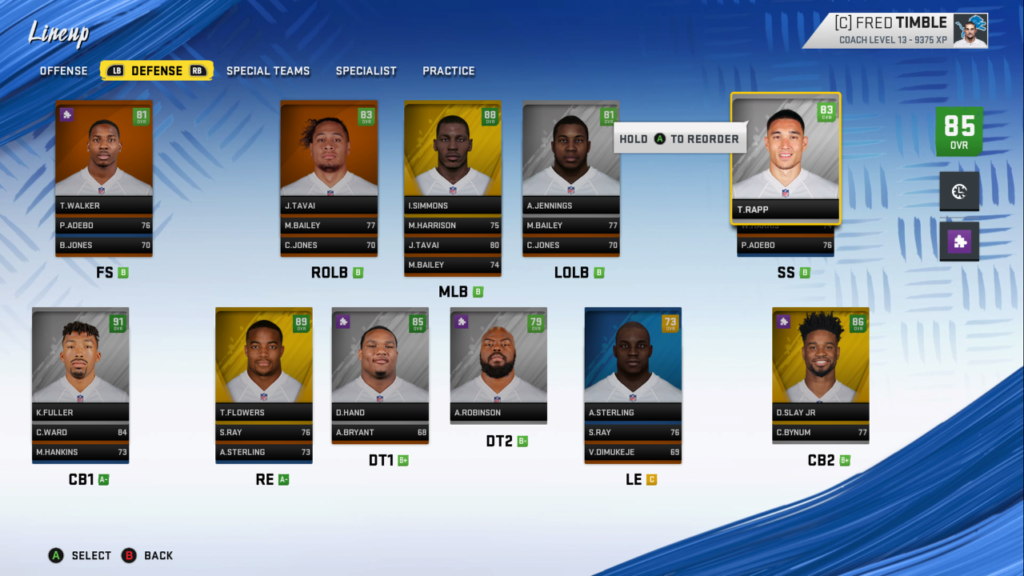 COME BACK LATER THIS WEEK TO SEE HOW THE SEASON WENT!
CAN WE MAKE OUR FIRST PLAYOFF GAME THIS YEAR! STAY TUNED!