By: Nosebleed Beto
Madden 20: Detroit Lions
2021 SEASON RESULTS
We kick off the 2021 season with a lot of decisions to be made. Is Matthew Stafford our QB of the future? Is Kerryon Johnson the bell cow back we expect to have? How will our rookies develop in our system? I was ready to jump in this season to find the answers to all the questions. My offense was ready to compete and my defense had potential to make a big jump from year one to year two. I had a tough schedule and am playing in a division with three teams who excel on at least one side of the ball.
THE FIRST FOUR GAMES
I started my season against the Chicago Bears and Khalil Mack, and if you haven't played Madden vs. Khalil Mack yet… well its not very fun.
We put up a good fight but come just short after this Stafford pick losing 17-14 and fall to 0-1
Our next opponent was the Arizona Cardinals, and Kyler Murray.
We did not fair well as we lost 45-10 dropping our record to 0-2. Murray lit us up for 4 TD in the air and one on the ground.
Our next two opponents were the end of the first cycle of us playing the divisional teams.
First was the Green Bay Packers:
Our defense came through in the beginning of this game holding Rodgers and the packers to 12 points on 4 field goals. Meanwhile on offense, Stafford got into a nice groove and putting us up 17-9 at the half. After a scoreless 3rd quarter, we entered the fourth up two scores thanks to an early field goal and an interception by Patrick Onwausur. Golladay sealed the game with a TD and we win our first game 27-9 to improve to 1-2 .
Next up was Kirk Cousins and the Vikings. If you need to know anything about me personally, I HATE Kirk Cousins. As a Redskins, fan not many of us hold him too close to the heart, so part of my excitement about doing this franchise was hopefully getting to beat up on Cousins twice a year.
Our Offense rolled on from the last game starting hot and getting an early 14-0 lead. We went to the half leading 14-7, Stafford was dealing, and it looked like we were starting to find our stride on both sides of the ball. Stafford ended the third with his third touchdown pass, and we won the game 28-7 bringing our record to 2-2.
THE NEXT EIGHT GAMES:
From here until week 12 it was sim time, I had one major contract re-negotiation to go through, and I locked up my #1 target, Kenny Golladay for four more years.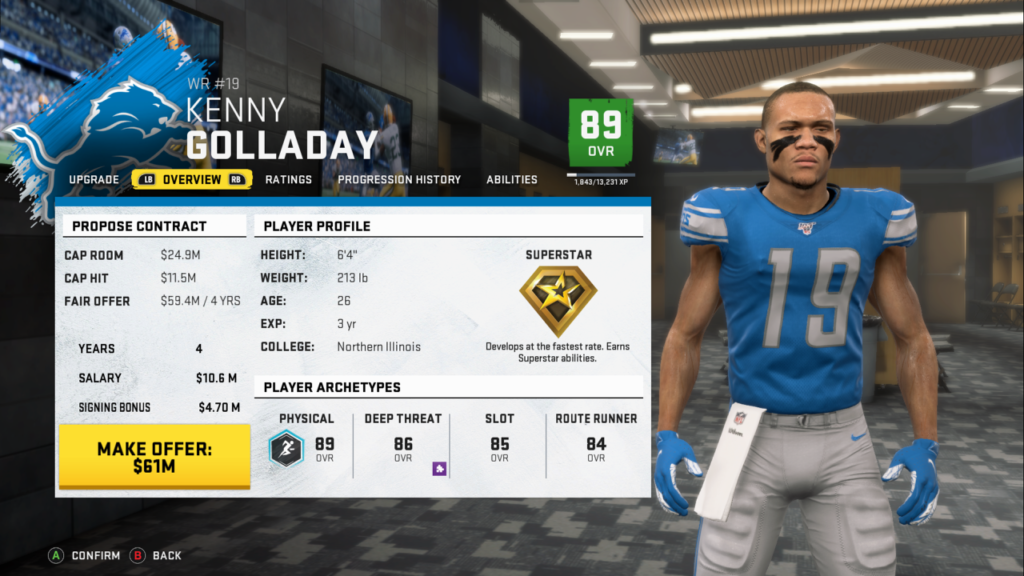 It was tough sledding for my Lions during the simulation as we came into our Week 12 matchup with the Packers at 2-9. A couple other updates: Henry Ruggs started to develop quickly and had already surpassed Cody Latimer in rating as our number two receiver. I chose for him to stay in the slot for the remainder of the season. Isaiah Simmons had quickly become a dominant force for our defense as him and fellow rookie outside linebacker Anfernee Jennings were starting to develop into the two corner stones our defense needed.
THE FINAL STRETCH
First up was the Green Bay Packers, having beat them earlier in the year we had the recipe for success, it was a shootout early as both teams were putting up points in hurries, we went into the half down four, 21-17.
Both teams scored one touchdown in the third, we started the 4th with the ball and scored to take a 31-28 lead. Our defense held strong and after an interception I felt confident we were about to pick up our 4th win of the year. Then I did this….
I only have myself to blame for this loss, and at 3-11 but it was clear that this season was a lost season. Knowing we were likely in a scenario to pick in the top of the draft I decided it was time to once again make a change. At this point I've come to the decision that Stafford would not be our QB of the future and it was time to give 3rd round pick Jake Fromm an opportunity to start. In the interim, we continued to do intel on the top quarterbacks in the upcoming draft.
After another week of simulation, which we won for a change moving to 4-11 we finished the season with the Vikings and Bears, a chance for Fromm to prove himself and a chance for us to see what next year could look like.
First was the Vikings:
Much like most rookie QB's first starts there was a lot of up and downs, his first drive exemplified this well as he drove us down into the field goal range, only to throw an interception. .
Fromm quickly recovered though as the next possession he drove us down and we scored a touchdown to take a 7-0 lead. Here's Fromm's first career TD pass to T.J. Hockenson:
After 10 quick points by the Vikings we came out of half with an opportunity to take the lead, and we had a nice drive by Fromm here to take a 14-10 lead. This was it for scoring for us though as Dalvin Cook put the game on Ice with a 67-yard TD run and we fell to 4-11.
We finished the season with the 13-2 Chicago Bears:
In a snowy game in Chicago, I knew I'd have to focus on the run, and I was still trying to get more out of Kerryon Johnson than I was getting. This was a big game for him to prove it to me that he was worth an extension next year. We started our first drive at our own one-yard line but drove down the field and scored a Touchdown. Fromm and Kerryon looked to be in sync on this one.
After giving up a quick score we got the ball back once again we drove down the field and scored, this was the best game I had, had with Kerryon Johnson up to this point, and Fromm looked like a potential star quarterback.
The second half was no different as we continued to run ramped on the Bears, winning the game 35-7 and finishing the season 5-11.
POST-SEASON:
After a slightly disappointing season, we had earned the #2 overall pick. I knew we had another big offseason in front of us, but first I wanted to check in on how some of my players faired. Jordan Love rookie quarterback for the Dallas Cowboys, lit up the NFL for 52 TDs and won MVP in his rookie year, he also took home the NFC OROY award, Henry Ruggs came 4th.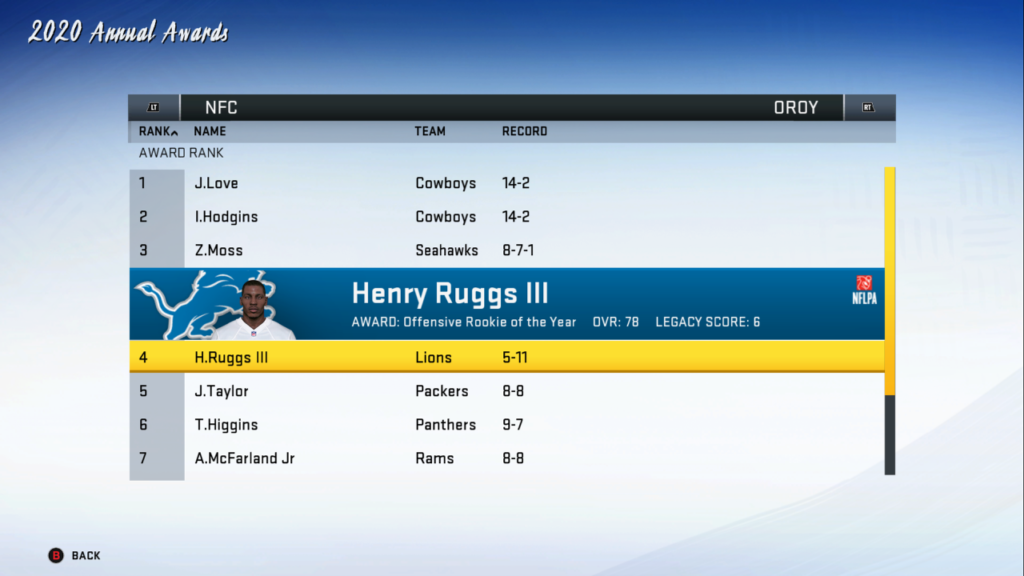 Isaiah Simmons and Anfernee Jennings were 1 & 2 in the NFC DROY of the year voting, with the #9 overall pick taking the award home. Simmons was our teams only pro-bowler.
The Bears squared off with the Ravens in the super bowl with the Ravens and Lamar Jackson taking home the Lombardi Trophy with a 42-24 win, Mitchell Trubisky had a solid season in a contract year, and the Bears were set up to be potential super bowl threats year in and year out.
SHOULD FROMM BE THE QB OF THE FUTURE?
COME BACK LATER THIS WEEKEND FOR THE OFFSEASON RECAP
COMMENT WHAT YOU WANT TO SEE!