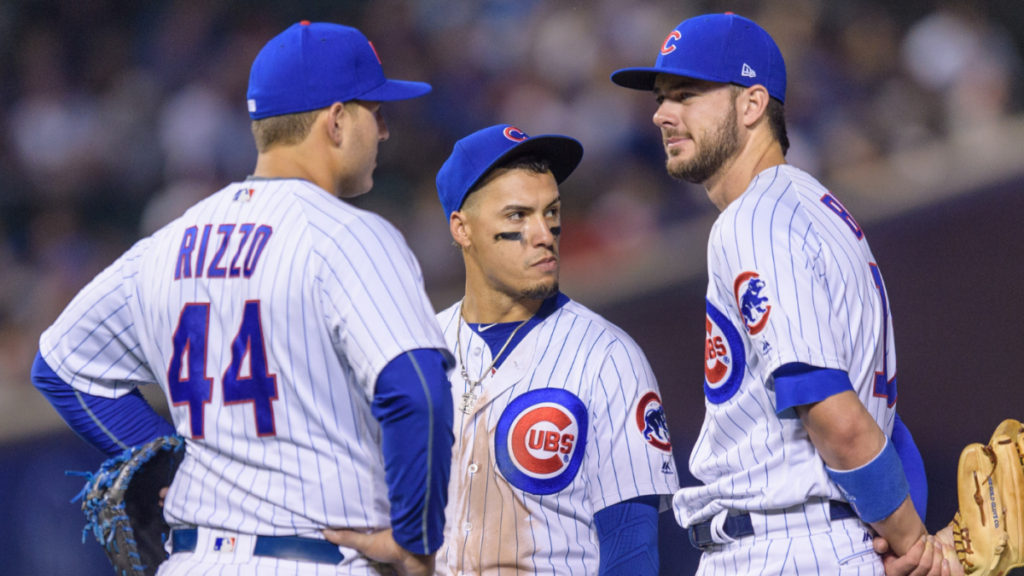 By: Ross Sutton
Executives from around the league seem to think that the Cubs will be sellers as this year's trade deadline approaches. This would be really interesting because despite the team's mediocre record, the Cubs have a number of stars on their roster that other teams would certainly be interested in trading for. So let's dive into which Cubs players could be on the move, and which team I think would be the best fit to trade for each player.
Craig Kimbrel: Astros
As I mentioned in my second trade deadline predictions blog from last week, Craig Kimbrel would likely be the most coveted players on the trade market should he become available. This means that a number of teams would be interested in trading for Kimbrel, but which teams make the most sense? An important aspect of a Kimbrel trade (or any trade for that matter) is the contract being traded along with the player. In Kimbrel's case, his contract probably increases his trade value a little bit. This is likely the case because he is signed through next season for $16M, which feels like a bargain if Kimbrel continues to pitch the way he has this season.
The teams that stand out to me as good potential trade partners for Kimbrel are the Astros, Athletics, Phillies and Red Sox. The Astros would be a good fit because other than Ryan Pressly (who has been really good this year), Houston lacks proven arms in the bullpen. Therefore, adding Kimbrel and moving Pressly to the setup role would set up the Astros really nicely for a postseason run. The same goes for the A's, who have a few good arms in the back of their bullpen, but adding Kimbrel to that group would make them a real threat in the American League. The Phillies bullpen struggles over the last few years have continued into 2021, as they have blown more save opportunities than they have converted, so of all the teams I'm mentioning here, the Phillies certainly have the biggest need for Kimbrel. Although people might not think of the Phillies as a team with a great chance to make the playoffs, they are only 3.5 games back of the Mets in the NL East, so they have a legit shot to win the division. Last are the Red Sox, who actually have a closer that was an All-Star this year (Matt Barnes), but other than him, they do not have many trustworthy arms in the bullpen. Trading for Kimbrel would not only be a nice reunion between the two parties, but it would provide the Red Sox with some serious firepower at the end of games as well. On July 6th, Buster Olney Tweeted that one baseball executive thinks that it will be the Astros or A's that trade for Kimbrel, so I'm sticking with my prediction from my most recent trade deadline predictions blog and will say that the Astros will be the team that ultimately trades for Kimbrel.
Kris Bryant: Mets
When it comes to Kris Bryant, I have my doubts that he would actually be traded. I have doubts because I'm not sure that he would have a very big market. Even though Bryant has played well this year, I just don't think that there are many teams that would be looking to add a third baseman at the deadline this year. Of all the teams that have legitimate playoff aspirations, just about all of them have pretty good third baseman already. Additionally, considering Bryant has been one of the faces of the Cubs franchise throughout his career, I think that the Cubs might want to try to extend Bryant in the offseason since he is a free agent after this year.
However, if Bryant eventually becomes available on the trade market, the Mets are far and away the most logical team to trade for Bryant. Despite trading for Francisco Lindor this offseason, the Mets have one of the worst offenses in baseball, but they are currently leading the terrible NL East by 3.5 games, so they certainly have a real chance at making the playoffs this year. The Mets also have a great need at third base, as J.D. Davis is on the 60-day IL. If the Mets were to trade for Bryant, their infield would be absolutely loaded with talent, as they would have Bryant, Lindor, McNeil, and Alonso from third to first. Additionally, I could also see the Giants being involved in trade negotiations for Bryant due to his great versatility. The Giants have been the biggest pleasant surprise of the 2021 season, as they currently have the best record in the MLB despite being in the same division as the Dodgers and Padres. Even with this success though, the Giants could use another bat if they want to solidify their playoff spot. Since Bryant can play the outfield, he could potentially be a fit for the Giants, but I would expect that the Mets would be the most aggressive in trying to trade for Bryant in the coming weeks.
Anthony Rizzo: Red Sox
The way I feel about Rizzo is similar to how I feel about Kris Bryant in the sense that not many contending teams have a need at first base, and the teams that do have a need for Rizzo might not be willing to offer the Cubs much for him due to a fear of bidding against themselves. Then, if the Cubs do not get offered a lot for Rizzo, then they might be inclined to hold onto him and try to re-sign him in the offseason when he is a free agent since he has been such a big part of their team over the years.
With that being said, the one contending team that does appear to have a need at first base is the Red Sox. Boston currently has the fourth-best team OPS in the MLB, so they do not necessarily need another bat, but adding Rizzo to that lineup would be a pretty perfect fit. The Red Sox have primarily been starting Bobby Dalbec at first this year, and he has not been that good, so trading for Rizzo would significantly bolster Boston's already strong lineup.
Javier Baez: Athletics
Javy Baez has had his struggles at the plate in 2020 and 2021, but his power numbers have returned a bit this season, as he currently has 21 home runs with a .777 OPS. As I mentioned in my last trade deadline predictions blog when I predicted that Trevor Story would be traded to the Athletics, Elvis Andrus is simply not getting it done at shortstop this year for Oakland. Andrus is not what he once was earlier in his career, and his .599 OPS supports that notion. The A's have a fairly comfortable 3.5 game lead over the Mariners for the second Wild Card spot in the AL, but if they want to fend off team like the Blue Jays, Yankees, and Indians that are fighting for a playoff spot, then they might need to upgrade at shortstop. Although Trevor Story might provide more upside on offense, Baez's elite glove and arm would take the A's already excellent infield defense to the next level. Baez also might make more sense for the Athletics than Story in terms of salary, as Baez is only owed another $4M this year.