By: Nathan Baakko
The NFL draft is now over, and it's time to begin fantasy football talk for the 2020 season. With plenty of rookies having the possibility to produce on their new teams, I break down some of the top candidates that could make your squad.
1) Clyde Edwards-Helaire, RB, Chiefs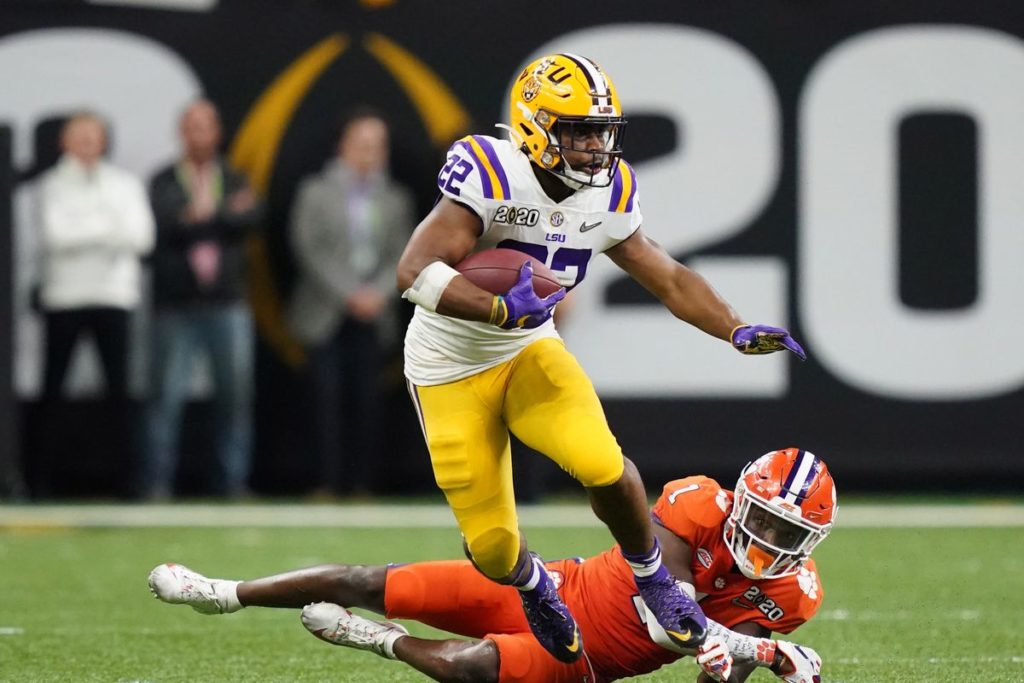 The 32nd overall pick by Chiefs is easily at the top of this list. Head Coach Andy Reid reached out to Pat Mahomes and asked who he wanted in the 1st round, the QB then hand-picked Edwards-Helaire over other notable RBs that were higher on many experts' draft boards. Reid has stated that Edwards-Helaire reminds him of a better Brian Westbrook, perhaps the best RB he has coached. Edwards-Helaire can not only run well, but is also great in the pass-catching game, a perfect fit for this explosive Chiefs offense. Look for him to get plenty of touches alongside Damien Williams to start the season, and be a great asset for your team, especially in PPR formats. He'll definitely be worth one of your earlier mid-round picks in redraft leagues and the #1 pick in dynasty formats.
2) Jerry Jeudy, WR, Broncos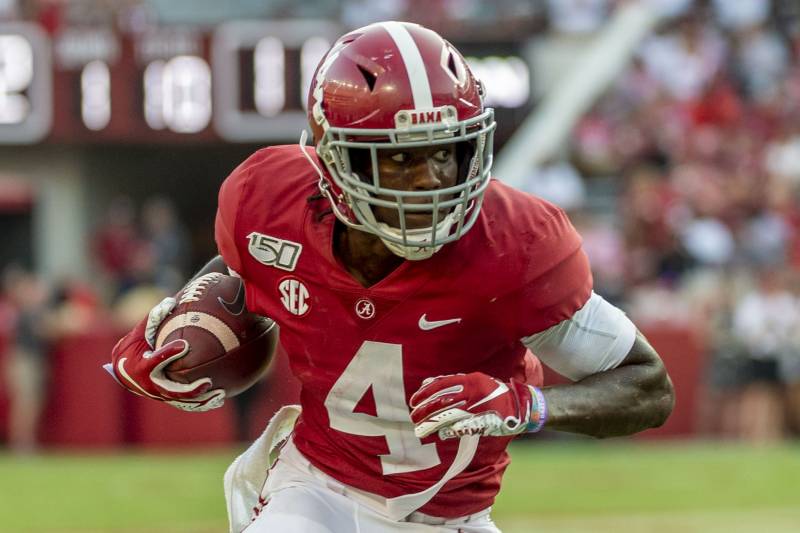 Jeudy was drafted by the Broncos and joins what appears to be a much-improved offense. He played slot most snaps of his career at Alabama, but can still produce and line up on the outside. Jeudy will be the surefire WR2 on this team as he will have very little competition and should see his fair share of snaps pretty early on and will have a decent coverage situation with Courtland Sutton taking some attention away from him. He was the most complete receiver in this draft and could be a very reliable WR2 on fantasy teams drafted mid-late in redraft leagues and should be the first WR off the board in dynasty formats.
3) CeeDee Lamb, WR, Cowboys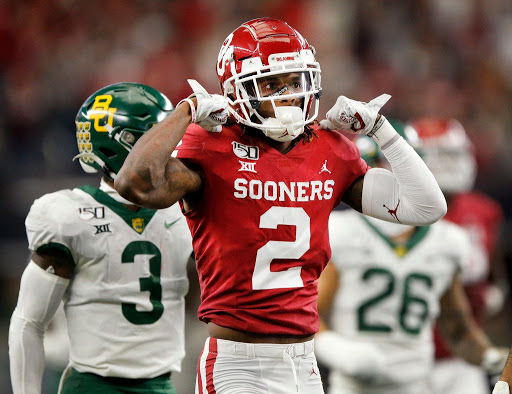 Lamb joins a good offense that already includes Amari Cooper and Michael Gallup, which means he should see favorable coverage as the WR3. He'll likely get off to a slow start with Cooper, Gallup, and Ezekiel Elliott soaking up many of the touches, but will fit right into the slot and could potentially be the most productive receiver on the team by the end of the season. After a few games, the Cowboys will realize his pure talent and throw the ball his more and more making him an eventual WR2. In redraft leagues, Lamb is a late-round pick and hold more value as an early pick in dynasty formats.
4) Cam Akers, RB, Rams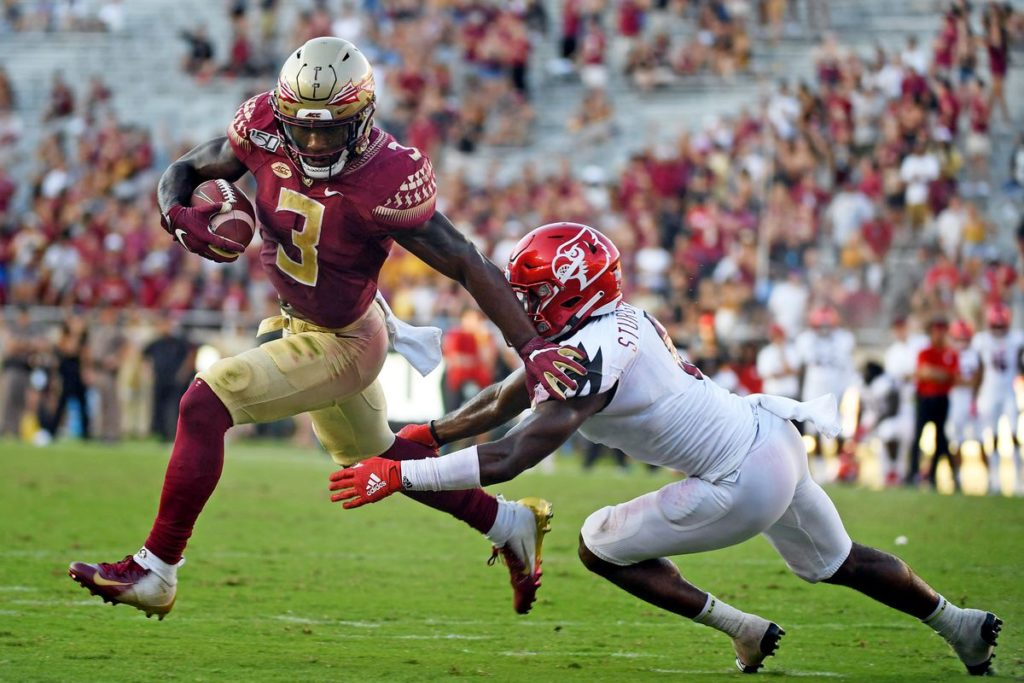 Akers could be one of the biggest steals of the draft as the 4th RB taken. Joining a Rams team who just released Todd Gurley, Akers is a great position, looking at a wide-open competition for the starting position with NFL sophomore Darrell Henderson. Despite the recent struggles FSU has had, Akers has been one of the constant lights in their offense, rushing for 5 yards per carry while still recording 14 touchdowns. Akers may give up some snaps to Henderson on passing downs, but should win the battle and earn a bulk of the ground snaps and goal-line carries. He has the potential to produce almost immediately and should definitely be looked at in the middle rounds of a draft for redraft leagues and will be one of the first off the board in dynasty leagues.
5) Jonathan Taylor, RB, Colts
Taylor was the 3rd RB taken and isn't necessarily entering the best scenario for a rookie at his position. He will likely try to carve out a rushing role in a committee involving 1,000-yard rusher Marlon Mack and passing-down specialist Nyheim Hines. Taylor had a drop issue in college so he'll most likely be used as a workhorse back when in the game, but it could take some time for him to get his fair share of touches. The silver-lining for Taylor is that the Colts actually traded up to pick 41 to take him, so they must plan to use him early at some capacity. Taylor is worth risking a mid-late round pick in redraft leagues, but holds more value as an early pick in dynasty leagues.
6) D'Andre Swift, RB, Lions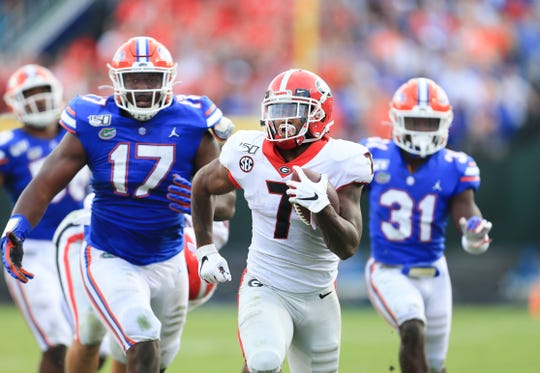 Going into the draft, many experts had Swift as the highest-ranked RB in the class, and although he may not be in the best situation, he certainly still has a great chance to succeed this season. He will likely be part of a committee including Kerryon Johnson and Bo Scarbrough, but could pass Scarbrough pretty quickly, and may even see himself as a starter at some point given Johnson's injury history. Swift has a 3-down upside and can be a bruiser in the passing game, which could give him the eventual edge over Johnson. Don't be surprised if Swift gets off to a rough start, then picks up steam, making himself a possible RB2. Swift may be worth taking with a mid-round pick in redraft and in the top 10 in dynasty formats.
7) Henry Ruggs III, WR, Raiders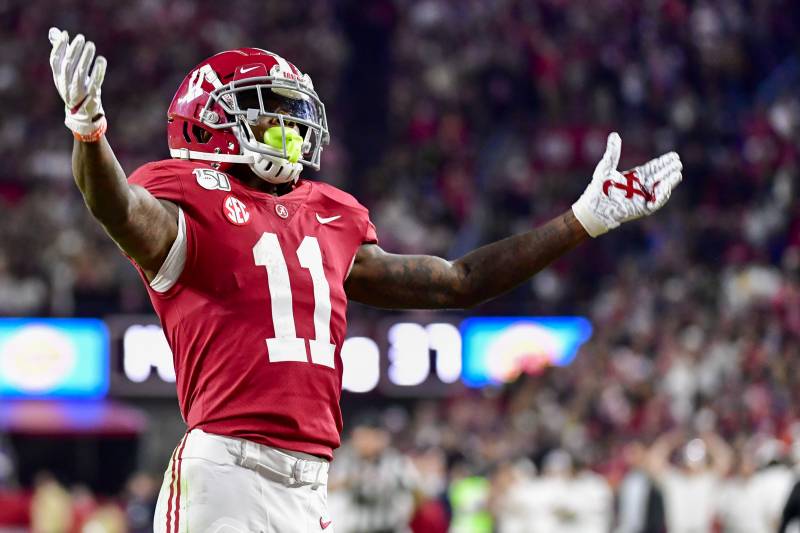 Although it came as a surprise to many, Ruggs was taken as the #1 WR in the draft. The Raiders wanted speed, and man do they get it in Ruggs who ran a 4.27 at the combine. He is likely to start the season in an every-down role on the opposite side of the field from Tyrell Williams while Hunter Renfrow stays in the slot, and his speed gives him big-play potential for explosive plays downfield. Ruggs' ball skills and ability to rack up yards after the catch puts him in a position to produce on a weekly basis. To start the season, I'd consider Ruggs a borderline FLEX option and would draft him in the mid-late rounds in redraft leagues and as the 3rdreceiver in dynasty formats.
8) Justin Jefferson, WR, Vikings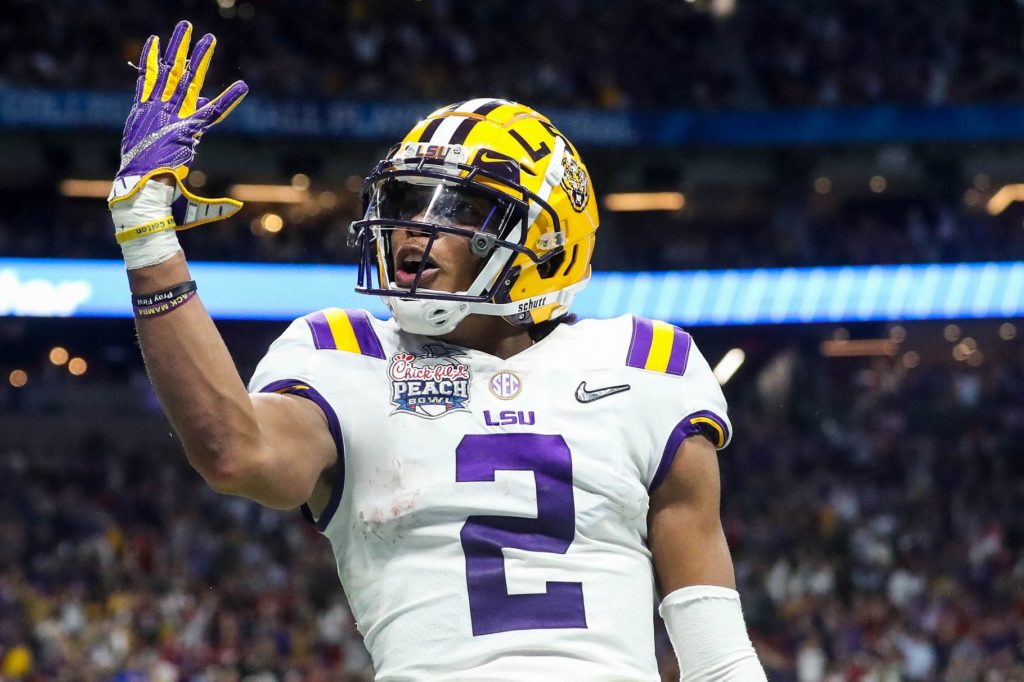 With Diggs now out of Minnesota, Jefferson moves into the clear WR2 position on the roster. The Vikings will most likely move Thielen to the outside while playing Jefferson in the slot position, which should help him rack up a decent number of targets and benefit his value in PPR. Although his volume should be large enough to support consistent production by the end of the season, don't expect him to start for your team right away since the Vikings have become a run-heavy offense. Temper your expectations, but take Jefferson as a late-round redraft pick to highlight your bench and become a possible FLEX option, while taking him as one of the earlier receivers in dynasty leagues.
9) JK Dobbins, RB, Ravens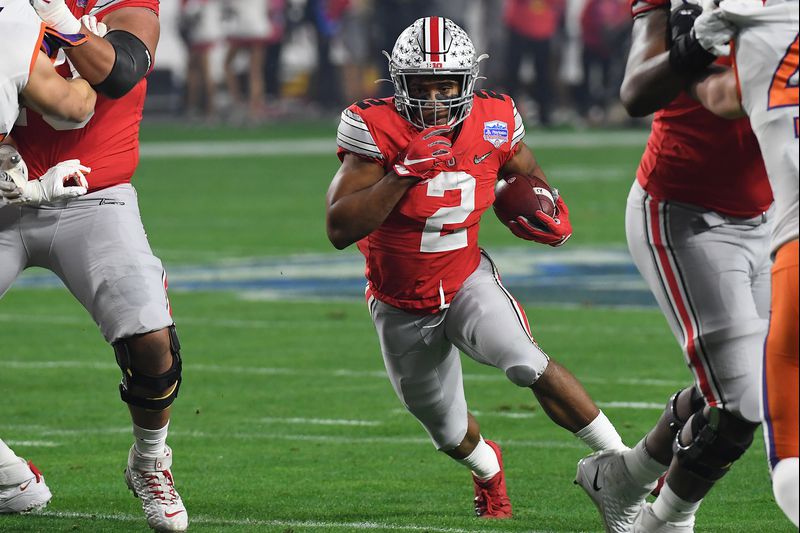 Drafted into one of the most explosive offenses in the league, Dobbins is now in place to have a pretty high ceiling. With guys like Mark Ingram and Gus Edwards still on the squad, Dobbins won't be producing immediately but can be expected to come in for a decent amount of touches each game due to his pure talent and workhorse ability. Just the sheer power of this high-scoring offense gives Dobbins the chance to become an early FLEX option in larger leagues and would be a great addition to have on your bench to start the season. I'd stash him on the end of your bench later in redraft leagues and take him in the top 10 of dynasty leagues.
10) Joe Burrow, QB, Bengals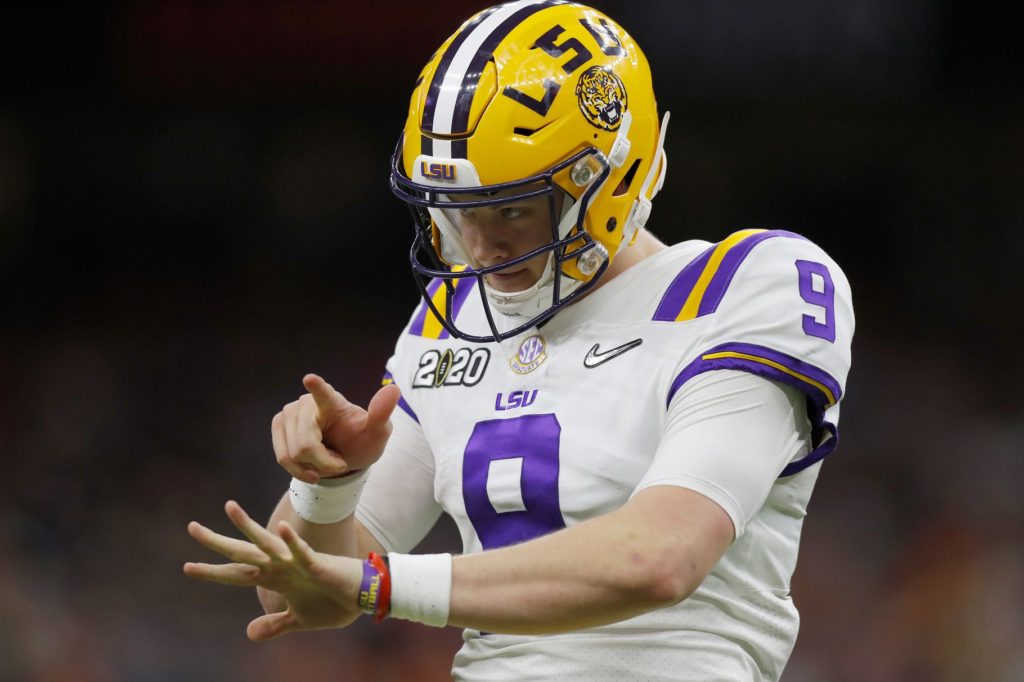 Burrow is coming into the league with a luxury that many #1 picks usually don't have: weapons on offense. The QB will be able to throw to the likes of A.J. Green and Tyler Boyd, while handing off to Joe Mixon. Burrow has the ideal size and accuracy while managing to be mobile as well. He'll be the day-one starter in Cincinnati whether or not Andy Dalton is still around, but that doesn't necessarily translate to fantasy production. Burrow could definitely be a QB1 in fantasy down the road, but to start the season, he is a QB that should be looked at in deeper redraft leagues, unless you'd like to take a flyer and keep him as a backup with eventual starting hopes. In dynasty formats, Burrow should be the first QB taken and should be rostered in every 2-QB league.
Honorable Mentions
Denzel Mims, Jalen Reagor, Tua Tagovailoa, Brandon Aiyuk, Chase Claypool, Ke'Shawn Vaughn