By: Andrew Hubschman
Welcome to Part 3 of the "Best Current QB's By Jersey Number" series! Let's explore the top QB's currently possessing jersey numbers 9-6…
9. Drew Brees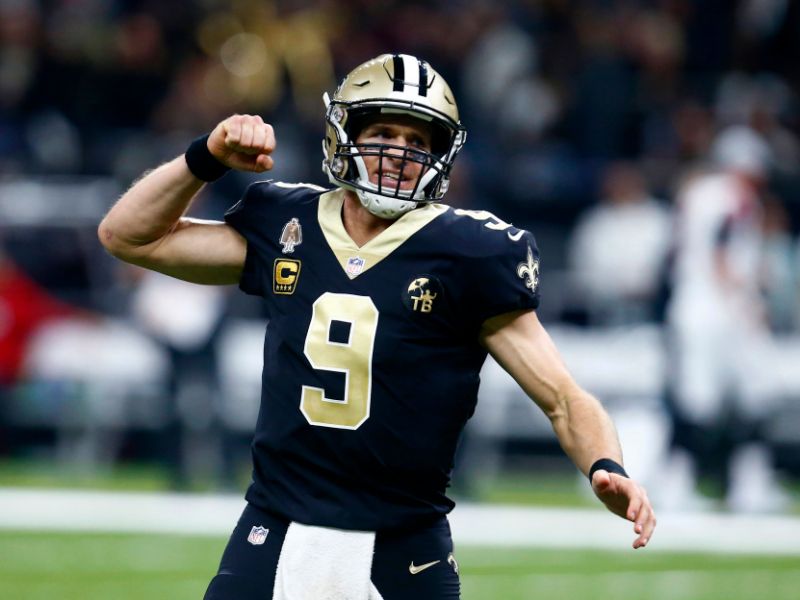 Statistically the greatest and most accurate quarterback of all time, Brees has set numerous NFL records – some of which can be arguably deemed unbreakable. The all-time leader in passing yards and touchdowns, Brees also totaled the highest total of completions and completion percentage – both in a single season and career! This is corroborated by his five seasons of leading the league in total completions (holds the record for most in a season with 471) and SIX seasons of completing at least 70% of his passes. If that's not enough, he set the record for the highest single-game completion percentage ever: 96.7%; he completed 29 out of 30 of his passes! Brees brought a winning mentality to New Orleans upon arrival in 2006 and won Super Bowl XLIV against Peyton Manning and the Colts. After going through a rough stretch from 2012-16 (making the playoffs only once in that stretch), Brees & Co. revived themselves into playoff mode and, despite their recent heartbreaking finishes in the playoffs, into a Super Bowl threat. A player and role model that is loved by most both in and outside of his community, Brees deserves one more Super Bowl before he calls it quits. Either way, he is by far the best QB currently, and ever, to sport the #9 jersey.
Honorable mentions: Matthew Stafford, Nick Foles, and Joe Burrow
8. Lamar Jackson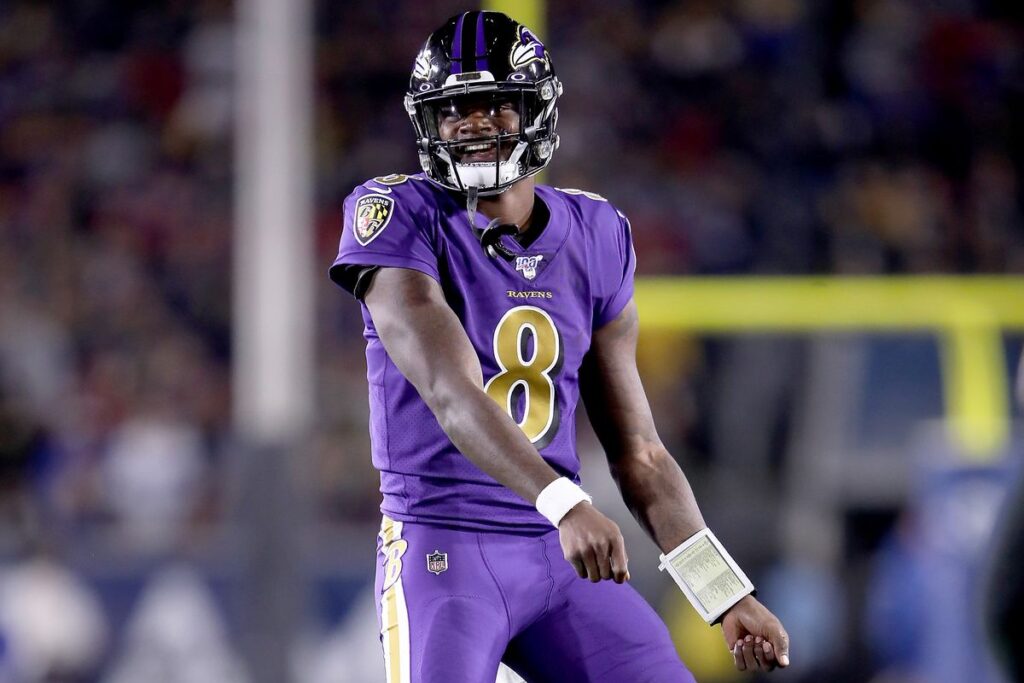 Following a historic MVP season, Lamar Jackson is undoubtedly the best quarterback – and player – currently rocking the #8 jersey. The 2016 Heisman winner from Louisville proved why his late first-round selection in 2018 was a pure insult from all the teams that passed on him. In his rookie year, he went 6-1 as a starter after Joe Flacco went down due to injury – which proved to be the end of his more-than-a-decade long tenure with the Flock. Following a tough AFC Wild Card loss to the Chargers in his playoff debut, Jackson became the full-time starter the following season, as well as one of the top-tier faces in all of football. This QB dubbed "running back" not only set the QB single-season rushing record, but he also led the league in TD passes with 36. He also guided the Ravens to a franchise-best 14-2 record and atop the AFC for the first time in the team history; the Purple and Black also closed out the regular season on a 12-game winning streak (Jackson sat out the last game as the Ravens already secured the #1 seed). Jackson solidified the Ravens' historic offense, who became the first team to average 200 passing and rushing yards per game in a season. Yes, they choked against the Titans in the Divisional Round, but last season was only the beginning for this new revamped Ravens team. This kid has a bright future heading into the new decade along with many other young QB's, but he stands as the best to wear #8 going into next season. Get ready for him to prove that even further.
Honorable mentions: Kirk Cousins, Daniel Jones, and Marcus Mariota
7. Ben Roethlisberger
One of 14 QB's currently sporting the #7, Big Ben stands among the top of his group. A six-time Pro-Bowler, three-time AFC champion, and two-time Super Bowl champ, Roethlisberger ranks top ten all-time in career pass completions, passing yards, and touchdown throws (8th, 8th, and 9th respectively), and he is almost certain to continue climbing up the list this upcoming season. He is the Steelers all-time leader in passing yards and touchdowns (both records previously held by Terry Bradshaw). Big Ben also holds the record for most 450 yard passing games, achieving the feat six times in his career. Among many other records, Roethlisberger became one of the most fearing QB's in the league, standing at 6'5. As a bonus, the 2004 Offensive ROTY helped bring out the stardom in Antonio Brown and Le'Veon Bell. A two-time passing yards leader (finishing at the top in 2014 and '18 respectively), Roethlisberger is coming off a lost season due to an elbow injury that sidelines him for the Steelers remaining 14 games. In his first full season without AB and Bell on the roster since 2009, Big Ben has a risen, young core – led by JuJu Smith-Schuster and James Conner – to work with that can help solidify a potential Comeback Player of the Year campaign. Expect to see a bounce-back year from Roethlisberger, the best wearer of the No. 7, in Year 17.
Honorable mention: Dwayne Haskins and Jacoby Brissett
6. Baker Mayfield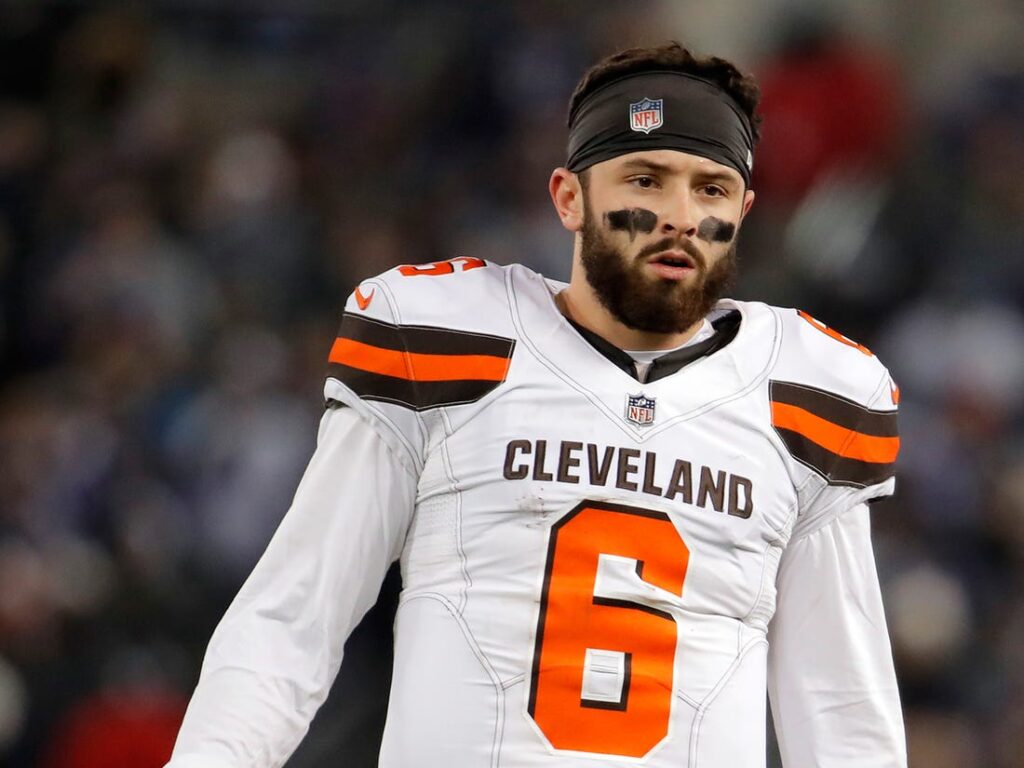 There have not been many successful QB's to wear #6, but Mayfield is currently its best-known representative and is likely to be for years to come. Sure, the former first overall pick in the 2018 Draft put up a disappointing sophomore campaign last season, but realistically, his season could have been better if he and his offense didn't suffer from unlucky plays such as his interceptions. If one were to watch Mayfield's interception compilation of 2019, they would see that a good amount of his picks were not solely on the Browns' signal-caller. Of his 21 interceptions, I would go as far as to say that he was fully responsible for only seven of them. Of the remaining 14, three of them resulted from miscommunication from his receivers; seven were either deflected by the receiver or the defender; and four were thrown at the fault of poor pass protection from his O-Line. This is not to say that Mayfield would have finished with seven interceptions; rationally speaking, he could have finished with between 12-14. Mayfield's productiveness relies on pass protection; as shown last season, he was pressured and sacked more times than his rookie year where he guided the Browns to seven wins and broke Peyton Manning's record for most touchdown passes by a rookie QB with 27. Despite this, he still managed to have two receivers with at least 1,000 yards and an average of 14.0 per catch: OBJ and Jarvis Landry – the latter of which made the Pro Bowl. Hopefully, the draft selection of Jedrick Wills will improve the O-Line and help change the momentum for Mayfield and Co. Again, Mayfield may have had a disappointing sophomore season, but this does not mean that A) he is a bust or B) he has no future. He is also second-to-no one in QB's that currently rock #6.
Honorable mention: Devlin "Duck" Hodges