By: Tanaay Shah
Robert Whittaker got the unanimous decision win over Darren Till in an extremely technical striking battle. The two fighters described the bout as a "chess match," with both constantly trying to read and react to each other's every move without getting caught by the other's high powered offense. Whittaker and Till came in well-prepared, in great shape, and ready to make their case as the next in line for the middleweight championship. Till scored a knockdown in round 1 with a perfect elbow to the jaw and Whittaker matched with an overhand right to the temple in round 2. "The Reaper" kept busy in round 2 and landed a knee stomp, which blew out Till's knee and slowed down Till's offense. Whittaker won round 3, and Till managed to win round 4 despite the damage he had already suffered. It came down to the final round, and Till landed an elbow that opened up a nasty cut over the left ear of Whittaker. Whittaker however secured the win by being the busier fighter and landing more strikes as well as a takedown towards the end. All three judges correctly scored the fight 3-2 for Whittaker. Congratulations to both fighters for an excellent display of skills, and respect for the sport of MMA and each other as true competitors. There is a lot to look forward to for these two top contenders and the middleweight division.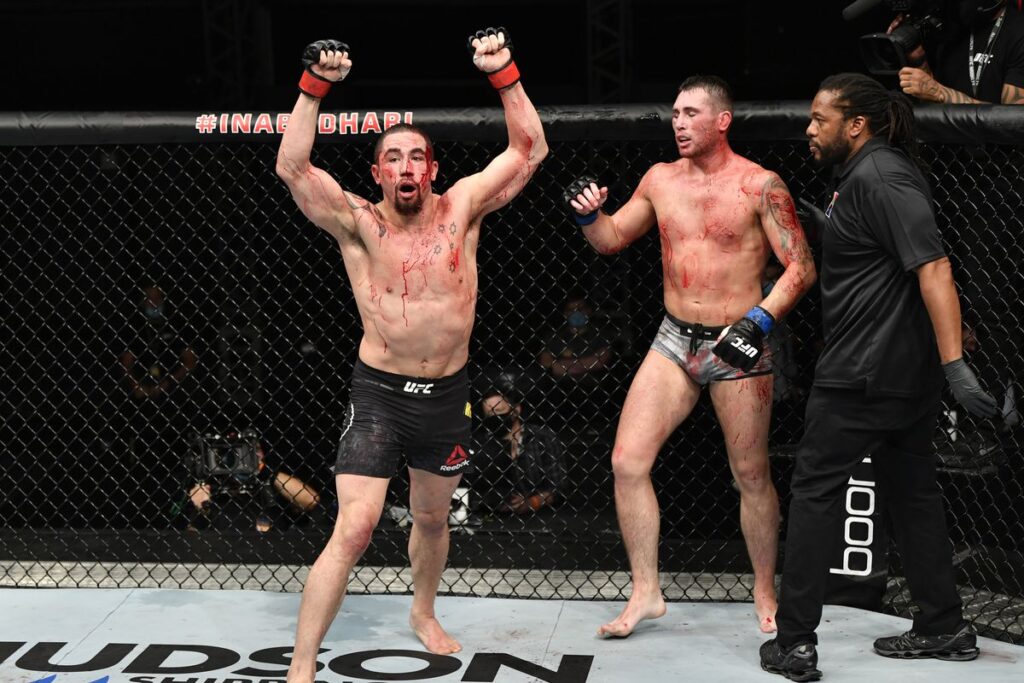 Former champion Robert Whittaker deserves the next title shot against the winner of Israel Adesanya vs. Paulo Costa. He came in with a much better gameplan and a stronger mindset in this fight than he did against Adesanya. He rushed in to create offense against Darren Till several times, but this was far more calculated than when he did against Adesanya. He has won 10 out of his last 11 fights at middleweight, losing only to the champion, and after a fantastic performance like that against the dangerous Till, he has earned the right to fight for the title.
Despite tasting defeat for the first time as a middleweight, Darren Till proved that he belongs in the top tier of the division and that he possesses a fantastic skill-set that can find success at 185lbs. His stamina, determination and youth bode very well for Till's future in the division. Till's next fight should be against Jack Hermansson. Although Hermansson asked for the winner of Whittaker and Till, the rankings, Till's great performance and Whittaker's dominance in the division make this a more sensible fight in terms of moving the division forward.
Fights to look forward to at the top of Middleweight
(8) Derek Brunson vs. (9) Edmen Shahbazyan [Saturday, August 1]
(C) Israel Adesanya vs. (2) Paulo Costa [Saturday, September 19]
---
Notable Winners from UFC Fight Island 3
Fabricio Werdum came in as a heavy underdog against the dangerous Alexander Gustafsson but finished the fight with a brilliant armbar in round 1. He not only beat Gustafsson, but made it look easy.
Paul Craig added to his collection with a submission win over Gadzhimurad Antigulov in round 1. Craig absorbed many powerful shots on the ground but knew exactly what he was doing and worked his way to a triangle choke from the bottom.
Khamzat Chiamev stole the show once again as he completely dominated Rhys McKee and finished him via first round TKO. He landed 68 unanswered strikes in just over 3 minutes. 68 unanswered strikes! Chimaev broke the modern era UFC record for shortest times between wins with just 10 days between his two maulings. This man is very dangerous and extremely exciting.
The above mentioned fighters won Performance of the Night bonuses along with Jesse Ronson, Tom Aspinall and Tanner Boser making this a record for most Performance of the Nights bonuses awarded for a single card with 6. Congratulations to all of the fighters on their bonuses. Well deserved!
---
44 year old Rogerio Nogueira may have competed in his last fight when he took on Mauricio Rua at UFC Fight Island 3. Although Nogueira lost an extremely close split decision, he has had a fantastic MMA career. Congratulations to the legend, a true pioneer of the sport.