By: Isaac Strand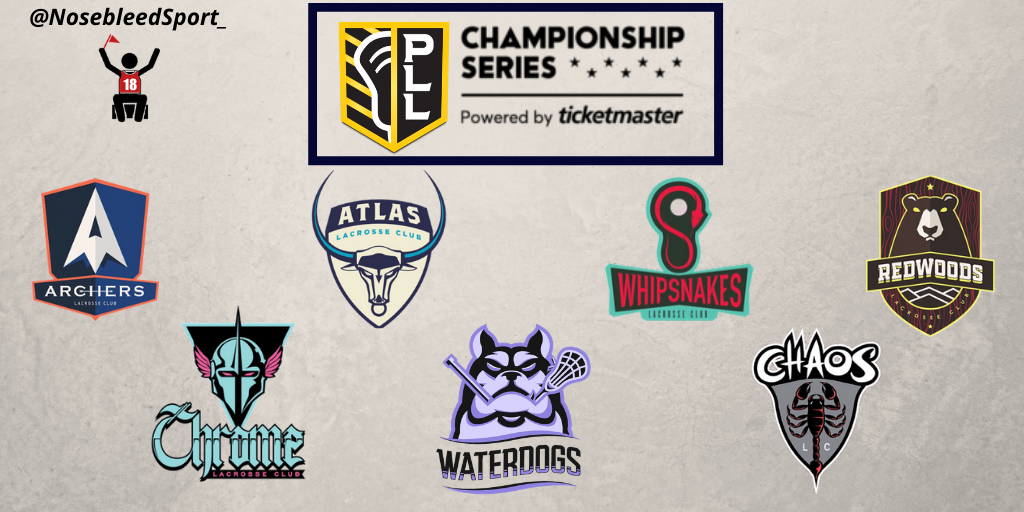 The opening weekend of the Premier Lacrosse League's Championship Series did not disappoint. The champs showed out, we had an upset, and even a near overtime game! What's competitive lacrosse without some chirping, and what's chirping without a little social media controversy? Anyways, the second edition of PLL Power Rankings are below!
1. Whipsnakes (1-0)
Up 2
I should've known better than to not have the reigning champs at 1. Whipsnakes look like they are ready to repeat as champs after game one against the Redwoods. Their defense was quick and physical, and their offense picked up right where they left off, with addition Zed Williams leading with 3 goals. However, the deciding factor was the dominance of faceoff man Joe Nardella, who went 15-21 from the X and scored 2 goals on 2 shots. The Whips are undoubtedly the team to beat in the PLL.
Next game: Atlas LC, 7/30 @7pm ET
2. Atlas (1-0) —
Welcome to the league, Rob Pannell. Despite a sloppy start on both sides of the ball, Atlas LC caught their groove in the second half to storm back, outscoring the newly formed Waterdogs 4-0 in the fourth quarter. Atlas attackmen shined bright in this game, led by Pannell and Eric Law, who each finished with 4 points, as well as two fourth-quarter goals by Chris Cloutier. The only low spot throughout the game was Trevor Baptiste, who had an uncharacteristic bad performance, finishing with his first sub-50% game of his career. As long as they can clean up their passing in the middle of the field, the Bulls can run with any team in the league.
Next game: Archers LC, 7/27 @9:30pm ET
3. Redwoods (0-1)
Down 2
Redwoods lost once again to the Whipsnakes, mostly due to their struggles at the faceoff X, going a combined 7-23. Greg Puskuldijan struggled especially, going 2-13 against Nardella. Offensively, the 'Woods couldn't really get much going against the Whipsnakes defensive unit, opting for too many individual efforts to score and ending the game with just 3 assists as a team. Defensively, the absence of Matt Landis was surely noted, but not detrimental to this team, as Finn Sullivan filled in nicely. However, to compete with top teams (or any team) in this league, the ball cannot die in the stick of Ryder Garnsey and Myles Jones, and the ball must move much quicker.
Next game: Chaos LC, 7/27 @7pm ET
4. Archers (0-0) —
Archers face off against Atlas LC for their first contest of the 2020 season. Their offense has the tools to be lethal, and if they can take advantage of a team just coming off of a tight victory the day prior, Archers can start off 1-0. I, for one, am very excited to watch the Marcus Holman, Will Manny, and Grant Ament lineup play.
Next game: Atlas LC, 7/27 @9:30pm ET
5. Chrome (1-0)
Up 2
Chrome had a fantastic showing against a talented Chaos team, with attackman Jordan Wolf showing out with a first-quarter hat trick. This victory, however, goes to second-year pro Connor Farrell, who was absolutely dominant in his first game of the Championship Series. Milkman finished 19-24, at one point winning 11 straight draws in the second half. That was the key contributor to Chrome's 9-1 run in the second half, simply because Chaos seemingly was never on offense, and when they were, newcomer Jesse Bernhardt had his unit firing on all cylinders once they got their rhythm. If they can play like this, don't be surprised to see Chrome LC shoot up this list.
Next game: Redwoods LC, 7/28 @9:30pm ET
6. Waterdogs (0-1) —
It certainly wasn't a bad game for the Waterdogs first-ever performance, with a hot start and stellar play in all facets of the game. Led by Brodie Merrill, the Waterdogs were on time on most of their slides, and did what they could to slow down RP3 & co. Most surprisingly, faceoff men Drew Simoneau and Jake Withers handed Trevor Baptiste his first sub-50% game in his career, a huge factor to the fight they put up against Atlas LC. Offensively, this unit will be dangerous. Led by former Whipsnakes (Watersnakes???) Drew Snider, Ryan Drenner, Connor Kelly and Ben Reeves, the Waterdogs moved the ball selflessly and found open shots consistently. If it weren't for a few careless turnovers late in the game, the game could have had a different outcome. This is another highly talented team that has the potential to really find their groove soon.
Next game: Archers LC, 7/28 @7pm ET
7. Chaos (0-1)
Down 2
I really don't like putting Chaos at 7. However, they did lose pretty handily at the hands of Chrome LC, and didn't have many bright spots outside of the Connor Fields to Curtis Dickson connection. Their attack line will fare just fine against opposing defenses. However, 2019 stars Jarrod Neumann and Blaze Riorden struggled against Chrome's offense. Neumann was beat multiple times by Jordan Wolf before switching assignments with Jack Rowlett, and Riorden struggled in the third quarter, much to the delight of Chrome rookie Matt Gaudet. Chaos LC can absolutely bounce back, and I don't suspect them sitting at the bottom of my power rankings for long.
Next game: Redwoods LC, 7/27 @7pm ET