By: Andrew Hubschman
Cam Newton has yet to be signed since his heartbreaking release from the Carolina Panthers. It is hard for many fans to picture him taking the field repping another jersey, but if Newton's going to continue his NFL career, he needs to find a place to call home. He has received a lack of interest from teams that seem to have faith in their quarterbacks already, including one team that stands out pretty high among other franchises: the L.A. Chargers. Cam Newton to the Chargers would have been an easy win for all parties, and here's why:
#3) Veteran Mentorship:
First order of business, Cam – god-willing – would be entering his tenth season in the NFL. Being that Cam is a successful veteran, his leadership could raise tenth-overall pick Justin Herbert's potential of becoming a star. In fact, this idea draws parallels to then-Chargers QB Drew Brees and Philip Rivers' competition for the starting role in the latter's first two years in the league in 2004 and '05. Once the Chargers let Brees walk in free agency to sign with the Saints in 2006, Rivers became the full-fledged starter for the franchise and would go on to lead the NFL in numerous passing categories. Presently speaking, sure, head coach Anthony Lynn analyzed the idea of Cam in L.A. and thoroughly concluded that he was confident in his current QB situation. Herbert displayed a lot of talent throughout his college career at Oregon – throwing for 10,541 passing yards and 95 touchdowns and only 23 interceptions; this shows his capability of becoming the new face of the Bolts. Tyrod Taylor, 2011 draftee, represents the veteran role at QB, and Easton Stick is a perennial FCS champion out of North Dakota State who finished with a spectacular 49-3 record in his collegiate career. However, considering the idea of a Pro-Bowl QB in Cam (mush like Brees during his Charger days) yet also accounting for his MVP award and Super Bowl appearance, evolving a high-drafted talented QB in Herbert (much like Rivers who went 4th overall in 2004) could have been advantageous for the latter's rise to stardom. History repeats itself, and for many reasons.
#2) The $$$$ is There!
Going into the 2020 season, the Chargers have a cap space of $20,922,933, which is currently the ninth-highest in the league. Granted, yes: Newton will gladly accept a deal from any team at this point, but financially speaking, signing with the Chargers for the right deal would make a lot of sense. Going back to 2019, the Chargers signed eighth-year aforementioned QB Tyrod Taylor to a 2-year $11 million deal during the 2019 off-season, and made $6 mil in three appearances in relief of Rivers; he is set to earn $5 mil this upcoming season – along with a $2.5 mil signing bonus. Now, Herbert is awaiting to sign his four-year rookie deal that is expected to be worth $26.6 mil with a $16.9 mil signing bonus. For his rookie season, he is estimated to make $4.83 mil. Taylor's salary is already accounted for from the Chargers' $20.92 mil remains, but when Herbert and his other fellow rookies sign their deals, there would be $10,938,011 mil left to count. This would be enough for Cam to sign an eight-digit deal if he were offered, but realistically speaking, both sides would have been closer to agreeing on a deal for less than $10 mil. A 1-year $6 mil deal seems most logical because Taylor, having one year left on his contract, will be making $7.5 mil before his deal expires, and it's likely the Chargers will choose not to resign him with Herbert's presence. The same thing applies to Cam – and also given his recent injury history, odds are he would not been re-signed. But a short-term deal with a not-to-little but not-too-big salary would be feasible enough to let the former MVP teach the rook how to live up to his big, draft-night payday.
#1) Finally, Home Sweet Home!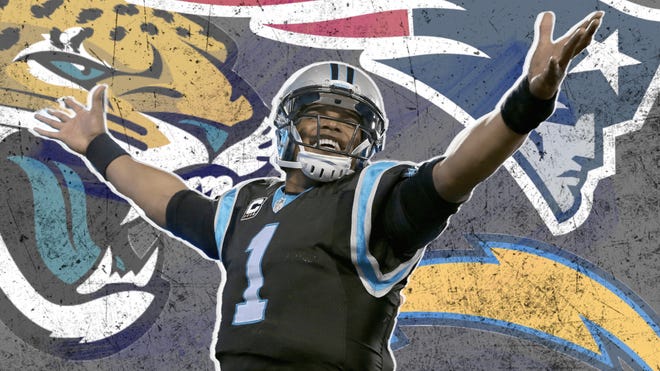 This has proven to be a year where every team seems content with their quarterbacks. Each team seems to have their starter and back-up plans all laid out on the table: the Bears have Mitchell Trubisky at the 1 spot and Nick Foles at the 2; the Saints have Drew Brees in the starting role and Jameis Winston behind him; and the Colts have added Rivers who is expected to start over Jacoby Brissett. But what do at least one of these quarterbacks per team have in common? They are all expected to hit the free-agent market in 2021. If any of the above-mentioned teams or even another decides to let their starter or back-up walk after the start of the 2021 league year, Newton – playing out his one-year deal in the 2020 season – would be given the opportunity to find a new place to settle in the longer run. Exhibit A: the Bears – who have decided to not pick up Trubisky's fifth-year option, which will make him a free-agent and his heir, Foles, the new starter. If Cam were to sign in Chi-Town in 2021, it wouldn't be shocking if Foles was named the Week 1 starter. Frankly, it would look to be a "prove it" decision to put Foles in as QB1: if he excels – and wins – then the Bears look to have their starter. If he doesn't or gets injured, guess who comes in and gets his deserved playing time again? With all due respect for the skillful Foles, he has also shown to be a journeyman-type QB and have limited playing time, so don't be surprised if he doesn't run out the last three years of his four-year contract with the organization.
Bottom line, Cam deserves a team. Period! The Cam-to-L.A. experiment would have been an easy dub for both sides in the long haul. Superman has so much left to prove, and hopefully he finds a new team sooner rather than later.