It's a tale of two pairs of brothers featuring the Watt brothers – J.J. and T.J. – and the Bosa brothers – Joey and Nick. Both duos have been historically successful on the defensive side; setting records both individually and in tandem. There is no doubt that they have all made an impact, but which brothers have had the greater success?
J.J. Watt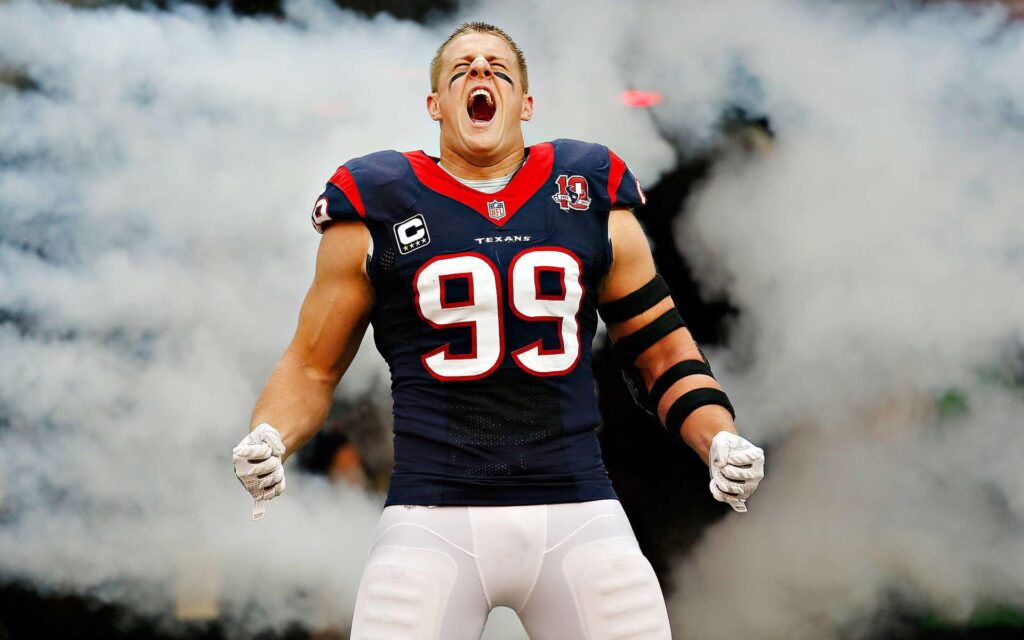 The tale of two brothers pairs begins on the first night of the 2011 Draft, where the Texans selected First-Team All-American defensive end J.J. Watt out of Wisconsin with the eleventh pick overall. After a solid rookie campaign, the recognition of "J.J. Swatt" emerged during the 2012 season when he recorded 81 combined tackles, 69 of them were solo, and defended 16 pass attempts; he also led the league in sacks with 20.5 and tackles for loss with 39 (that is the highest for any player since 1999). He received Pro-Bowl and First-Team All-Pro honors, and was crowned Defensive Player of the Year for his efforts. His electrifying dominance on the field continued from there, making his presence on the field synonymous with fear for offensive opponents. 2014 was a historic year for Watt, as he recorded 20.5 sacks, 29 tackles for loss, forced four fumbles and returned five, caught his only career interception, and scored two defensive touchdowns – he added three more offensively, scoring on three receptions. He won his second DPOY award and won the Bert Bell Award as the league's best player. He finished as the runner-up for MVP behind Aaron Rodgers, but had his team made the playoffs, there could have been the possibility of a different turnout. On a positive note, No. 99 was voted the No. 1 overall player on the 2015 Top 100 list by his fellow players.
By the end of his fifth season in 2015, he recorded three seasons of 17.5+ sacks – leading the NFL in sacks twice – and thrice led the league in tackles for loss. Watt racked up not one, not two, but THREE DPOY crowns; the only other triple-time winner of the award…. Lawrence Taylor. Although proving to be one of the greatest defensive players of all time, he has played only 32 games in the past four seasons, as he has battled back, Achilles', and pectoral injuries – playing just one full season during that span in 2018 where he was named to the Pro Bowl and the All-Pro First-Team. While shown to be a monster on the field, he is also a gentle giant off the turf – supported by his efforts in hurricane aid relief after the destructive Hurricane Harvey hit the city of Houston in 2017. His efforts earned him the Walter Payton Award for that season. Photos of the five-time All-Pro running onto the field from the tunnel screaming in excitement will be an iconic symbol of the Texans for years to come.
T.J. Watt
After finishing his second season in 2016 winning First-team All-Big Ten and Second-team All-American honors, Wisconsin Badger linebacker T.J. Watt – five years younger than J.J. – decided that he would declare for the upcoming 2017 Draft. The idea of letting another Watt play the defensive side sounded very enticing, as it should. He ended up being selected 30th overall by the Steelers, and since his rookie season, he has proven many talents.
T.J. can slide past the O-Line, read deceiving offenses, tackle for loss or little gain, record sacks, force fumbles, break up passes, and even block field goals! His rookie year as a right outside linebacker showed promise when he put up a mouthful of stats: 54 combined tackles (40 solo), 10 tackles for loss, 7 sacks, 13 QB hits, 1 interception, 1 pass defended, and 1 fumble forced. Playing in his first playoff game that was heavily offensively competitive, he recorded 1 solo and 2 combined tackles and 1 pass defended in the 45-42 Divisional Round loss to the Jaguars. Watt was only hungry for more, and in his sophomore season in 2018 – when he was moved to the outside left – he finished tied for seventh in sacks with 13.0; that's only three less than his brother who finished second overall. He also set career highs in fumbled forced with 6; combined and solo tackles (68 and 50 respectively); tackles for loss with 12; and QB hits with 21. His efforts landed him in Orlando to play with his brother in the Pro Bowl – the first of many to come.
2019 was a new career year for the younger Watt brother, as he set high-numbers in numerous categories: he finished sixth in QB hurries with 23; second in QB knockdowns with 19; tied-fourth in sacks with 14.5; first in pressures with 59; and tied-first in fumbles forced with 8. He also added 8 passes defended, and 2 interceptions, and also set new career-highs in tackles for loss with 14 and QB hits with 36. His third year resulted in another Pro Bowl appearance and not to mention a First-Team All-Pro accolade. The future looks bright for this kid, as he is now in the hunt to return to the playoffs.
Joey Bosa
Many people saw a comparison of J.J. Watt in Joey Bosa, who declared for the 2016 Draft out of Ohio State after finishing his college career with back-to-back Smith-Brown Defensive Lineman of the Year awards, which is given to the best defensive lineman in the Big Ten Conference. He was also named Nagurski-Woodson Defensive Player of the Year which is given to the best defensive player in the conference. He was selected third overall by the then-San Diego Chargers. Upon being drafted, he was a high candidate to win Defensive Rookie of the Year; when he recorded 10.5 sacks, 41 combined tackles, and 17 tackles for loss in only 12 games (the first four games were missed due a hamstring injury), he did just that. Statistically, he met expectations when he played all 16 games the following season – recording 12.5 sacks 70 combined tackles, 1 pass deflection, and forced 4 fumbles while recovering one, which earned him a visit to his first Pro-Bowl.
Although his 2018 season lasted only 7 regular-season games due to a foot injury he sustained in the preseason, Bosa put up productive stats in such a short span: 23 total tackles with 18 solo (this includes a three-game span of 17 total tackles with 13 solo), and 5.5 sacks. He also put up 3 total tackles – 2 solo – and 1 sack in his first career trip to the postseason that lasted two games up on the Chargers' Divisional Round loss to the Patriots. Bosa provided a vigorous, bounce-back 2019 as he set career highs in QB hits with 31 and tackles for loss with 18. He also collected 67 combined tackles – 47 solo – and 11.5 sacks (tied ninth in the league); finished fourth in QB hurries (25) and knockdowns (16); and third in pressures with 54. Bosa was named to his second Pro-Bowl for his improvement. Now just imagine if he played all 64 games in the first four years of his career… Hopefully, the 24-year-old stays consistently healthy going forward – and if he does, expect to see him win Defensive Player of the Year at least once.
Nick Bosa
After Joey declared for the Draft in 2016, incoming freshman Nick Bosa choose to wear the same number his brother wore with the Buckeyes: 97, and it looked as if Joey never left. Nick achieved similar feats to his brother, like winning the Smith-Brown Defensive Player of the Year award during his sophomore season in 2017. After his junior year, he declared for the 2019 Draft. He finished with the best all-time win rate for a pass-rusher at 25.5% – finishing two spots ahead of his brother who sits at 21.7%.
In the months leading up to the 2019 Draft, Nick drew a lot of attention from fans and projected him as favorite to win DROY just like his brother. Predicted to be a top-three pick in the draft, he was selected second overall by the 49ers. Beginning on his NFL debut in Week 1, Bosa helped lead a historic turnaround for a team who not only finished 4-12 the previous season, but who failed to reach the playoffs for five straight seasons. Bosa's efforts helped the Niners begin the season 8-0 (their first non-losing season since 2013). In his first seven games, he recorded 7 sacks which is tied with names such as Julius Peppers for second-most sacks by a rookie since 1982. Bosa finished his rookie season with 9 sacks, 47 combined tackles (32 were solo) and tied-fifth in tackles for loss with 16 – more than other DE's such as Danielle Hunter, Cameron Jordan, and Yannick Ngakoue. He also finished fourth overall in win rate for pass rushers against two or more blockers – two spots behind Joey, and fifth in QB hurries – one less than his brother. Meanwhile, the Niners, who had 12 wins combined from the 2016-2018 seasons, finished with 13 wins and earned the #1 seed in the NFC. His impact on the field and for the Niners organization earned him Pro-Bowl, DROY, and Pepsi NFL Rookie of the Year honors.
In the postseason, his efforts guided his team to Super Bowl IV, where they lost to the Chiefs in heartbreaking fashion. Despite the loss, Bosa put up great numbers; totaling 15 tackles with 11 solo (both personal bests in a three-game span), four sacks (including one in the Super Bowl), and two passes defended. His rookie season was sure exciting to watch, and it looks to only supplement the Bosa pedigree.
Which duo do you think is the better one overall?