By: James Murphy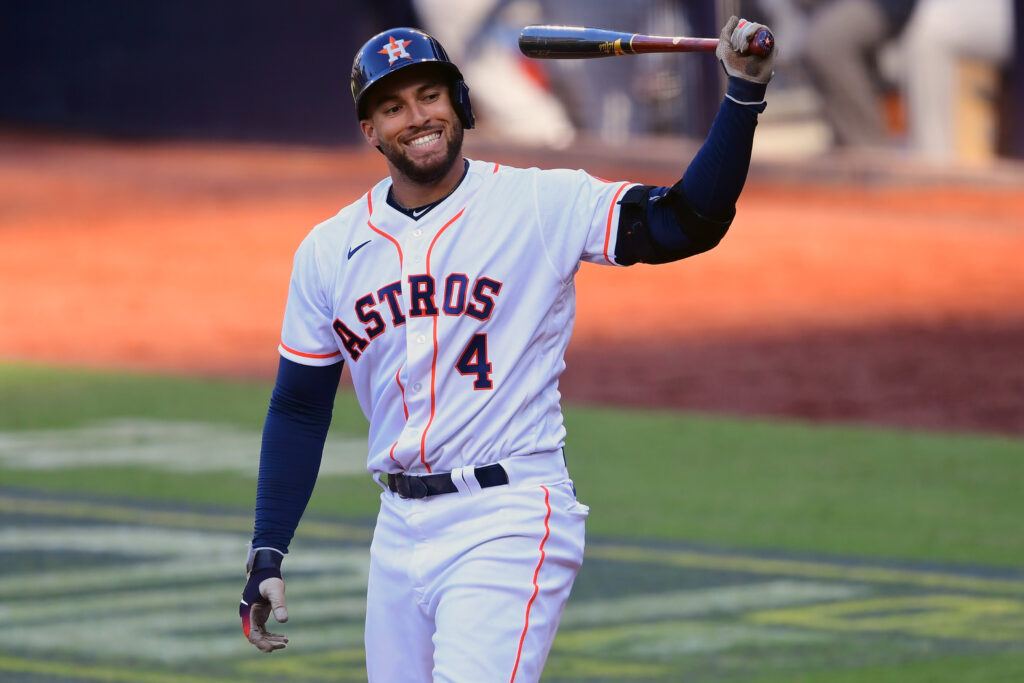 All offseason Mets fans have been clamoring for the services of George Springer. The 31-year-old centerfielder from Connecticut is arguably the best hitting free agent on the market right now and is worth most of what any team would pay him. Based on recent news, things are moving quickly.
There's no doubt that Springer would bring a lot of good to the table for the Mets. However, it's worth acknowledging that his signing might bring some drawbacks as well. Let's get a better understanding of both sides.
Pro: A Strong Right-Handed Bat
Outside of Pete Alonso, J.D. Davis and James McCann, there aren't many right-handed hitting options for the Mets at the moment. Signing Jose Martinez was a step in the right direction, but it's doubtful whether he can start on a daily basis. Springer could not only be that impact bat from the right side, but could provide the kind of hitting diversity to make the Mets lineup even more dangerous than some would say it is now.
Con: Signing Him Will Take Them Over The Luxury Tax
It's nice to have an owner with the kind of pockets that Steve Cohen has. However, even he is hesitant to go over the luxury tax threshold that, ironically, once seemed a stratosphere away not so long ago. The nine-figure deal for around half a decade that Springer would require (which would in all likelihood bring them at or surpass the luxury tax) along with the penalties that would need to be paid would make it harder for Cohen to invest in the scouting department and farm system, something he has been adamant about since before officially closing his deal to buy the team.
Pro: Great Centerfield Defense
Michael Conforto and Brandon Nimmo are both great outfielders to build around, but neither have the range or defensive prowess needed of a center fielder in today's game. Though he's already in his 30's, Springer can be that and more. His defensive WAR of 4.1 over the past two seasons is the fifth-best mark in baseball and would be a sorely added bonus to a team that has had one of the worst defenses in the league these past few years.
Con: Signing Impending Free Agents Will Get A Lot Harder
While there are a lot of holes on the roster that need to be filed, others could be opening up next offseason. Marcus Stroman, Noah Syndergaard, Francisco Lindor and Michael Conforto are some of the most notable soon-to-be-free-agents to hit the market a year from now.
Adding Springer's contract to the books would leave the Mets with far less money to keep the aformentioned players, especially Lindor, who will almost certainly want to sign a Mookie-Betts style mega-deal either during or before next offseason. Keep in mind. Retaining these guys won't be impossible. Just a lot harder, especially with Robinson Cano's contract coming back on the books in 2022.
Pro: Outfield Stability
Back when the Mets first acquired Yoenis Cespedes in 2015, it looked like centerfield wouldn't be an issue in Flushing for a long time. Fast forward half a decade. Yoenis Cespedes fell off a cliff and into a hole on his farm, there're only two real outfielders on the roster (neither of whom can cover centerfield) and outside of Pete Crow-Armstrong, there won't be any reinforcements coming from within the system for a long time.
Signing Springer could at least give the Mets an idea of what the unit could look like in the future and give them time to add more promising outfielders to the system in order to set them up for long-term success.
Con: Signing Him Would Be The Last Move of the Offseason
This isn't quite as bad as some of the aforementioned cons, but for others, it gives reason to pause. Yes, Springer would solve the centerfield issue, provide stability to the outfield and be a great defensive player for at least the immediate future. However, should he end up going to New York for the money they're putting on the table, that would leave little to no room to go after a relief pitcher and possibly another starter to add to the rotation. The lack of both of these things cost the team dearly in 2019 and especially 2020. I don't think I need to recount specifics.
With all of this into account, is he still worth it? Is it worth giving him the mega-deal he wants? Well, that's for the front office to decide.