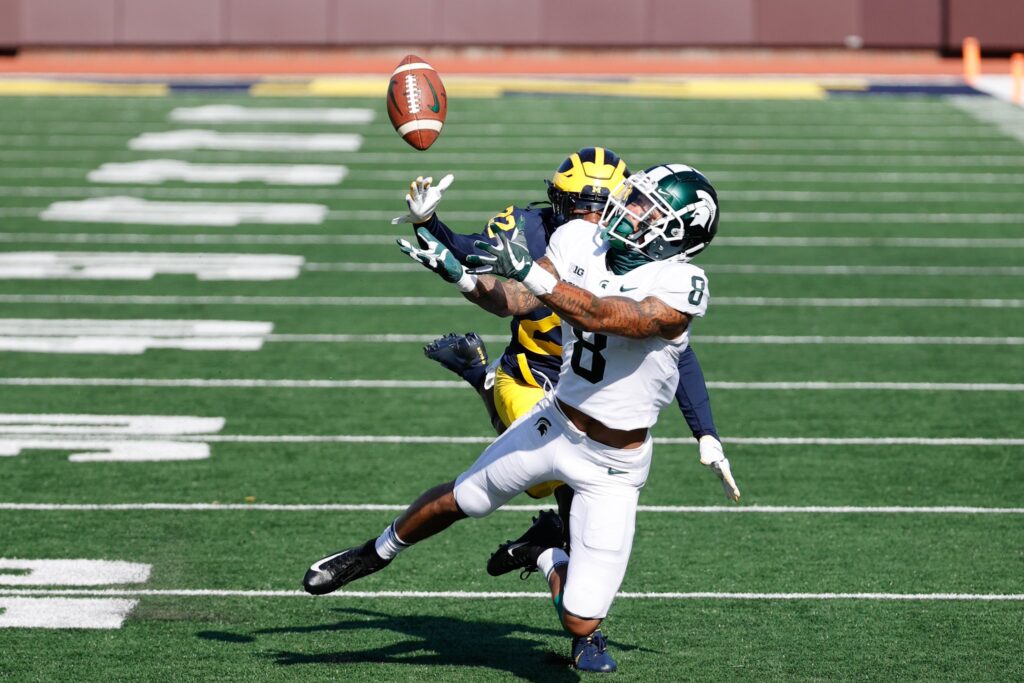 By: James Murphy
As controversy swirls in the Wolverine state about the handling of ballots for a certain election, a certain football team in Ann Arbor is dealing with problems of its own.
The No. 23 Michigan Wolverines (1-1) were left reeling after a shocking 27-24 loss to Michigan State, a game where they entered as 21-point favorites. As a result, Jim Harbaugh's seat may be hotter than ever as he and several others within the coaching staff have come under fire for their poor decision making and inability to adjust in that game over the past week. However, he'll have to cool it down somehow against the Indiana Hoosiers.
Opponent Overview
When Tom Allen took over as the head coach in 2016, Indiana began a culture shift that he and others hoped would change the trajectory of the program. Four years later, the fruits of their labor seem to finally be paying off. The Hoosiers are off to an impressive 2-0 start following an overtime win against then-No.8 Penn State in their first game and a 37-21 handling of Rutgers.
The offense is led by quarterback Michael Penix Jr., who's thrown for 408 yards and four touchdowns in his first two contests. The running game is dominated by junior Stevie Scott, who's run for 2,120 yards and 22 touchdowns in his three years with the team. The receiving core is headlined by the three-headed monster that is Whop Philyor, Ty Fryfogle and tight end Peyton Hendershot, who account for all four of the team's receiving touchdowns.
The team is currently leading a topsy turvy Big Ten East division, but will have to keep their lead by beating the Wolverines for the first time since 1987 and snapping a 24-game losing streak in the all-time series.
What to Watch
How-Or If-Michigan's Secondary Responds
The Wolverine cornerbacks went from locking down Rashod Bateman to getting scorched by Ricky White and the Michigan State receivers within a week. Part of this falls on guys like Vincent Gray and Germon Green for not being able to prevent enough big plays on their own. Another part falls on defensive coordinator Don Brown for not making adjustments as the game went on.
Both will be tested early and often in this contest. Few teams passed more than the Hoosiers in the Big Ten a year ago and despite losing Peyton Ramsey, they continue to do damage through the air and have both the strategy and athletes to make things difficult for the maize and blue. An inability to make plays could also affect Michigan's pass rush, which may not have enough time to get to the opposing quarterback.
Michigan's Running Game
From the moment he accepted the job to become Michigan's head coach, Jim Harbaugh loved the ground-and-pound approach to offense. It served him well at Stanford and with the San Francisco 49ers and even kept the Wolverines' offense afloat for a while. However, the run game was stifled on Saturday in a way that hadn't been seen before. The maize and blue couldn't seem to get anything going between the tackles with the most productive runs coming on jet sweeps to receivers.
This can't happen against Indiana, a team where the time of possession battle becomes one of the most important parts of the game. Whether it means more running backs being able to make explosive plays, the offensive line getting more assignments right or the coaching staff making the right moves, this part of the offense needs to bounce back.
Joe Milton's Growth
Fans of the maize and blue anticipated some growing pains for the redshirt sophomore in his first year as the starting quarterback, and they emerged in his second start.
Milton continued to show promise even in the loss, but there were too many instances where Milton didn't seem like the composed, collected figure people had heard so much about. He forced too many of his 51 passes into air-tight coverage and his cannon for an arm often became his enemy as he overthrew some open targets.
What's more is that Milton's passes went for, on average, just under six yards, which can be attributed to the lack of deep routes called by the coaching staff. Nevertheless, it'll be up to Milton to remain calm in situations like last week, where the only consistency on offense comes from him.
The Hoosiers host the Wolverines Saturday, November 7 at Noon eastern on Fox Sports 1.