By: Tanaay Shah
It was a great night of fights on Saturday with 8 out of the 11 fights being finished inside the distance. However, the main event was a tough watch for UFC fans as one of the greatest fighters of all time Anderson Silva got knocked out in round 4 by Uriah Hall. I am not saying that fans were upset because Hall won, but they were sad because the 45 year old legend lost in devastating fashion in his last octagon outing. The fight was even in the first 2 rounds, with Silva opening up the stronger fighter. He was able to land punches and kicks at a much better rate than Hall, and I felt that he might just get a win. Hall however started finding his range and feet towards the end of round 2. He realized that he was giving "The Spider" too much respect early on and started opening up more. Hall dropped Silva with 10 seconds to go in the third round with a right hook to Silva's temple. Hall started wailing on Silva on the ground but did not have enough time to finish the fight. It was clear from that point on that Hall had the power and speed to land on Silva and that Silva's chin was not going to hold up much longer. A little over a minute passed in round 4 when Hall landed another right hook as Silva came in with a blitz, this time to Silva's chin to put him on his back. He was able to land multiple right hands on the ground and the referee had seen enough to call a stop to the fight. A huge win for Hall over his idol, but a sad ending to Silva's breathtaking UFC career. A lot of emotions and a lot of respect was shown by both men in the octagon after the fight.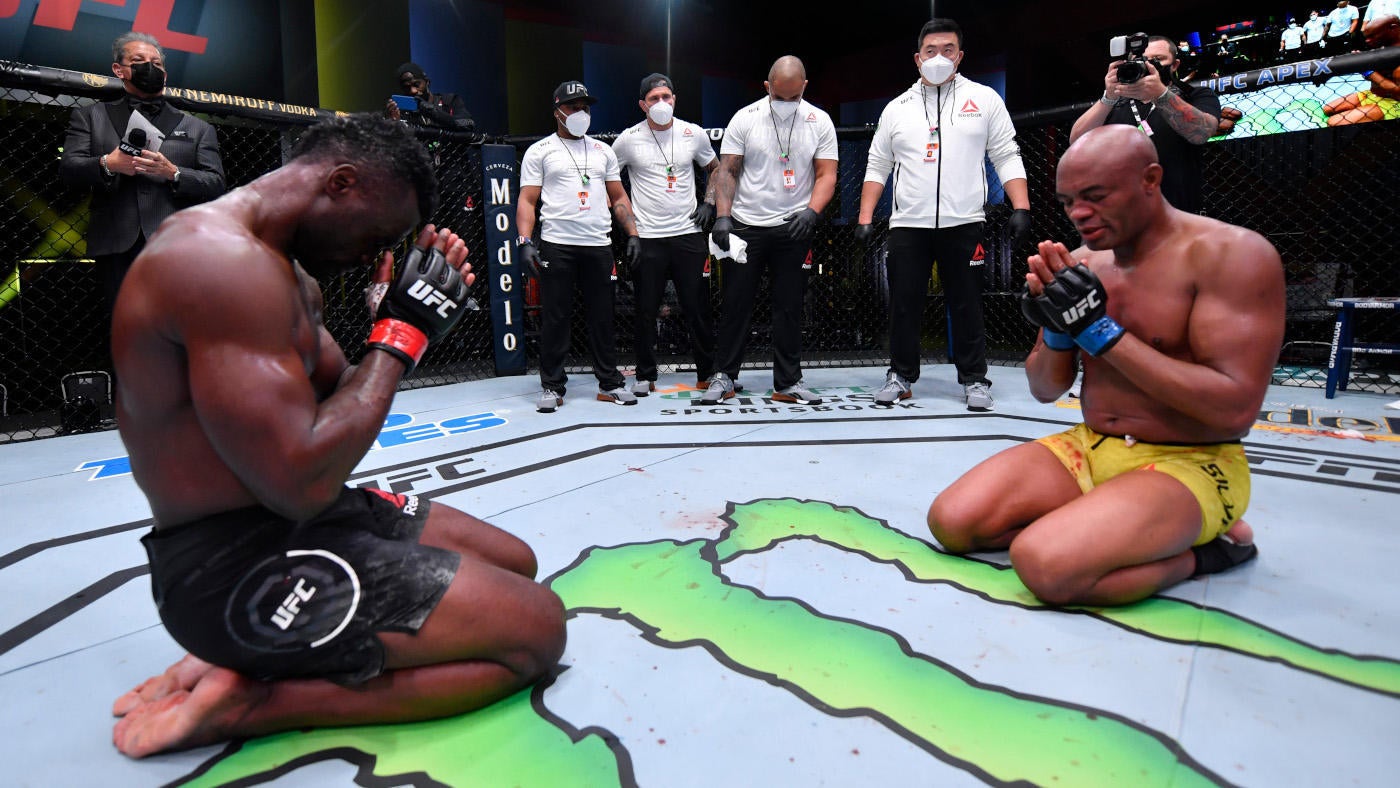 Despite starting slow, Uriah Hall showed that he can perform on a big stage with Saturday night's main event win. He has the skills and the ability to beat top middleweights but needs to work on his mental game. Hall is a dangerous fight for anyone in the division and he should keep his momentum going. I would like to see Hall take on either former title contender Jacare Souza or #5 Yoel Romero to build on his winning streak and get closer to the title. Hall was already scheduled to fight these two and now he will go into either of those fights with more confidence after this win.
"There's not a martial artist on the planet right now that hasn't been inspired by Anderson Silva. Simple as that!" That is what Silva's former rival, and now commentator Michael Bisping had to say after Saturday night's main event concluded. Silva has had a spectacular career in MMA and was so dominant for a long time. Dominant wins in two divisions, multiple title defenses and flashy finishes, "The Spider" has done it all. UFC President Dana White said that he was not going to let Silva fight in the octagon again and hopes that he does not fight for any other promotion either, not because White is selfish, but because he does not want to see Silva absorb any more damage. I completely agree with White on this one and I hope that Silva retires from MMA. Either way, the man is one of the greatest fighters of all time!
---
Notable Winners from UFC Vegas 12
1. The most active fighter in 2020, Kevin Holland made it 4 out of 4 wins for the year as he defeated UFC debutant Charlie Ontiveros by  verbal submission. After eating a couple of heavy shots from Ontiveros early on, Holland decided to take the UFC newcomer down. He got him down successfully once and then as Ontiveros made his way back to his feet, Holland picked him up and slammed him to the mat. This caused Ontiveros to hurt his shoulder and he yelled he was done. The referee stopped the fight and Holland finished the fight inside 3 minutes of round 1. Congratulations to Holland for the performance of the night bonus and for a very successful 2020.
2. After a hot start to his UFC career, Alexander Hernandez lost 2 fights by knockout where he was completely outclassed by his opponents. This Saturday night however, he bounced back with a first round finish over Chris Gruetzemacher inside 2 minutes. Hernandez landed a clean combo of 4 punches to finish Gruetzemacher who seemed to have no answers. Great way to get back to the win column and earn a performance of the night bonus.
3. Coming in fresh off a first round knockout in Dana White's Contender Series, Adrian Yanez got another first round knockout to start his UFC career. Yanez looked like the enforcer and put the pressure on Victor Rodriguez all fight. After swarming Rodriguez with punches, Yanez landed a clean head kick as Rodriguez tried to escape the incoming attack. What a walk-off knockout for the UFC newcomer and a $50,000 performance of the night bonus to go along with it.
4. The night started off with an amazing finish for Miles Johns, who got the third round finish over Kevin Natividad. After winning the first two rounds, by putting in good work in both, the standup and grappling, Johns landed a flush uppercut as Natividad tried separating from the clinch in round 3. Great performance by Johns and a well deserved bonus for the bantamweight.
---
The other four finishes were by Uriah Hall (TKO), Greg Hardy (TKO), Jason Witt (SUB), and Dustin Jacoby (TKO). A great outing for all these fighters and an amazing fight night for the UFC  after returning to Vegas.