By: James Murphy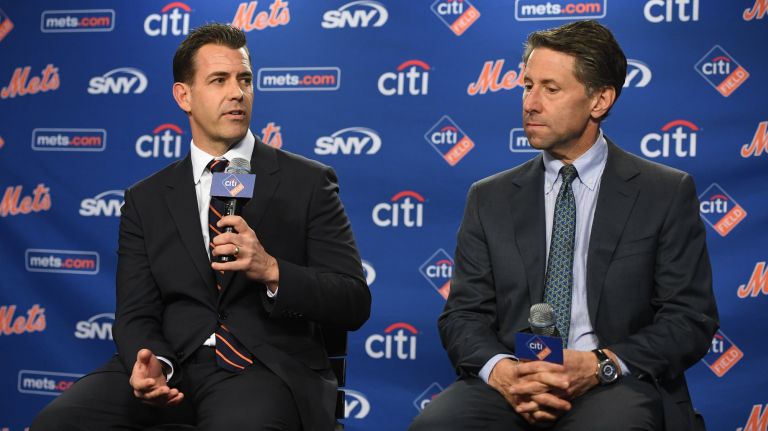 On Thursday, the Mets became the fourth NL East team to have games postponed after a player and a member of the coaching staff tested positive for COVID-19 shortly before the start of their series finale with the Miami Marlins. In addition, the Subway Series with the Yankees has been postponed as well. 
The Mets have followed protocols almost to a tee leading up to and during the season, but once again we're reminded that no matter how hard we try, the novel coronavirus could always be around the corner.
So at minimum New York will miss four games and maybe more. It'll obviously be difficult not seeing the orange and blue for a few days. However, management could use this postponement as a chance to make improvements. 
Let me preface this by saying that right now, at the moment these words are being written, nothing is more important than the health and safety of the players and staff members on the Mets. It's also entirely possible that this hiatus will extend far longer than the two games so far and there is much to be determined in the coming days in regards to the number of cases and who is affected. 
Outside of Jacob deGrom and an emerging David Peterson, there's a ton of guys who just haven't gotten the job done consistently thus far. Rick Porcello has been up and down, Robert Gsellman can't seem to go further than two innings and Seth Lugo is being dragged out of a shaky bullpen to replace the home-run-giving machine that is Steven Matz. That's not even counting Michael Wacha, who's on the injured list with shoulder issues. 
With the rotation in disarray, the team should try and get as much as they can out of the guys who they know can produce. That means getting deGrom-and hopefully Peterson if he's healthy enough to return by early next week-as many starts as possible in a season where every game matters.
Should the team return on either Monday or Tuesday, that would put deGrom in line to start either game. From there, you could go with Peterson followed by Seth Lugo and then decide between Gsellman, Porcello or Wacha if he's healthy. That way you can get deGrom and Peterson to start more games while giving the guys who have struggled extra time off to work on their pitching and be ready to go more innings.
Despite all their missed opportunities, aggravating mistakes and off-field drama, the Mets are still a contender and should get what they can out of this season. 
You also have a front office that-in all likelihood-is desperate to make a big splash to not only get the team into the postseason, but to serve as an audition for whatever new owners take over after the season.
By the time the Mets return to action there will be about a week until MLB's trade deadline, with plenty of teams set to make moves, especially with the 16-team format. Over that time, Brodie Van Waganen and Co. should take the time to look across the league and see what kind of pitcher the Mets can make a move for. Do they have the resources to make a push for a long-term asset like Mike Clevinger? Do they settle for a short-term fix in a Johnny Cueto, Mike Minor or even a Taijuan Walker? Those questions and more could be answered in the coming days.
Once again, priority number one is making sure the players, coaches and staff members are safe and that this doesn't turn into any sort of outbreak. That being said, those in power may have a chance to use this as an opportunity to make a big splash both to further their chances of October baseball and to make a lasting impression on new ownership.