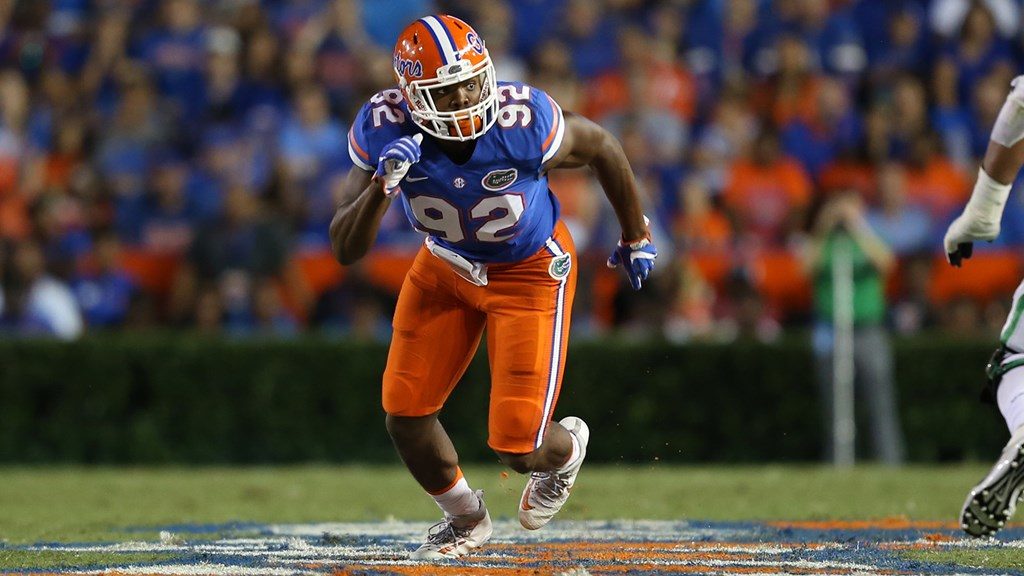 By: James Murphy
At the NFL Draft, Joe Douglas completed his first draft as the general manager of the New York Jets. It was one that many Gang Green fans welcomed, as he addressed many of the team's biggest needs, which says something considering they have quite a few of them.
Some of these picks will take time to develop into their potential, and that's assuming they get the chance to meet that in East Rutherford. However, there are other players whose impact could be felt right away, whether the reason is that the position is a team weakness or the player is just that talented. 
WR Denzel Mims
It's no secret that the Jets receiving core is, let's say, a work in progress. The team finished in the bottom eight of the NFL in receiving yards and touchdowns and haven't had a receiver catch for 1,000 yards or more since Brandon Marshall in 2015. To make matters worse, Robby Anderson signed with the Carolina Panthers earlier in the offseason, leaving gang green with yet another hole to fill in an already shaky unit.
Enter the second-round pick out of Baylor, who caught 66 passes for 1,020 yards and 12 touchdowns in his senior year, the latter of which was the second-highest mark in the Big 12 behind only CeeDee Lamb. His speed and agility give the Jets the kind of deep threat that can thrive in today's game. Mims didn't run very many routes at Baylor and he's had some drop problems. However, his upside is more than enough to have him playing most games in 2020, maybe even becoming a consistent starter towards the end.
OT Mekhi Becton
The 6'7, 364-pound offensive tackle from Louisville was taken in the first round with the expectation that he will be keeping Sam Darnold in one piece for the foreseeable future. His size is complemented with tremendous upper-body power. Becton also put up great numbers at the NFL Combine, including a 5.1 40-yard dash time.
That will all be a great help to one of the worst offensive lines in the league. Throughout 2019, Jets running backs ran for between 5-10 yards on just 0.91 percent of carries and ran for 10 or more yards on just 0.17 percent of carries, both of which the Jets ranked in the bottom three of. Additionally, Jets quarterbacks were sacked on 9.2% of dropbacks that season, the third-worst mark in the league. Becton's upside will not only have him starting once the season starts, but could also be a game-changer for both the running and passing games. 
CB Bryce Hall
The cornerback out of Virginia had his senior season hampered by an ankle injury which required surgery in October. However, when he was healthy, he was one of the better cornerbacks in the ACC. Hall demonstrated a complete skillset which included above-average pass-coverage as well as an ability to disrupt the pocket when coming in on a blitz. The numbers also work in his favor.
As a whole, Jets cornerbacks haven't had the same fervor since Darrel Revis last played for them in 2016. This past year, Marcus Maye and Nate Hairston finished in the top 20 in receiving yards per reception allowed with the former finishing second in the NFL. As of now, the cornerback situation is pretty fluid, which means that, come Week 1, the team could try a few different combinations on the perimeter. Hall could not only factor into this, but also become a stand-out defender through it.
EDGE Jabari Zuniga
Like Bryce Hall, this edge rusher out of Florida has struggled with injuries in college. His senior year was cut to five games due to, oddly enough, an ankle injury. However, his junior year included 6.5 sacks and 11 tackles for loss, both of which put him in the top 20 in the SEC in each category.
The Jets pass rush has been decent, but lacks a key defining factor to make it elite. Gang green finished 2019 seventh in knockdowns with 52. However, they were only able to sack the QB 35 times, 23rd in the league. So while Jets rushers are getting to the quarterback, they're not really able to finish. Zuniga has the type of tenacity to do just that, whether he be a consistent starter or factor in as a passing-down type of rusher.