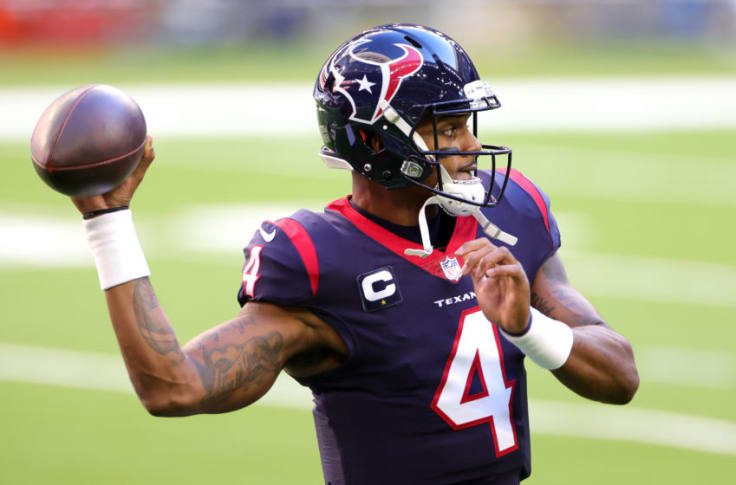 By: Ross Sutton and Aaron Greenberg
On Saturday night, the Rams and Lions pulled off a blockbuster trade that sent Jared Goff, two first-round picks, and a third-round pick to Detroit in exchange for Matthew Stafford. Personally, I was very surprised that the Lions were able to get a first-round pick for Stafford (let alone two), but I guess that just goes to show you how important the quarterback position is in the NFL. Now that the deal has been made though, it creates a more clear market for quarterbacks that could be traded this offseason. This means that we now might have a better idea of what the Texans can get for their superstar quarterback, Deshaun Watson.
For the teams that will be discussed below (the 49ers, Dolphins, Jets, and Washington Football Team), trading for Deshaun Watson would be a move that completely changes the trajectory of their franchises, but with that great reward comes great sacrifice in the form of numerous future draft picks and possibly a couple of players. Even though the Stafford trade theoretically could have affected the market for Watson, I do not believe that it did, and neither does NFL reporter John McClain.
The first reason why I agree with the conclusion of the Tweet above is because Jared Goff's large contract certainly played a significant role in the negotiations between the Rams and Lions. Some people from around the league have even suggested that the Rams needed to throw in an extra first-round pick just to get the Lions to accept Goff as a part of the deal. Second is the fact that Watson is so much more valuable than either Goff or Stafford because of the combination of his age (25) and his elite talent, so to compare either of those quarterbacks to Watson in a trade negotiation might be a bit too much like comparing apples and oranges. My gut feeling is that it will take three first-round picks to make the Texans seriously consider trading Watson, even if a team offers multiple quality players and second or third-round picks in addition to two first-round picks. With that being said though, here are some trade packages that Aaron thinks would make sense for both teams:
New York Jets
HOU: QB Deshaun Watson
NYJ: 2021 1st Round pick #2, 2022 1st round pick, 2022 2nd round pick, 2023 2nd round pick, Marcus Maye, Bryce Hall
-OR-
2021 1st Round pick #23, 2022 1st round pick, 2022 2nd round pick, Sam Darnold, Bryce Hall
Miami Dolphins
HOU: QB Deshaun Watson
MIA: 2021 1st Round pick #18, 2022 1st round pick, 2022 2nd round pick, Tua Tagovailoa, Eric Rowe
-OR-
2021 1st Round pick #3, 2022 1st round pick, 2022 2nd round pick, 2023 2nd round pick, Eric Rowe, Andrew Van Ginkel
Washington Football Team
HOU: QB Deshaun Watson
WFT: 2021 1st Round pick #19, 2022 1st round pick, 2022 2nd round pick, 2023 2nd round pick, Alex Smith, Matt Ioannidis, Jimmy Moreland
San Francisco 49ers
HOU: QB Deshaun Watson
SF: 2021 1st Round pick #12, 2022 1st round pick, 2022 2nd round pick, 2023 2nd round pick, Jimmy Garoppolo, Solomon Thomas, Tavarius Moore