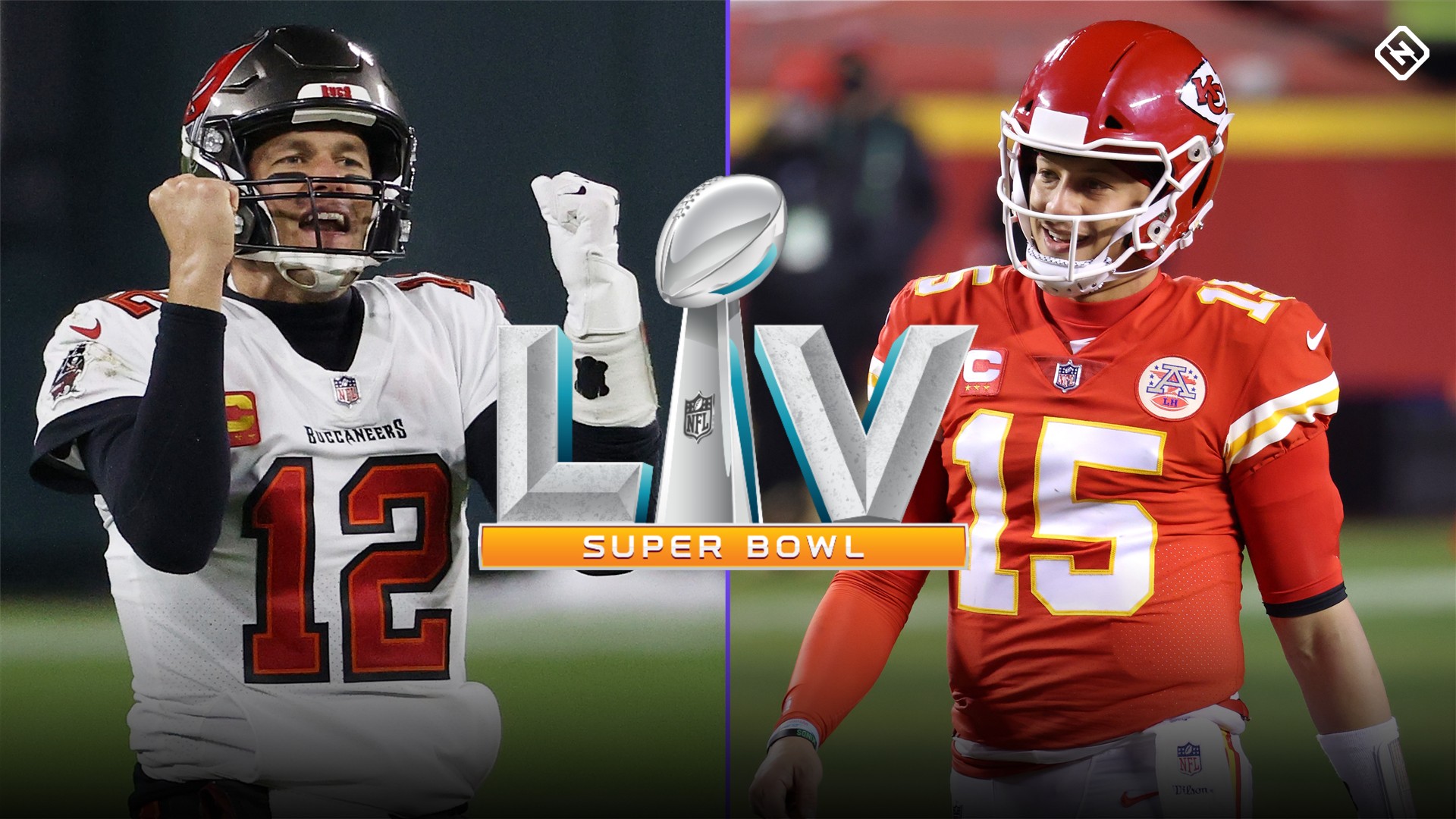 By: NFL Nosebleed Team
A season that many are surprised even happened has been completed. Now after months of a combination of the expected, the unexpected and the "this might as well happen," two teams are left to battle it out on the West Coast of Florida.
These teams have a lot to offer. One has the chance to solidify itself as the league's next dynasty. The other is making it work with remnants of the old one, including its star quarterback. So when all is said and done, who will be lifting the Lombardi Trophy?

How They Got Here
Kansas City Chiefs
Call it a demonstration of dominance. Call it dumb luck. Call it a global pandemic keeping this team from the usual offseason celebrations that come with winning a Super Bowl. Regardless, the Kansas City Chiefs are right back where they were a year ago and are looking to be the first team to repeat as champions since the New England Patriots in 2003 and 2004.
The usual cast of characters are back for this campaign. Some changes include Clyde Edwards-Helaire and mid-season signing Le'Veon Bell in the backfield instead of Damien Williams, who opted out before the season started. The Chiefs, though cold at times, were largely dominant throughout the year except for a loss to the Raiders at home in October and a Week 17 loss to the Chargers with most of the starters on the bench. Going into the playoffs, the Chiefs were seen as having a few too many flaws to make it back to the Super Bowl, but a win over the Cleveland Browns in the divisional round-the last few minutes of which were played with a backup quarterback- and a dominating win over the Buffalo Bills in the AFC Championship game silenced those doubts quickly.
Tampa Bay Buccaneers
When Jameis Winston threw a pick-six to become the first QB to throw 30 TDs and 30 INTs, it was a laughable ending to the Winston era in Tampa Bay. Enter: the GOAT. When Tom Brady joined the Buccaneers, it was an immediate culture shift for the franchise. After signing Brady, the Bucs then added his favorite target in Rob Gronkowski. Throw in rookies Tristen Wirfs and Antoine Winfield Jr., and the emergence of a top 5 defense after retaining Ndamukong Suh and Shaq Barrett, and the Bucs offseason created the perfect storm for a shot at winning a Super Bowl for the first time since 2002.
Head Coach Bruce Arians has completely changed this team from the bottom of the NFC South to playing in Super Bowl 55 in just one season. Tom Brady has already cemented himself as the greatest of all time, but taking the Buccaneers to a Super Bowl victory, his 10th appearance and 7th ring, would take him to a level that may never be surpassed.
Reasons for Concern
Kansas City Chiefs
It's hard to find a weakness in a team that has lost just one game in the last calendar year when Patrick Mahomes has started. However, there are two bits that stand out…
For one thing, the Chiefs don't have a very consistent running game. Only Clyde Edwards-Helaire has had a game over 100 yards, with his last one coming in October against the Bills. It may not have mattered as much up to this point, but they'll need a way to keep this defense on its toes and keep Tom Brady off the field. Second, the Chiefs have had trouble playing a full four quarters. There have been times where they can barely close out games against teams clearly less talented than them and that won't do against a Bucs team that is getting hot at the right time.
Tampa Bay Buccaneers
Tom Brady deserves a lot of praise for getting this far with a new team without much of a chance to build chemistry as there would be without a global pandemic. However, there are instances where he could be the team's greatest enemy…
It's harder to deal with pressure as you get older, especially when you lack mobility like Brady does. Normally the offensive line has done a great job protecting him, but when they can't, Brady seems to lose his composure as was the case in the NFC Championship game when he threw three straight picks against the Packers.
Reasons for Hope
Kansas City Chiefs
This is a team that simply does not lose when they are playing at 100 percent, and these past two games have demonstrated that. Outside of the time Patrick Mahomes missed with his injury against Cleveland and the first couple minutes of their game with the Bills, this team has looked largely unstoppable and will make things very difficult for the Bucs defense.
Tampa Bay Buccaneers
Much like their counterparts, the Bucs are getting hot at the right time. Tom Brady seems to finally be developing some strong chemistry with Mike Evans and Chris Godwin along with mid-season acquisition Antonio Brown and many more. The defense has also been making the plays it had to in their now-seven-game winning streak.
Predictions
Isaac Strand, NFL & PLL Writer. Chiefs 31 Bucs 27
The last time these two met in the playoffs, Brady defeated the Chiefs in overtime without giving Mahomes the chance to touch the ball. This time around, Mahomes will return the favor by leading a game-winning drive in the fourth quarter as Brady watches from the sidelines.
James Murphy, NFL Writer. Chiefs 41 Bucs 30
In their Week 12 meeting, the Chiefs dominated early and were able to fend off a Bucs rally despite going cold late. Tampa will be much stronger now than they were then, but the Chiefs will play a full four quarters and repeat as world champions.
Anthony Twomley, NFL Writer. Chiefs 38 Bucs 34
All the makings of an absolute classic on our hands, a rematch of their week 12 clash and the second edition of Mahomes v. Brady in the postseason. Back and forth scoring all night between these 2 teams but ultimately it comes down to who ends up with the ball last. Mahomes delivers on the biggest stage once again and KC becomes the first repeat champ since New England, who defended their Super Bowl 38 title by defeating the Eagles in Super Bowl 39.
Ross Sutton, NFL & MLB Writer. Bucs 34 Chiefs Bucs 28
As much as I am tired of seeing Brady and Mahomes dominate the league, I think this is going to be a great game. If both teams were fully healthy, I would pick the Chiefs to win pretty easily, but the Chiefs have some key players hurt on their offensive line. We all saw how the Bucs defensive line impacted the NFC Championship game when the Packers had some key injuries to their offensive line, so I think the Bucs will have a very good chance of winning the battle upfront on Sunday. I also think that the Bucs linebackers will be able to slow down Travis Kelce, who is one of the best offensive weapons in the league.
Aaron Greenberg, NFL Writer. Chiefs 35 Bucs 17 
Contrary to popular belief I think this will be a pretty defensive game overall, The Chiefs defense has shown time and time again they can dominate the passing game. Whether it's with the pressure or tight man coverage, I think they will make it difficult for Brady and the Bucs. Everyone kept saying no one could stop the Packers and the Bucs did that. But nobody can stop the Chiefs. It's officially Mahomes' league.
Rob Schardt, NFL & MLB Writer. Bucs 34 Chiefs 31
When Brady signed with Tampa, and inherited a great supporting act, I predicted a Chiefs-Bucs Super Bowl. For the last 10 or so seasons, I have picked Brady to win the big game, and I will do that again. I believe this will be a terrific game, but this time around I expect the Bucs to have a better plan of attack against Mahomes' High Flying offense. Tom is still looking like the ageless wonder that he is and I believe he will come out firing. I think that as long as the Bucs defense keeps Brady in the game, he will be able to squeeze out his 7th Super Bowl title.