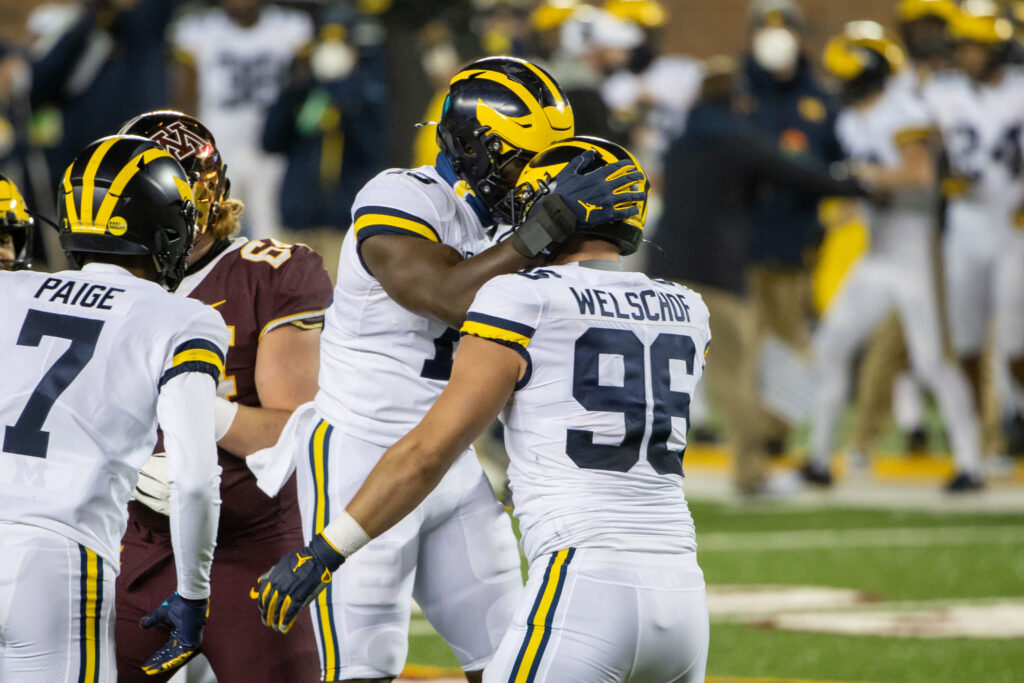 By: James Murphy
The No. 13 Michigan Wolverines (1-0) started their 2020 campaign with a big win over Minnesota on the road. The offense looked as dominant as ever since Jim Harbaugh took over and the defense continued to play like one of the best units in the country. For their next test, the maize and blue return to Ann Arbor to host the Michigan State Spartans in the Battle for the Paul Bunyan Trophy.
Opponent Overview
The Spartans began the Mel Tucker Era with a 38-27 loss at home to Rutgers, who hadn't won a game against a Big Ten opponent since 2017. They had just 50 team rushing yards and seven turnovers to thank for that which included five fumbles and two interceptions.
That's not to say there was nothing to like. Rocky Lombardi completed 31 of 43 passes for 319 yards and three touchdowns while Jayden Reed, a transfer from Western Michigan, caught 11 passes for 128 yards and two touchdowns in his team debut. Jalen Nailor wasn't far behind with six catches for 84 yards and a touchdown. 
What to Watch:
Michigan Secondary vs. Michigan State's Receivers
The Wolverines were able to keep Minnesota's Rashod Bateman-a potential first-round pick in the 2021 NFL Draft-under reps in their season opener. He did have nine receptions for 101 yards, but never broke open for a reception of more than 18 yards. Once again, they'll be tested by a receiver in Jayden Reed who the Spartans will try to get the ball to as much as possible. 
The maize and blue would position its players so that whenever Bateman made a catch, there were between 2 and 3 defenders ready to stop him, which worked on all but one play. This approach could work against Reed as well, but now that Michigan State is aware of how the Wolverines operate against big time receivers, they could find a way to counter it. This secondary is still very raw and will need to demonstrate sustained excellence in order to fend off a team that gives the Wolverines their best game every year. 
How The Front Seven Performs
Michigan has allowed just 14, 7 and 10 points in their past three games against the Spartans thanks in large part to a very stingy front seven that can get to the quarterback and handle the run game.
However, this year's Spartan offense appears to be the kind that will go through the air far more often than on the ground, especially with the numbers put up by Rocky Lombardi and the emergence of two talented receivers. If Michigan State is somehow able to expose the secondary, it'll be up to the front seven to have the kind of performance that gave Tanner Morgan fits.
Adjustments to Special Teams
From top to bottom, you'd be hard pressed to find a unit that struggled much. However, if you look closer, you can see that the special teams group had a less than spectacular night in Minneapolis. Jake Moody missed all three of his field goal attempts and Will Hart had a punt blocked in the beginning of the game that resulted in a 7-0 lead for Minnesota. Aside from a 66-yard kickoff return and stopping a fake punt attempt, the special teams' biggest plays were probably the extra points made. 
Following this performance, it's probably that the kicking duties will largely be given to Quinn Nordin, who made 10 of his 13 attempts and appears to have a stronger leg. As for the rest of the group, they'll need to be able to limit the amount of mistakes made.
The 113th meeting between the two teams kicks off Saturday, October 31 at Noon eastern on FOX.