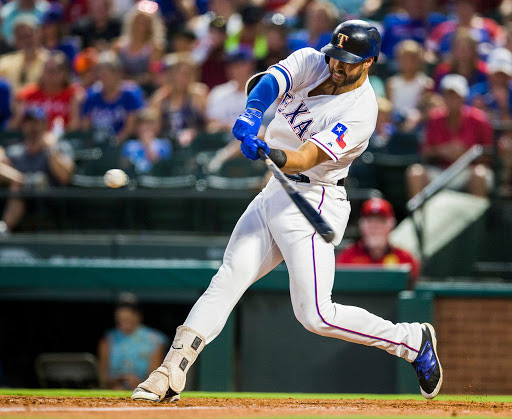 By: Ross Sutton
I predicted that the White Sox would trade for Gallo in a trade deadline predictions blog two weeks ago, but a lot has happened since then. The Yankees recently announced that starting center fielder Aaron Hicks will be out for the season due to a wrist injury. This has created quite a pressing need in the outfield for the Yankees, because if they are going to be legitimate World Series contenders, then they will probably need better options in left and centerfield than Brett Gardner, Clint Frazier, Miguel Andujar, and Estevan Florial. Giancarlo Stanton was activated from the injured list today, so that is good news for the Yankees, but with his injury history, I doubt Aaron Boone will want to risk losing Stanton's bat again by having him play the outfield. This means that the Bronx Bombers will likely be in the market to trade for an outfielder, and in my opinion, Joey Gallo is a great fit.
Now Gallo is by no means a "perfect player", as he currently leads the league in strikeouts and has a career .209 batting average, but he is one of the best power hitters in the league, and despite his low batting average, he has a career on-base percentage of .330 and has drawn the third most walks in the league this season. The Yankees already have a lot (and maybe even too much) swing-and-miss in their lineup, but Gallo would certainly bolster the Yankee lineup that is in desperate need of a left-handed bat. Furthermore, Gallo is a really solid fielder too, as he won a Gold Glove Award as a right fielder last year. Gallo is primarily a corner outfielder these days, but he played a total of 53 games as a centerfielder during the 2018 and 2019 seasons, so even if the Yankees mostly used him in left field, he would give the team another decent option in center. Gallo also has 95 games of experience playing first base in the majors, so his versatility would be a big plus for the Yankees, especially considering the team's first baseman Luke Voit is back on the injured list with an oblique strain that is expected to keep him out for about a month. In summary, Gallo's attributes that should be the most attractive to the Yankees are his: power, left-handed bat, ability to get on base, good defense, and defensive versatility. With all these great skills though, what would it take to get the Rangers to trade their star outfielder?
Joey Gallo is under team control via arbitration through next season, so he would be more than just a "rental" for any team that trades for him. Additionally, his one remaining year of salary arbitration further increases his value because that means his salary likely will not be that high, but like I said before, Gallo has his flaws, so it should not take a king's ransom to trade for him. One of the Yankees biggest concerns over the last few years has been staying under the luxury tax threshold of $210M, and while the Yanks are currently only about $1.5M below that threshold, they have a couple of players on their current roster whose salaries could come close to matching the $6.2M that Gallo is scheduled to earn this season. If the Yankees offered Clint Frazier and Justin Wilson (and maybe a prospect), then the salaries going to the Rangers would total about $5M, meaning the Yankees would remain below the luxury tax by about $300K. The thought of trading Clint Frazier might not be popular amongst Yankee fans, but if the team were to trade for Gallo, Frazier would almost definitely lose a large number of at-bats. Frazier has also been pretty disappointing in his first full year of getting consistent playing time, as he is currently only hitting .174, so the Yankees might decide to cut ties with the former top prospect. Realistically, giving up Frazier for Gallo might not push the Yankees over the top when it comes to competing for a World Series this year, so the Yanks ultimately might have to go above the luxury tax to win it all this season, especially considering the Dodgers have a payroll almost $60M higher than the Yankees.