By: Andrew Hubschman
The Yankees' starting pitching have put up quite a historic run that saw shutouts, high strikeout performances, and, of course, a no-hitter. Corey Kluber, Domingo German, Jordan Montgomery, and Gerrit Cole put up a historic streak for the Yankees, totaling 30 straight innings without allowing a run. Then, all eyes were on Jameson Taillon for Sunday's matchup with the White Sox.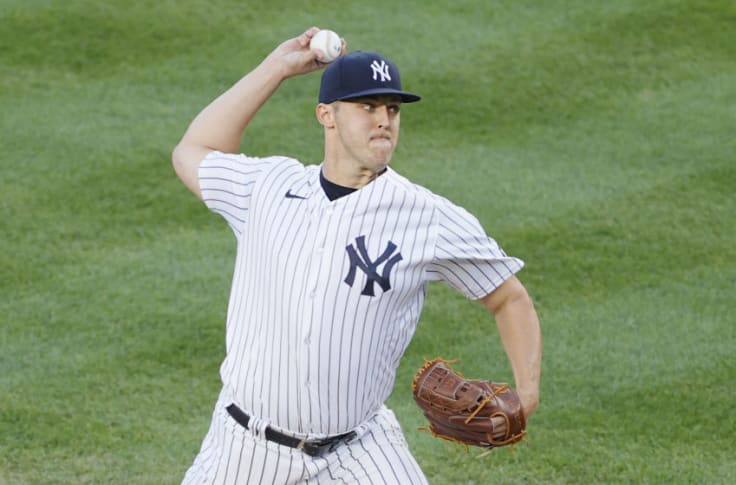 In his first eight games with the New York Yankees, right-hander Jameson Taillon did not meet expectations that the team and fans had originally hoped. During that stretch, he started 1-3 with a 5.73 ERA. When the Yankees turned their season around after a shocking 9-13 start, fans have called Taillon the 'weak link' in the starting rotation. Taillon was determined to change his narrative:
The New York Yankees (28-19) are coming fresh off a weekend series against the AL Central-leading Chicago White Sox that put their recent surge – highlighted by their historically spectacular starting pitching – to the test.
Throughout the season, Taillon has had a habit of getting himself into jams that he cannot escape without surrendering runs. In the first inning of Sunday's weekend series finale against the White Sox, the right-hander got himself into a jam with two runners on base. He then faced AL Rookie of the Year candidate Yermin Mercedes, who was also the league's leading hitter with a .354 average:
From there on out, Taillon never allowed a runner to reach past first base and he owed it to his four-seam fastball in what would be his best start in Pinstripes. His other signature moment was striking out Tim Anderson – another star hitter for the Sox – on a 94 MPH four-seamer to end both the fifth inning and his outing. Finishing with four strikeouts while allowing two hits, two walks, and a hit-by-pitch, Taillon placed himself in position for his second win of the season.
Passing the baton to his reliable bullpen, Taillon was replaced in the sixth inning by Wandy Peralta – who was chased after 1/3 of an innings for allowing a two-run home run to Jose Abreu. Right then and there, things did not look good in trying to preserve a Taillon victory. Chad Green took over and ended the damage, keeping the score a one-run game. Brett Gardner added another run off a throwing error in the bottom-half of the sixth before Green surrendered a leadoff dinger to Yasmani Grandal in the seventh, once again reducing the score to a one-run game.
In the end, it was all up to Aroldis Chapman – who was 11/11 in save opportunities this season. Andrew Vaughn came in to pinch-hit for left-fielder Adam Eaton and hit a game-tying solo shot, not only giving Chapman his first blown save of the year, but also denying Taillon the win after a strong outing. The Yankees did, however, prevail on a walk-off walk by Aaron Judge, completing their weekend sweep.
Despite not getting a well-earned victory, it is worth noting that Jameson Taillon followed his starting colleagues and stepped up when he needed to. It's always fun to see everyone getting in on the action. As a result, the Yankees' starters have completed an around-the-horn effort of spectacular outings, totaling 35 innings without allowing a run. The Yankees will return to action on Tuesday against the Blue Jays and will give the ball to Corey Kluber who is coming fresh off a no-hitter vs. the Texas Rangers last Wednesday. Will the hot streak from this starting rotation continue?