By: Andrew Hubschman
The 2019 NFL Draft will be one to look back on in the future, as many talented rookies shined in their first season. Some of them were expected to meet – or go beyond – expectations, while others shocked the NFL world on the big stage. Some of the players from this draft that stand out the most are the quarterbacks. Here are the top four quarterbacks that have proven, after their rookie seasons, to have the most promising futures.
4. Gardner Minshew II
After beginning the season as the primary back-up to Nick Foles, who went down in Week 1 due to a collarbone injury, Minshew became not only the starter going forward, but he also became a popular meme on social media and a league-wide phenomenon on the field. He's got leadership, a strong arm, and a mustache! Leading all-rookie QB's in passer rating, he had three favorable targets that kept him in the starting role: wideouts Chris Conley, Dee Westbrook, and Pro-Bowler D.J. Chark – the team's leading receiver with 1,008 yards. There is room for him to improve from his rookie campaign, where he threw for 3,271 passing yards in 14 games. From a playoff standpoint, Minshew plays in the AFC South Division where the lead is up for grabs. He performed really well against his divisional opponents, although his offense could not seem to score enough points against the Texans. However, he still has the chance to etch his name in the "Playoff QB's" category. Minshew can only get better from here, and can halt the "Jaguars QBs are trash" stigma as he has what it takes to turn this team around.
3. Drew Lock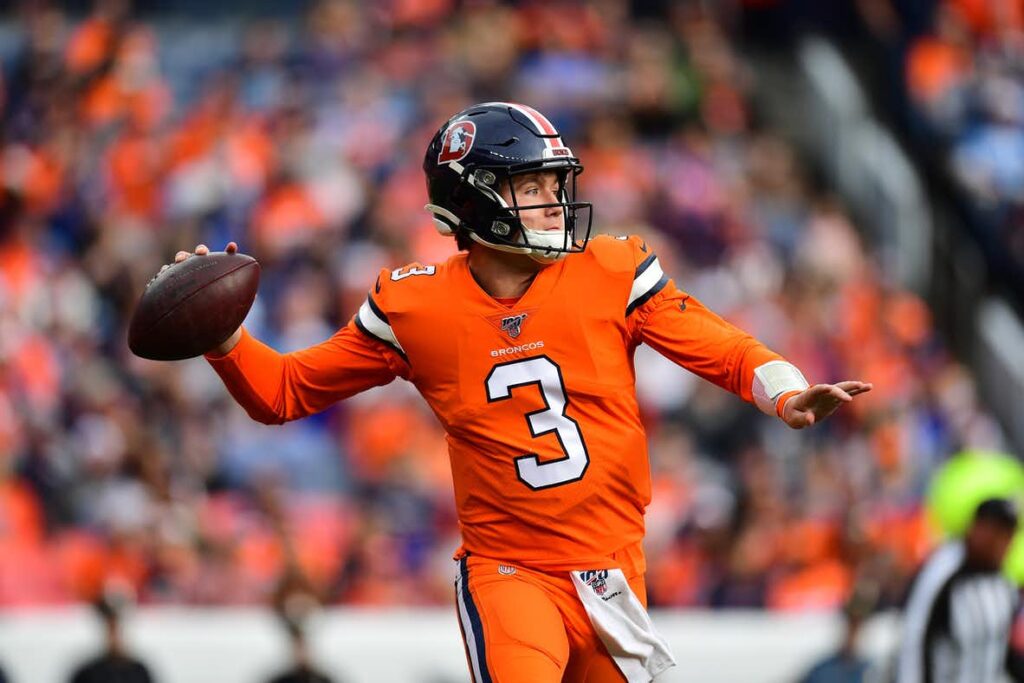 Now Lock may have only played the last five games of the season and put up average numbers against the Chargers, Lions, and Raiders. However, his 4-1 record, two comeback victories, and 309 passing yard performance against the Texans are not facts that can be ignored, and he can only improve from there. He looks to be their franchise signal-caller, and with the help of a young receiving core in versatile Pro-Bowler Courtland Sutton – who played under three Broncos quarterbacks last season, and rookie Jerry Jeudy, Lock can definitely enhance his stat-line as he is ready to break out and lead the charge of a young explosive offense at Mile High. On top of that, giving the ball more to Noah Fant will not only help supplement the offense but can help Lock put another talented tight end in the NFL spotlight.
2. Daniel Jones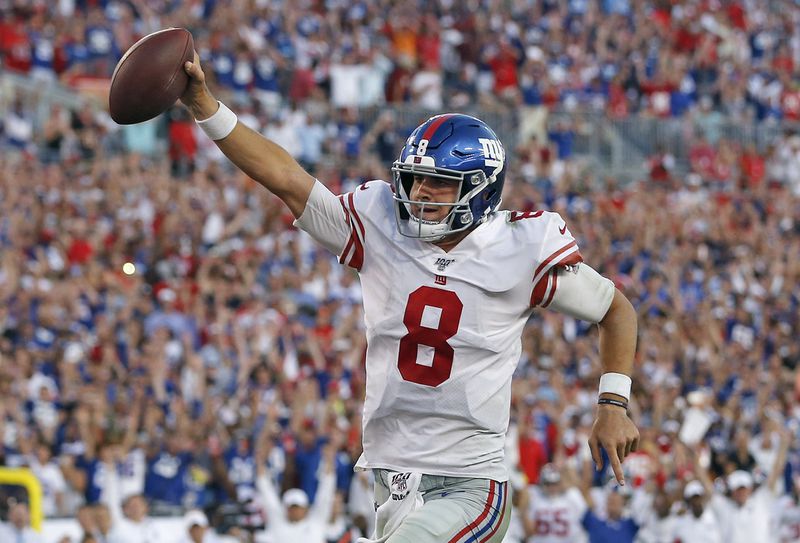 Eli Manning's career was on the way to its end, and the Giants needed a new quarterback to replace the legendary 2-time Super Bowl MVP. With the sixth pick, they selected Jones out of Duke University. This pick threw me off along with many other fans. As a Giants fan however, I never once jeered or booed him and instead had hope that he would be the commander of our future. Jones' stats and rookie-leading 24 passing touchdowns silenced a lot of haters, although his offensive line could have helped way more than they did. The draft additions of offensive tackles Andrew Thomas and Matt Peart can reduce Jones' fumble count going forward, which rested at a league-leading total of 18 last season, including 11 lost. Plus, the connection he made with fellow freshman wide receiver Darius Slayton – who, along with A.J. Brown, co-led all rookies in receiving touchdowns – shows some promise of a potential highlighted QB-WR duo. The two, paired up with running back Saquon Barkley, look to create electricity for Big Blue's offense and give the fans hope for a brighter future.
1. Kyler Murray
Murray was selected first overall by the Arizona Cardinals after winning the Heisman Trophy while playing at the University of Oklahoma and was expected to be Offensive Rookie of the Year, and he did just that. After one season, Arizona looks to have found their man. He played with limited help around him; his leading receivers were Larry Fitzgerald with 804 yards and Christian Kirk with 709. Yet, he threw for a rookie-leading 3,722 passing yards which is truly remarkable! On top of that, while playing in a tough division with the Rams, Seahawks, and resurrected 49ers, Murray played exceptionally well against his NFC West opponents despite finishing in last place and with a 1-5 record against them. But once the Cardinals' defense gets revamped, he will have a better chance to show that he's a playoff-contending QB. Finally, with a stacked offense – along with the addition of All-Pro wideout DeAndre Hopkins – expect to see a "bright red" future for the mobile QB as he has just gotten started.