By: Andrew Hubschman
In a time where the struggling New York Yankees needed to get a groove going to prove themselves as playoff contenders, it seemed as if luck may not have been on their side. Aaron Judge testing positive for COVID-19 before the weekend, and Tim Locastro tearing his ACL while making a play in left field, the Yankees surprisingly got the job done against their rival Boston Red Sox this past weekend. Here is why there might be some hope for the Yankees after all:
In his last three games leading up to his previous outing against the Houston Astros – all of which the Yankees lost – Cole, with an 0-1 win-loss record, allowed 11 earned runs off of 14 hits and five home runs in 15 1/3 innings, bringing his ERA up to 2.91.
After pitching a complete game shutout against the Astros in 129 pitches – clocking out of work with a 99 mph fastball – Gerrit Cole bounced off his magical performance, allowing just one earned run in six innings off work; he surrendered five hits and two walks while striking out 11 batters to earn his tenth victory of the season. Having struck out 23 batters in his last two outings, Cole leads the league with 158 strikeouts. His next start is scheduled to occur in next weekend's series opener against Boston at Fenway Park. Hopefully he can bring his heat to Beantown.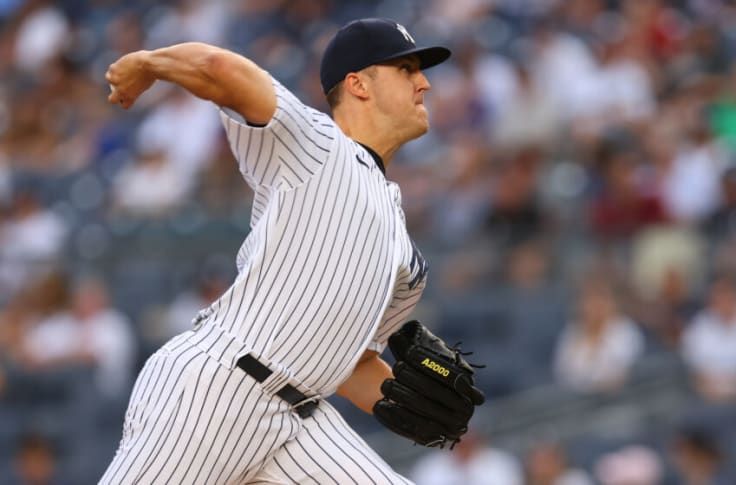 Before last night's series finale, Jameson Taillon won his last three decisions in four outings, although he would have won four straight starts had the Yankees held on to their lead before imploding against the Astros before the All-Star break. In his last three games, he has an 1.47 ERA while allowing three earned runs on 11 hits and five walks in 18 1/3 innings of work; he struck out 16 in that span. He also allowed two earned runs or less in five of his last six starts.
Taillon was once viewed as the Yankees' odd man out in their rotation for starting 1-4 with a 5.74 ERA in mid-June, but since then, he has seemed to have finally found his touch. Without having taken a loss in eight starts dating back to May 31 against the Rays, Taillon is now 5-4 with a 4.60 ERA. Not only has he found his groove, but he is now looking like the Yankees' number two guy in the rotation behind Cole, creating a solid one-two punch that could guide their team to the postseason.
Following their 4-0 stinker on Friday, the Yankees' newly-looked offense had the edge for the remainder of the series. In Saturday's game, outfielder Greg Allen got the Yankees first hit with a fifth-inning leadoff double – his second hit in the series. Since he scored off a DJ LeMahieu RBI single, Allen – recalled from Scranton last Friday – became a sudden sensation to online Yankee fans. In the sixth inning, Gary Sanchez came up big with a solo home run to break a 1-1 tie; Gleyber Torres immediately followed suit with a one-run dinger of his own to make the score 3-1. That would prove to be the final score as the game was called after the end of the inning due to rain.
Torres, who has been massively struggling since the 2020 season, kicked off the scoring in Sunday's rubber matchup with a solo home run – hitting home runs in back-to-back games for the first time since 2019 – and the Yankees did not look back. A game after scoring his first run as a Yankee, Allen scored his first RBI with the club on a sacrifice fly in the fifth inning. The Bombers broke things open in the seventh inning with Rougned Odor hitting a two-run home run and Torres and rookie first baseman Chris Gittens each drawing RBI walks to go up 7-0. In the eighth inning, recently called-up left fielder Ryan LaMarre, who went hitless in his first eight at-bats as a Yankee until his fifth-inning single, hit a two-run home run that proved to be the ultimate knockout punch as New York and their Scranton call-ups won 9-1 to take the series.
This weekend showing from Greg Allen and Ryan LaMarre might prove to be more than just a stroke of luck. Perhaps they were part of the offensive talent the Yankees needed, and can prevent the team from signing a rental player such as Joey Gallo. At least during Aaron Judge's absence, these two can continue to make a surprise contribution in helping the desperate Yankees return to the postseason.
As for the Yankees' current playoff seeding, New York is now seven games behind Boston in the American League East and three and a half games out of a Wild Card spot – both of which are held by the Rays and Athletics. Currently in the hunt behind the Blue Jays, Mariners, and Indians, the Yankees have 70 games remaining to make a comeback. This series might have kick-started a turnaround the Yankees and their fans have long been waiting for, but only time will tell.
The Yankees will begin a two-game series against the Phillies in the Bronx on Tuesday, and will send Domingo German to the mound. Will the Yanks build off their weekend series victory?