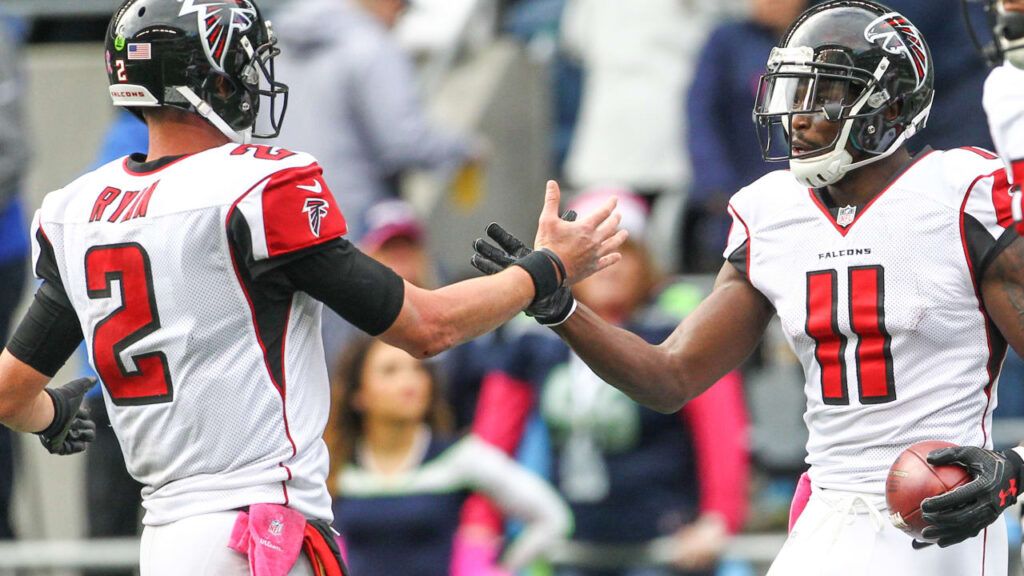 By: Ross Sutton
The Atlanta Falcons have been on a steep decline since their heartbreaking Super Bowl loss to the Patriots in 2017, and things are only getting worse. The Falcons have now fired former head coach Dan Quinn in the middle of the season and they currently sit in last place in the NFC South with a 1-5 record. This has seemingly every NFL fan (myself included) salivating at the idea of the Falcons tearing down their roster and trading big-name players such as Matt Ryan and Julio Jones, but this might be difficult due to financial reasons. As you can see below, trading Julio Jones would leave the Falcons with quite a bit of dead money over the next few years:
So if the Falcons were to trade their star wide receiver, it would leave them with a total of $37.65M in dead money over the next two years, which wouldn't be very conducive to a rebuild. If the Falcons did pull the trigger and trade Julio Jones though, they would save themselves just under $40M total in 2022 and 2023. These huge savings would be extremely useful to the Falcons and if they were to trade their big-name players this year, they certainly wouldn't be planning to be competitive over the next two years anyway, so the financial constraints probably wouldn't mean sacrificing much on-field success. So even though a trade of Julio would be a nightmare for the Falcons' salary cap over the next two years, the timing of when they would see the financial benefits of trading Julio Jones would align nicely with when the Falcons could be competitive again. There would likely be similar financial implications to trading Matt Ryan, but if a short-term financial burden meant long-term flexibility – and additional draft picks that the Falcons would acquire by trading their stars – then I think it would make a lot of sense for Atlanta to make the tough decision and trade their franchise players.
Now which teams could be a good fit for either Matt Ryan or Julio Jones if the Falcons decided to pursue trade offers? As we now know, a team would likely need a lot of cap space available to trade for either player, so if you are looking for potential trade partners, you have to look at the teams with the most cap room. After looking at that list, here are the teams that I believe make the most sense in a trade for Matt Ryan or Julio Jones.
Matt Ryan
Washington Football Team – WFT honestly might be the only truly good fit when it comes to teams that could trade for Matt Ryan. According to Spotrac, they have just under $23M in cap space so they have the money, and I think they might be the most quarterback-needy team in the league as it has been a revolving door at the position in 2020 for the WFT. Not only does the Washington Football Team have the money and the need, but they actually have a chance to win the pitiful NFC East, and with a massive upgrade at quarterback, they might give themselves a good shot at the division title.
Cleveland Browns – This is obviously a bit of a "hot take", but Baker Mayfield has not played very well this year, and as the team currently sits at 4-2, he might be the one thing holding back the Browns. Cleveland is also the league-leader in cap room as they have about $31M in cap space available according to Spotrac.
Julio Jones
New England Patriots – As much as football fans might groan at this suggestion, they are probably the best fit for Julio right now as they are a good team that can compete for a division title, they have about $26M in cap space, and they have a huge need at wide receiver. Additionally, the Patriots have struggled to draft and develop wide receivers in the Belichick era, so this could be their best chance to acquire an elite receiver.
Chicago Bears – The Bears have about $10M in cap space right now and their offensive struggles over the last few years have been well documented, so it makes sense to try to add a top talent like Julio Jones to kickstart the offense of a team that appears likely to make the playoffs this year as they are currently 5-1. The Bears would also be a good fit on paper for Matt Ryan, but I don't think they would be able to make the finances work in that trade.
The Packers and Eagles are the honorable mention teams regarding a Julio Jones trade. The Packers don't really need a wide receiver THAT badly though so I don't think they would be willing to pay the price for Julio. The Eagles on the other hand, would be a fantastic fit as they desperately need a star wide receiver, but they surely would not be able to make the finances work as they are projected to be $63M over the cap next year.