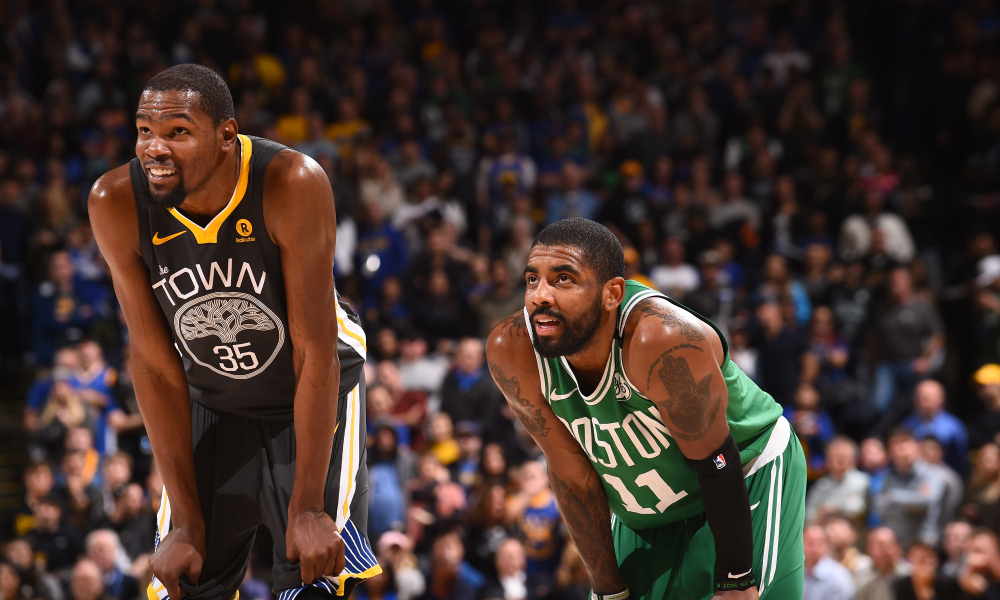 Many people across the country are locked in on the conference finals that are about to start, but NBA fans are also clamoring for the offseason drama to ensue. As a Nets fan who's team has been eliminated for a while now, I can't wait for this NBA offseason. Whether it's the stacked free agent class or the star-studded draft class, this summer should be an epic one. So with that being said, here are my predictions for where some of the top free agents will sign this offseason:
Kevin Durant: Knicks
Between the drama with Draymond Green in the regular season, or the rumors that he wants to go to the Knicks, I really think KD leaves the Warriors this summer feeling like he is the best player in the NBA. This means that he can start a new chapter elsewhere, and New York seems to be the place that everyone thinks he will end up. An anonymous poll was taken with players around the league a while ago and one of the questions that was asked to the players was "What team do you think Kevin Durant will play for next season?", and a whopping 60% of the players that answered the question said the Knicks. I think this means something, as the players from around the league obviously talk a lot and know what's going on. Despite all of the dysfunction that comes with the Knicks organization, KD seems to be okay with the idea of signing with them. The Knicks are also a much more attractive free agent destination this summer than they have been in years past, as they have a ton of cap space to sign ANOTHER star (cough, cough Kyrie Irving) if KD signed with them, and they might land Zion depending on the results of tomorrow night's draft lottery. I think KD wants to prove that he is better than Lebron, and if he were to take the Knicks back to the finals, that would certainly help, A LOT. If it's not the Knicks, I can't imagine Durant signing with anyone other than the Warriors.
Kawhi Leonard: Raptors
Yes, this could be a bit of a recency bias due to Kawhi's legendary game 7 buzzer-beating game-winner over the 76ers, but I honestly think that was a big moment for Kawhi that will have a major impact on his decision this summer. Toronto would embrace any star, but I wouldn't be surprised if plans for a statue were already in motion after Leonard's game 7 heroics. Kawhi is one of the most mysterious players in the league and it seems like no one ever knows what he's thinking, so I wouldn't be surprised at all if Kawhi signed with another team (maybe the Clippers or Nets), but right now, my gut says he stays with the Raptors. I would also assume a lot of Kahwi's decision will come down to how the Raptors finish this season, so if they get swept by the Bucks in the conference finals, then I think he probably leaves, but only time will tell.
Kyrie Irving: Knicks
Say what you will about Stephen A., but he is incredibly well-connected with the NBA, so I trust his sources. This tweet definitely makes it seem like Kyrie is essentially a lock to sign with the Knicks, but I think there is a better chance of Kyrie signing elsewhere than there is of Kevin Durant signing with a team other than the Knicks. I could see Kyrie signing with the Lakers or even the Nets, who are currently the betting favorite for where Kyrie will sign. Either way, I am sold that both KD and Kyrie will sign with the Knicks and team up with whichever player the Knicks draft to make MSG one of the most exciting arenas in the NBA again.
Kemba Walker: Mavericks
Bottom line: I think Kemba wants to win and that doesn't seem to be possible in Charlotte. They have never been a finals contender with him, and it isn't his fault, so I think Kemba will take his talents elsewhere. Mark Cuban has always been one of the most aggressive owners in the league, and they have the potential to be an extremely good team in the coming years. If they were able to re-sign Kristaps Porzingis, the Mavs could possibly have Kemba, Porzingis and Luka Doncic. That is a really good "big three" to build a championship team around and I think there is a good chance we see this to start the NBA season in 2019. If it's not the Mavs, Kemba could sign with the Pacers, Hornets, or Knicks (if they don't sign Kyrie).
Klay Thompson: Warriors
There have been rumors that Klay would go to one of the LA teams, whether it's the Lakers or Clippers, but I don't buy into that. If KD leaves in free agency, Klay could cement his legacy with Steph Curry as the best backcourt in NBA history. I think that is nearly impossible to pass up, and at the end of the day, I believe that Klay enjoys playing for Steve Kerr and the Warriors.
Jimmy Butler: Nets
Personally as a Nets fan, I don't really want them to sign Butler (I would much rather have Kawhi), but I think Brooklyn is the most likely destination for Butler. I think he is a flawed player in the modern NBA, he shot a sub-par 33% from 3 with the Sixers this year, and the issues he has had in the past with players in the locker room worries me that he would mess with the Nets elite team chemistry. That being said, maybe the strong culture that Kenny Atkinson has built with the Nets over the last few years makes the Nets an even better fit for Butler. I'm not sure what they will end up doing, but I think we could see some big changes with the 76ers this summer, and I don't think Jimmy Butler will be with them. The Nets have been desperate for a proven star for years now, and even though I don't view Butler as a top 10 player in the league right now, he is certainly a star that would (probably) make the Nets a better team. As I said before, I think the Nets could be an option for Kawhi Leonard this summer too, but if he doesn't sign with Brooklyn, Butler is likely the team's next target.
Tobias Harris: 76ers
I just mentioned that I think the Sixers could go through some major changes this summer, but I still think Tobias Harris will re-sign with them this offseason. Harris' 3pt% dipped about 11% since being traded from the Clippers to the 76ers this year, but he shot 41% from 3 last season, so I think he is an above average shooter that can help spread the floor for Simmons and Embiid, if in fact those two are both on the team next year. Harris is from Long Island and he has family in Brooklyn, so there has been rumored mutual interest between Harris and the Nets, but I think it is more likely that Butler goes to the Nets.
I feel like this is said every summer now, but this could be the most exciting offseason in NBA history, and I can't wait. There are a ton of teams that could look wildly different in just a couple months, so this should be one hell of an offseason.