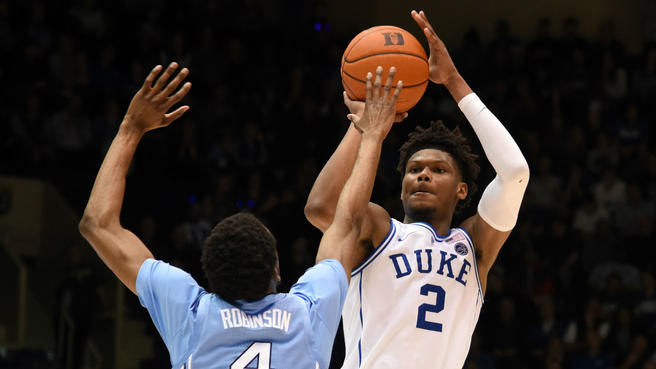 On June 20, 2019, all eyes in the NBA world will be on the college kids. Stars from schools such as Duke, Virginia, North Carolina, Kentucky, Oregon, Murray State and many more will be selected by teams and begin their journey to potential basketball stardom.
Two of the biggest names on the board are coming from Duke University. Phenom Zion Williamson took over the college basketball stage this season, turning heads with his incredible build, unique dunking abilities, and outstanding defense. That's right. Add me to the list of writers talking about Zion. It's impossible not to. His partner-in-crime and the No. 1 overall recruit of the 2018 recruiting class, RJ Barrett, had a great three point shot and both show extreme promise to take their talents to the next level.
If you hadn't heard, the Blue Devils had the top three recruits in the entire 2018 class, and we have covered two of them. The third, Cam Reddish, has seemingly been doubted more than Williamson or Barrett have. This is likely due to the fact that Reddish wasn't as flashy on the court as the other two and just was not given as much opportunity in big time moments. Some people may see a star in Reddish, but if you look at the numbers, it doesn't look great for him. However, I'm on board with the believers.
Reddish was definitely the third option for Duke, and rightfully so. His unimpressive 35.6% shooting percentage was last among starters, which is an unappealing number to have. But this was mostly because he shot threes so often, as he had the best three-point percentage among starters. Barrett came close to Reddish, but he still was a little bit worse from beyond the arc, a statistic that many may find shocking. The former No. 3 recruit has great size at 6'8", promising defensive skills, and a confident mindset that helps launch his potential.
You can likely count on Reddish following anywhere from the 4th to the 12th pick, as he has quickly been sliding down the prospect food chain. However, he could end up being the steal of the draft. He's a confident young player with a pretty good three-point shot that can be developed into a great one. Look for one lucky team to snag him on draft night and be very pleased with the results.