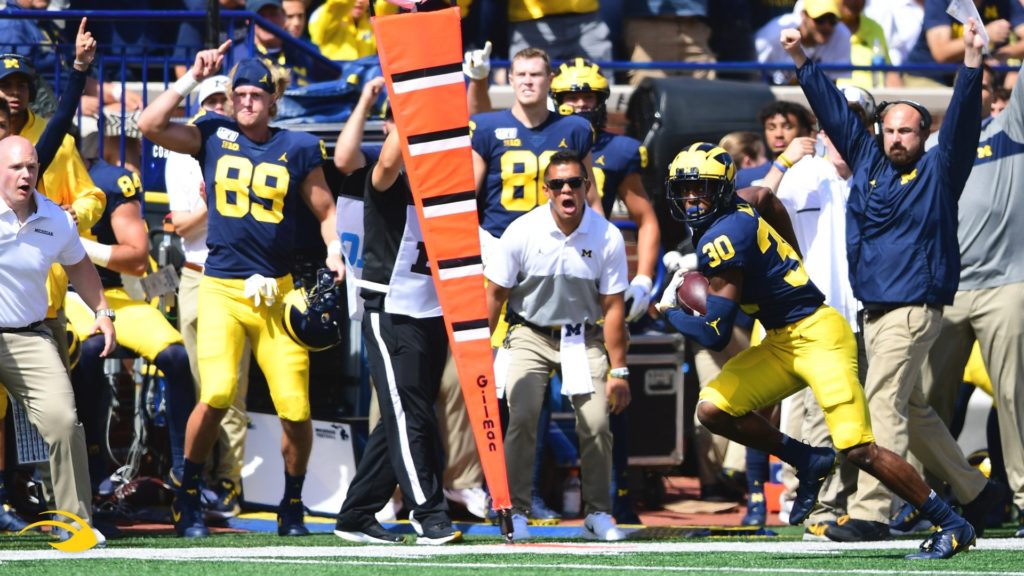 The No. 7 Michigan Wolverines (2-0) survived a nail-bitter against the Army Black Knights (1-1) beating them 24-21 in double overtime. The Wolverines fumbled the ball six times and lost possession on three of them while being penalized nine times for 58 yards. Zach Charbonnet ran for 100 yards and a three touchdowns on 33 carries. Shea Patterson threw for 207 yards.
Michigan continued to struggle to adapt to the spread offense while Army's triple-option attack gave the defense fits. Army and Michigan exchanged blows with Army going into halftime with a 14-7 lead. The Wolverines tied it in the second half following an interception by Lavert Hill. After a back and forth affair and a missed Army field goal as time expired, the game went into overtime. In the first one the teams traded touchdowns, then Michigan led off the second overtime with a field goal after going three and out on three straight incompletions. On third down of the next drive, Josh Uche stripped the ball out of Kelvin Hopkins' hands allowing the maize and blue to recover and escape another sloppy game.

The ghosts of Michigan legends were clearly at play here, because I don't know how else they could have pulled it out given how badly they struggled. Whenever Shea Patterson didn't fumble the ball, he would either overthrow a receiver or make the wrong read on an option play. There was a large group of fans who wanted McCaffrey to start over Shea after the MTSU game and they got louder after this one. On the bright side, Zach Charbonnet is becoming a much needed weapon in the ground game and we saw more of that today.

Throughout the game, I noticed something painfully ironic. Despite all the talk of a spread offense throughout the year and how Josh Gattis would "modernize" the team, they failed to do what they seemed to do so well even when the offense seemed ancient, pounding the ball in on third and short situations. Call it overthinking or the fact that fullback Ben Mason now plays defense, but it's something that has to change.

The little room this team had for error is now gone. Wisconsin will be waiting in two weeks and Michigan will have to improve A LOT by then.