Brad Stevens' reaction to hearing Anthony Davis wants out of New Orleans: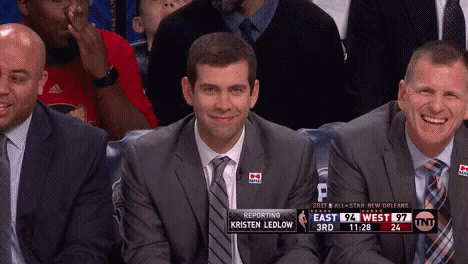 Magic Johnson's live reaction to the report: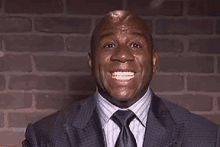 I mean this is HUGE news, Anthony Davis, one of the best young players in the NBA finally told the Pelicans he would NOT sign a contract extension with them, further requesting a trade with ten days left until the NBA Trade Deadline.
If you have been hiding under a rock since 2011 when the legend of Anthony Davis began at Kentucky, he started on the recruiting circuit as a Guard, but after he shot up to 6'8 and more throughout his Junior and Senior season he switched down low to a post player. He's dominant on both sides of the ball; he's highly skilled yet dominant down low. Shoots and dribbles like Magic Johnson but has the presence of Hakeem Olajuwon down low in the paint.
If you never had the luxury of watching Anthony Davis play at the Smoothie King Arena since he plays for New Orleans.
Enjoy these highlights below:
Unreal, AD DOMINATES every single night, yet, his team struggles mightily in the Western Conference and, he does not receive the recognition he deserves.
AD's agent Rich Paul, who coincidentally is also the agent for Lebron, made the Pelican's aware that his agent was going to turn down his contract extension worth five years and $240 Million.
So, what do the Pelicans do? Do they try and keep Anthony Davis for the rest of the season"? Hoping he might have a change of heart? AD is a once in a generation type of player. He has a unique skill set that includes his size, dribbling, shooting, agility, speed and work ethic.
The Pelicans, don't want to get NOTHING in return of a departing star. So, the question remains: what should the Pelicans do?
Well, they might start looking at offers from teams with developing young players as well as future draft picks. Two teams that have been rumored to be in the hunt for AD are the Boston Celtics and Los Angeles Lakers. Two historic franchises with two well established front offices, young stud talent and a whole lot of draft picks.
The Boston Celtics by far have the most to offer. They have next years Sacramento Kings pick along with other future protected picks that they can package together in a potential deal for AD. But, it's going to take a lot more than just picks, as Terry Rozier, Marcus Smart, Marcus Morris, Jaylen Brown and Jayson Tatum (doubtful) seem to all be players rumored to be on the trade block for AD.
The Celtics have the picks along with the players to intrigue New Orleans in a trade but, they cannot finalize a deal until after July 1, 2019, due to a restriction of having Davis and Irving on the same roster with their contracts. The Celtics could put together and agree to a trade BEFORE July 1, but they cannot finalize the deal until after July 1.
Imagine the Celtics with AD?
"Kyrie crosses up Curry…OHH and he lobs it up to Davis who slams home the Alley-oop!!!"
I can already picture it now it's beautiful.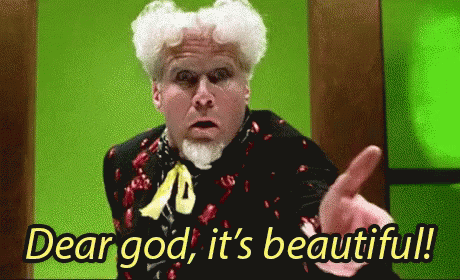 Now, going all the way over to the Pacific Ocean side. The Los Angeles Lakers have Lonzo Ball, Brandon Ingram, Kyle Kuzma, Josh Hart, Mo Wagner, and Ivica Zubac. The Lakers would be hypocritical if they did trade their young players as they have stated before that this year is meant to develop talent. And that they would attack free agency this summer to help have stars surrounding Lebron James.
The Lakers have young players with a ton of potential, but they already sacrificed a young PG in D'Angelo Russell, to trade up in the draft for Lonzo Ball. Are they ready to jump ship on their young players already?
It could be worth it, as Anthony Davis and Lebron James together would be one of the most lethal combinations in NBA history.
But, are the Lakers young players worth the trade? So far, Brandon Ingram isn't half the player we expected him to be earlier in the season, Lonzo Ball seems to be an excellent defensive player thus far in his career. But, his offensive game which shined while he starred at UCLA appears to have been non-existent in the NBA.
Don't get me wrong; he's still super young and show's glimpses of a baller. His ability to spread the ball around the court while using his playmaking ability to find the open player is next level, but his shooting percentage needs to improve if he looks to be an All-Star in this league.
Who else do you think should make a move for AD?
Should the Phoenix Suns throw together their young assets and make a move for AD?
It would be a considerable risk, one that OKC had to make to land Paul George and we saw how that paid off for them.
What about the Knicks? An unhappy Porzingiz we heard from at the end of last year? An NBA starting Shooting Guard in Tim Hardaway? A first-round draft pick? Would be an intriguing move, as well as Kevin Durant's rumored inclination towards playing for the Knicks when he hits free agency.
The Greek Freak has been trying to lure AD to Milwaukee, but they would have to trade away key core players in their current lineup and hold the best record in the NBA currently.
Is this a risk they are looking to take?
Also, do NOT be surprised if teams like the Rockets, Mavericks and other contending teams look to make moves for Anthony Davis to win NOW. A lot of teams are one or a few pieces away from a contending team and will throw together all of their assets to make a run at the Championship.
If you're a Pelicans fan: please, do not be mad at Anthony Davis he was loyal to your franchise, played his butt off and was apart of a losing culture. You shouldn't blame him for wanting to leave. He consistently puts up new career highs every season and does not get the recognition he deserves for MVP consideration.
Going to a historic franchise or a contending team almost immediately puts him in a bigger spotlight.
He clearly doesn't care about money. He cares about winning.
I think the Celtic's would be the best fit with a dominant Guard along with a dominant swiss-army-knife type Post player. The Celtics can win now and are set up for the future as well with players like Tatum. But, I also think the Celtics have the most to offer that's why I see it happening.
But, again Lebron James' agent, Rich Paul also represents Anthony Davis. Not to mention, there have been pictures of James and Davis getting dinner in LA during a Pelican's road trip.
Do you disagree?
Where do you think Anthony Davis will land?
Let me know on twitter, let's talk @kevinmctweetin or comment down below.