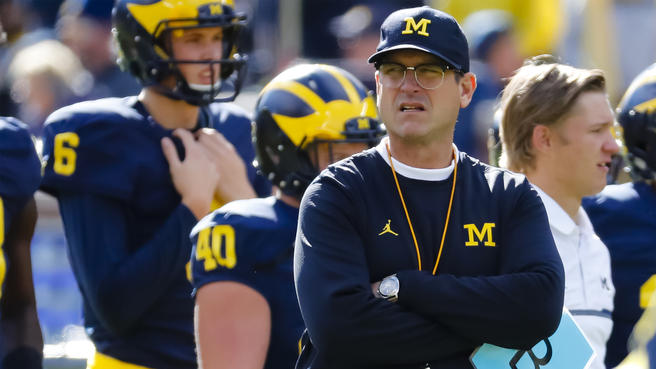 Do you hear that? That's the sound of another season of Michigan Wolverines football right around the corner. The maize and blue bring a lot to the table on both sides of the ball in 2019. Last year the offense made noticeable improvements thanks in large part to Shea Patterson, whose dual-threat skills added a new dimension the team desperately needed. Such skills were put in the spotlight when Patterson led Michigan back from a 17-0 deficit to beat Northwestern, the eventual Big Ten West division champions, on the road. Meanwhile the defense continued to shine under Don Brown, who continues to establish himself as arguably the best defensive coordinator in the country. However, as the season went on, cracks in the team began to show. The offense, while improved, was not modern enough to defeat the nation's best. The defense was unable to make the big plays against some of the better athletes in the nation. As a result, the Wolverines failed to even make the Big Ten title game or even win a New Year's Six bowl, leaving Michigan out of the College Football Playoff and Jim Harbaugh winless against Ohio State once again.

The team has seen some changes since the final whistle blew on the 2018 season. Top defensive players Rashan Gary, Devin Bush and Chase Winovich have all left for the NFL along with lead running back Karan Higdon. In their place, the Wolverines welcome an impressive recruiting class headlined by Daxton Hill, one of the best safeties and fastest overall players in his class. It also comes with defensive linemen Chris Hinton and Mazi Smith as well as running back Zach Charbonnet. Meanwhile, Jim Harbaugh and the coaching staff welcomed Josh Gattis, the former offensive coordinator and wide-receivers coach for the Alabama Crimson Tide, who finished the season with the third highest marks in points per game and total yards per game last year. His intellect is said to have rubbed off on players like QB Tua Tagovailoa and WR Jerry Jeudy, who go into the season as two of the top NFL prospects. Michigan's offense also returns Patterson along with the majority of the offensive line and receivers. 

There's been real hype this offseason with hopes that 2019 may finally be the year Michigan becomes a national title contender. However, in order to truly achieve that goal, the team must answer three questions

Can the offense adapt to the modern game?

Gone are the days when physicality is the most important trait for a football player to have. In today's game, you need to be able to outrun the guys in front of you rather than ram them over. The Wolverines didn't seem to get the memo and instead trotted out an offense that resembled less of the spread offense used today and more like something out of 1989. You can beat middle-of-the pack teams with that but in no way can you knock off the nations best with that kind of strategy. Such a task falls mostly on the shoulders of Josh Gattis who, as the team's play-caller, must now maximize the talent of Shea Patterson as well as receivers, Nico Collins, Tarik Black and Donovan Peoples-Jones. He's shown that he's capable of doing so. Now it's just a matter of execution. Perhaps his new motto will get things going.

Can the defense hang with an elite spread offense?

The previous motto regarding physicality also ring true for the defense, which has preached physicality like the Ten Commandments under Don Brown. Unfortunately, more games are defined by who can outrun who rather than who can pummel who. Brown can certainly implement this strategy if he puts his mind to it, but the real question is whether or not his players can keep up. Last year's game against Ohio State was a prime example, as Michigan's cornerbacks and safeties were out ran time and time again by Buckeye receivers. When they weren't getting torched, they were drawing endless pass interference calls, and it wasn't a result of bad officiating. In total it resulted in 567 yards for the scarlet and gray in a rout that will not be forgotten anytime soon. Daxton Hill could be an example of what they need. Hill not only has elite coverage skills, but also has the speed to prevent big plays and cover a lot of ground with his speed. An approach like this could go a long way for the Wolverines. Just ask his high school teammates.

Who wants it more?

Beyond Michigan's flaws on the field, there exists a stereotype that northern college football teams don't have the same drive as southern teams. Most of the nation's top schools come from south of the Mason Dixon line and the teams north of that who do well use that same approach (a la Ohio State) as the southern schools like Alabama, Clemson and Oklahoma. In order for Michigan to be elite, they need to have the same drive that seems to be shared by the country's elite southern schools. That means putting in those extra hours, fighting for that extra yard and pushing to hold the line of scrimmage for that extra inch, almost with a sense of desperation. It's especially important for Jim Harbaugh to be able to answer this question. Though Michigan has improved drastically since he became head coach, he hasn't been able to win the games that decide postseason fates, especially when it comes to his rival down south. Before every game, Michigan needs to establish that they're the ones who want it more, no matter who's on the opposite sideline. 

If the Wolverines can answer these questions favorably, they'll be nothing short of world beaters. However, we won't be able to get a true glimpse of those answers until August 31, when Michigan hosts Middle Tennessee State on opening night.