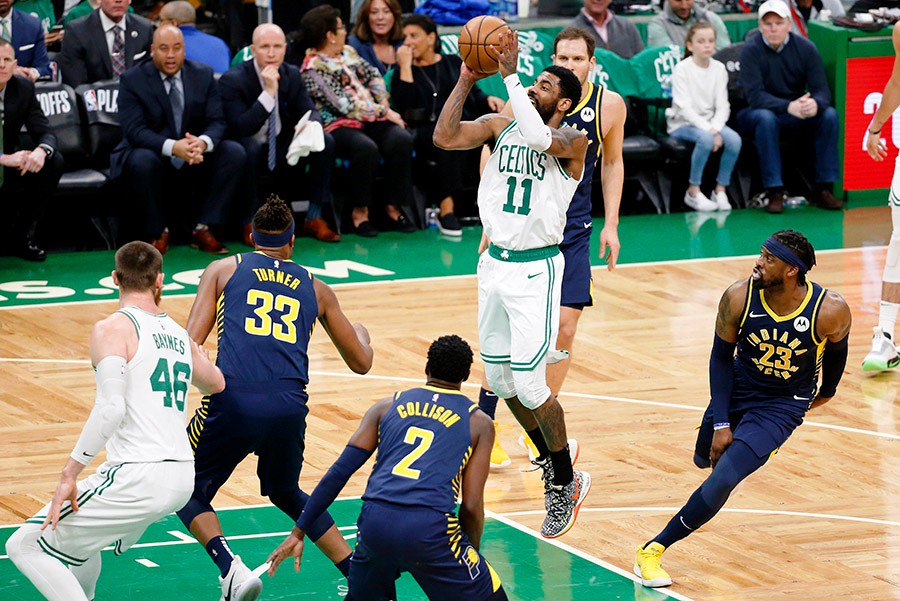 The Celtics just defeated the Indiana Pacers on the road in Game 4 to complete the first sweep of the first round. Credit to the Pacers who did a great job at containing Kyrie Irving in Game 4, as they held him to 14 points on 4/13 shooting from the field including 0/4 from 3-point range. Although he didn't have the jaw-dropping stats were used to, Irving was able to make some terrific plays throughout the game including some nifty assists along with a few ankle breaking jump shots.
Time and time again throughout the series, Kyrie proved why he's THAT DUDE in the playoffs.
Just take a look at some of these insane plays he put up in Game 4:
Look, maybe Kyrie Uncle Drew didn't have the best game four but, what I saw out of him this series has made me a believer that he can fit into Brad Stevens offense. I am the first to admit that I was a hater of Kyrie Irving this year, he carried a lot of drama along with being critical towards the younger guys when they struggled. He seems to have matured and taken his game to the next level as he's been playing great defense, hustling back, and developed into a terrific leader while consistently making timely plays when the Celtics needed him most.
Simply put, Uncle Drew is a different kind of dude in the playoffs, take a look at his stats coming into Game 4.
Oh, and in case you forgot about how phenomenal my good old friend Kyrie Irving Uncle Drew is in the playoffs, check out this ridiculous stat…
Just think about that for a second. Kobe, Shaq, Lebron, Wade, Jordan, Magic, Larry, Jerry, Bill,(I could go on and on) but NONE of them have a better winning percentage than Kyrie through their first 50 games in the playoffs.
For the Lebron LAbron stans, I did not forget that Kyrie played with Lebron. In fact, I agree that playing with LAbron probably benefited Kyrie's playoff win percentage.
I also did not forget that Kyrie had if not the most clutch, the second most clutch shot in NBA history, which cemented Lebron's legacy as one of the all-time greats.
So, let's give credit where credit is due, and Kyrie earned those wins. It's not like he's some bonafide scrub like Kwame Brown.
After watching the Celtics comfortably swept an injury-riddled Pacers team, it makes me a lot more confident going into the rest of the playoffs. To remind folks, the Celtics had to battle their way back to capture the four seed which exemplifies how resilient they are.
The Celtics are peaking at the right time, (kinda like me in high school) they have displayed glimpses of how great they could be when they all play together.
Since their four-game skid in March, the Celtics have won 10 of their last 12 games (!!)
In Game 4 against the Pacers, the starters were not as efficient as we hoped, but, what the Brad Stevens and the Celtics do so well is, they know how to compensate for their deficiencies in other areas of the game (Those were big words for me, I don't just use thesaurus.com when I'm messing around).
They make it up with defending, rebounding, blocking, boxing out and oh, yeah there bench is coming together to put up enormous numbers. Which in the playoffs, teams with excellent benches usually are the ones that are around in late May and June.
Which takes me to my next point:
Gordon Mothaf***ing Hayward.
I love you like a fat man loves donuts.
I've relentlessly defended this man, due to his poor play throughout the season and said that he would come back to All-Star form at one point after his horrendous injury last season. But, he was fantastic against the Indiana Pacers as he has gained confidence back in his overall game as well as jump shot.
Hayward was undoubtedly the best Celtic on Sunday, as he returned home to Indiana with hopes to sweep his favorite team growing up. (By the way, did you guys know that Boy Genius Brad Stevens coached Hayward at Butler University in Indianapolis?)

Hayward, Marcus Morris and, Scary Terry were all fantastic off the bench. Hayward finished with 20 points on a ridiculously efficient 7/9 shooting. Bad boy Morris who has been excellent all year long, finished with 18 points and 8 rebounds. Lastly, Terry finished with 11 points on 4/6 shooting; I wish he had a couple more assists but, nevertheless a win is a win.
I wonder if the holiday season effected the Pacers at all?
Back to the game, Hayward looked explosive, smooth and back to his old self.
Don't believe me? Just take a look for yourself.
Ahhh, I'm starting to fall for this Celtics team, it's beginning to feel a lot like last year. I'm not scared of any team in the east and neither should the Celtics. They have the players, talent, coaching, and intangibles to make a poised run to the finals.
Kyrie what do you think?
Follow me on my new account @mctweeetin.
Let's have a conversation about it.