By: James Murphy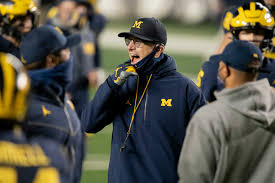 Welp. There it is.
No Matt Campbell. No Luke Fickell. No Chris Petersen or Bob Stoops. It's four more years of Jim Harbaugh.
Last month, I suggested that Michigan would try and use the games lost to their advantage and use it to be able to keep Harbaugh long term. After all, no games played means no chance to lose or look bad. No chance to lose or look bad means damage control which makes it all look better. Whether or not these lost games were taken into consideration is anyone's guess, but the motive is certainly there.
This move to keep Harbaugh signifies one thing for me; complacency. The administration has become complacent with nine-win seasons, good-not-great recruiting classes, an inability to adapt to the modern game and always finishing second behind Ohio State.
This team has done as much as it can under Jim Harbaugh. He was a great coach for a long time and was able to turn around programs that were toiling in mediocrity for so long. However, he is not only unable to win the games that matter most, but he cannot adapt to the modern game.
My Dad is a Wisconsin fan and has gotten to see Harbaugh quite a bit the past five years. He notes that "Every time he's on screen, he looks like he doesn't know what's going on". Obviously it's a bit of an exaggeration, but he is right to an extent.
Jim Harbaugh no longer knows how to win in today's game. Ten years ago he was all about the "ground and pound", running the ball first, physicality above all else. Wear down the opposition with hits and then let them have it in the fourth quarter.
That's not how you win championships anymore. Programs are winning with speed on the perimeter, mobile quarterbacks who can play off-script, receivers and running backs who can catch and run and secondaries that can keep up with speed.
Sure they've recruited players who fill these needs, but very rarely have we seen that utilized properly to do so by Jim Harbaugh at Michigan. "What about Ronnie Bell?" What about him? He had as many catches this year as De'Vonta Smith has touchdowns. "But James, there's Giles Jackson and Cornelius Johnson." Yeah, I know them. They're the guys who have one game with more than five catches between them in their first two seasons.
The same can be said for Michigan's running back unit the past two years. There's lots of talent in that room, but no one knows what to do with them. One week, a Zach Charbonnet has 100 yards on 15 carries and a touchdown and the next week he's barely seeing the field. Every skill position except quarterback has been like kindergarten; Sharing is caring. Everybody's gotta get some touches no matter what.
Newsflash. If after a certain amount of games and a certain number of practices one guy emerges as the clear number-one in a unit, you get him the ball as much as you can. You're not trying to be overly fair to your players, you're trying to win and sometimes that means one guy gets 20 or more carries and another gets five. It worked with Karan Higdon in 2018 when he ran for over 1,000 yards and helped get you to 10 wins, but I guess it wasn't fair to Chris Evans or Tru Wilson.
And then there's the quarterback room. Dear god the quarterback room. I was willing to give Harbaugh a pass in his first three years. He hadn't worked with one he recruited yet, there were some injuries and he just needed some time. Then Shea Patterson transfers in from Ole Miss, the highest-rated guy they've had in years and many people thought he'd be the guy. everyone was ecstatic when he signed "This is it! Michigan has its quarterback! Happy days are here again!" He does do well, but he never beats Ohio State, doesn't win a bowl game.
But that's not the scary part.
Coming out of high school Patterson was a top-20 player in the country. An IMG alumnus who was arguably the best at his position. So you'd think "oh if he can find the right system he can be taken in the first two days of the draft, probably first-round". Once he left Michigan he went undrafted. His next meaningful snaps of football will be taken in the Spring League. That should've been the first and biggest red flag that whatever magic Harbaugh could work on quarterbacks was gone.
If that wasn't enough then what happened in 2020 should have been. Not only did they misuse Joe Milton and force him to carry way too heavy a load early in the season (like making him throw 51 times against Michigan State), but when he inevitably started to show cracks because of said load, they took him out of the games instead of allowing him to work his way through it somehow, as first-year starters tend to do. No offense to Cade McNamara, but that guy was not winning any meaningful games at Michigan.
The defense is a complicated issue. On the one hand, it has been the biggest reflection of Harbaugh's inability to adapt to the modern game and has gotten to the point where they can't even recruit well on that side of the ball as Vincent Gray and Germon Green will tell you. On the other hand, these issues can be closely attributed to Don Brown, who has a lot of control over the defense this past year. Now he's gone and Ravens Linebacker Coach Mike MacDonald seems to be on his way in. I can only pray that we can at least allow less than 35 points and 400 total yards per game with him in charge.
Also, I don't want to hear from anyone about how wanting a Big Ten title or a shot at the playoff is "unrealistic". That Ohio State's "just too good" and that they should be happy with 10-win seasons and finishing in the Top 25. Settling for ten wins a year isn't Michigan football. They may not live up to being "The Victors" "The Leaders and Best" or "The champions of the West". Hell they're not the champion of anything. But that mentality comes from wanting nothing less than to be the best. The best at recruiting, the best on the field and even the best off of it. If they're not striving for that every year, they're not Michigan and they can't reach those heights with Jim Harbaugh.
So what do I expect out of the next four years of his tenure? More of the same. More quarterbacks having their talent squandered. More running backs and wide receivers who have to share it instead of letting one guy dominate when he's on a roll, more defenses that can't stop the big plays (and at this point may not even have the talent to stop anybody), more special teams where a backbreaking play happens at just the right time to cost us a game, and more losses to Ohio State.
And somehow, I will go into each and every season with the same infatuating enthusiasm that will ultimately be gone after getting walloped by either Wisconsin, Penn State or Michigan State in the middle of the season, then coming back for the Ohio State game only to be run out of the building ten minutes in, then force feeding myself a meaningless bowl game and doing it all again months later.
To all you Michigan fans who have hope. Go ahead. I won't stop you. But in 2024, when J.J. McCarthy isn't nearly the guy people hoped he would be, Donovan Edwards is getting seven carries a game and the defense still can't stop crossing routes, don't come crying to me.
I eagerly await the day churches open, because when they do, I will spend every bit of my free time going to the altar, getting on my hands and knees and praying that J.J. McCarthy and Donovan Edwards don't get misused by this coaching staff and that for once we can have an offensive player that lives up to their potential.
Might as well stay away from this fever dream while I still can. I'll see you all in September.