By: James Murphy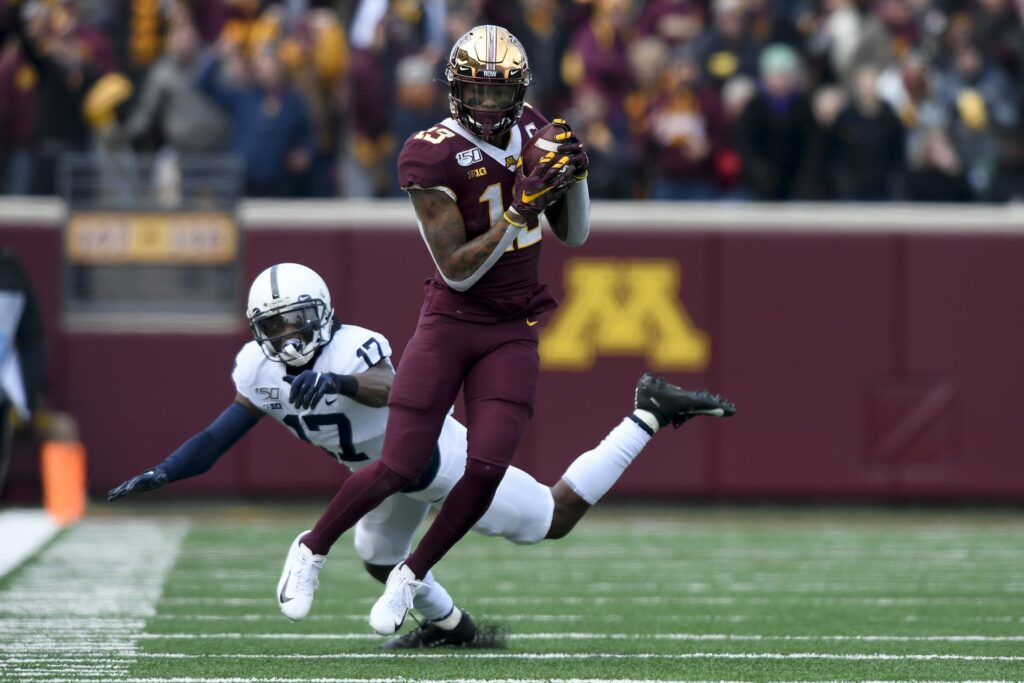 For the first time in a while, college football is beginning to change in new and interesting ways. The ground-and-pound mentality on offense is now being replaced by a more pass-happy approach. Quarterbacks are becoming more and more valuable to a team's chances of winning a national title. Even Alabama lost two regular season games. TWO regular season games!

Unfortunately, the 2020 season isn't exactly set in stone-for reasons I'm sure you already know. However, should there be a season, there'll be many more exciting changes to come to the landscape. From the emergence of new superstars to the rise of new national title contenders, it'll be one that you don't want to miss.
Bryce Young Will Win The Starting Job at Alabama
Photo Courtesy of The Athletic
The Crimson Tide are at a crossroads following their worst finish to a season in arguably a decade. Mac Jones seems to be the heir apparent to replace Tua Tagovailoa at quarterback. However, he's not as much of a dynamic force as his predecessor, which plays a big role when it comes to winning championships in today's game. Enter Bryce Young, a five-star dual-threat recruit out of California. In his senior season, Young completed 72% of his passes for 4,528 yards and 58 touchdowns while rushing for 357 yards and 10 touchdowns.
Young may not win the job coming out of the gate. He might even have to wait until conference play to become the full-time starter. However, there's no denying that his dynamism combined with Najee Harris in the backfield along with Devonta Smith and Jaylen Waddle on the perimeter will help Alabama get back on top of the SEC West and silence any rumors about the dynasty's end.
Minnesota Will Win the Big Ten West
Photo Courtesy of Star Tribune
Head coach P.J. Fleck's plan to revamp the Minnesota football program finally began to come to fruition last year. The Golden Gophers went 11-2-including its first 9-0 start in program history-and finished No. 10 in both the AP and Coaches Polls. In 2020, the team will be returning a bevy of impact players including Tanner Morgan, Rashod Bateman and Mohammed Ibrahim.
Though the pass rush loses some sting, the secondary brings back Benjamin St-Juste and Coney Durr, who each deflected 10 passes in 2019. This combined with Wisconsin's extensive losses on both defense and offense will allow Minnesota to row the boat all the way to their first ever Big Ten Championship Game appearance.
Rondale Moore Will Cement Himself As the Best Wide Receiver in College Football
Photo Courtesy of the Associated Press
In 2018, Rondale Moore led college football with 114 receptions to go with 1,258 yards and 12 touchdowns. After getting off to a great start in 2019, his season was cut short due to an injury. In what is expected to be another great year for wide receivers, Moore has the tools to be the best of them both in the college game and among his peers in the 2021 NFL Draft should he declare early.
Though there are other receivers like Jamaar Chase, Jaylen Waddle, Rashod Bateman and Chris Olave coming back, what makes Moore special is that he's been able to put up all of these stats without a superstar QB under center. Moore led all receivers in yards after catch in 2018, a 113.1 passer rating when targeted and 49 touchdowns and first downs. Even after a year lost to injury, he'll be more than ready to come back and remind people just what he's capable of as a wide receiver.
Memphis Will Finish The Regular Season Undefeated
Photo Courtesy of 247 Sports
The AAC was very impressive as a whole last season with four of the conference's 12 teams finishing in the AP Top 25. However, none of these teams were more impressive than Memphis, who won the conference behind one of the better offenses in college football. Their 4,177 yards through the air was the seventh highest mark in America with their 40.4 points per game coming in at eighth.
This year, they return many of their key offensive playmakers including quarterback Brady White-whose 4,014 passing yards and 33 touchdowns were both top ten in the country-running back Kenneth Gainwell (who ran for over 1,000 yards) and leading receiver Damonte Coxie, whose 1,276 yards was the eighth highest mark in the country. On defense, the Tigers have Austin Hall, Jacobi Francis and T.J. Carter leading the charge for a unit that allowed just over 24 points per game. That combination of offense and defense, plus a chance to pick up some quality wins within the conference, will lead Memphis to one of its best seasons in program history.
Spencer Rattler Will Be Selected As a Heisman Finalist
For the past few seasons, Lincoln Riley has established somewhat of a conveyor belt for elite quarterbacks in Norman. First he made Baker Mayfield into a Hiesman-winning first-round pick, then did the same with Kyler Murray a year later. In 2019 he helped Jalen Hurts achieve heights he never reached at Alabama and even made him a Heisman finalist. Next up is someone who could top all three of them.
Spencer Rattler was recruited by the Sooners in 2019 as the No.1 dual-threat quarterback in his class, according to ESPN and sat behind Jalen Hurts all of last season. Now he's positioned to compete for the starting job, but he has the skills to do much more than that. Throughout his high school career, Rattler was able to demonstrate a great deal of mobility, much like his predecessors. The weapons available and the offensive acumen of Lincoln Riley will only help his cause for a trip to New York in December.