By: Owen Cooper
In the span of two years, Michael Carter-Williams went from being a future All-Star to a player who had to fight to even be on a roster. Since his rookie year, he has bounced around, from team to team, with little success, so what happened to the former Rookie of the Year? Did he waste his potential, or was he never that good in the first place?
After a respectable college career at Syracuse, MCW declared for the 2013 NBA Draft and was selected with the 11th pick by the Philadelphia 76ers. At the time of this pick, it was clear that the 76ers were rebuilding, as many consider the Carter-Williams pick "the start of the process."This was the first year with Sam Hinke, the father of "The Process," at the helm of the organization, and the first year with Brett Brown as head coach. 
The first night of the Michael Carter-Williams era was absolutely electric. The back-to-back NBA Champion, Miami Heat, were in town, looking to roll over the young Sixers team. Carter-Williams put up an absurd stat line to knock off the Heat in a thrilling win. MCW finished his NBA debut with 22 points, 12 assists, 7 rebounds, and 9 steals. The entire NBA world shifted its focus to Philly to see what else this kid could do. The 76ers would start the season 3-0 with wins coming against the Wizards and Bulls. Carter-Williams would match up against a pre-injury John Wall and a post-injury Derrick Rose and outplay them both. 
Despite the hot start, the Sixers would completely cool off and finish the season with a pathetic 19-63 record. At the conclusion of the season, Michael Carter-Williams was voted Rookie of the Year in a landslide after averaging 16.7 points, 6.3 assists, 6.2 rebounds, and 1.9 steals a game. Other notable rookies that year including Victor Oladipo, who came in second in ROY voting, and Giannis Antetokounmpo, who received zero first-place votes. In the 2014 Draft, Philly looked to continue the process and build around their future star point guard, as they drafted Joel Embiid from Kansas. Unfortunately, it would be years before Embiid would see a minute of NBA action due to countless injuries and setbacks, but at the time this was looked at as a great pick. The only player selected in this draft after Embiid to make an All-Star team is Nikola Jokic, who was picked with the 41st pick. Overall, the process was in full effect, and Philly was building a young core with Carter-Williams at the center of it.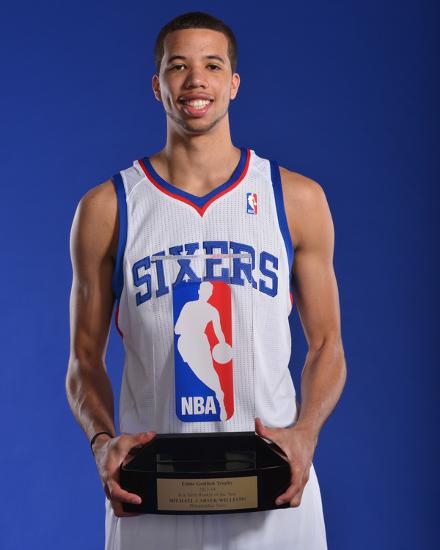 After sitting out a season due to injury, Nerlens Noel, who the 76ers traded Jrue Holiday for, was ready to play real NBA minutes. With Embiid out for the year, Noel was the first piece with true potential that the Sixers put next to Carter-Williams. By the All-Star break, Carter-Williams was putting up solid numbers, comparable to his rookie year, but since the 76ers had a 12-41 record, they decided to cut ties with the former ROY in just his second NBA season, trading him to the Bucks in a 3-team deal and getting a 2018 first-round pick (Mikal Bridges) in return.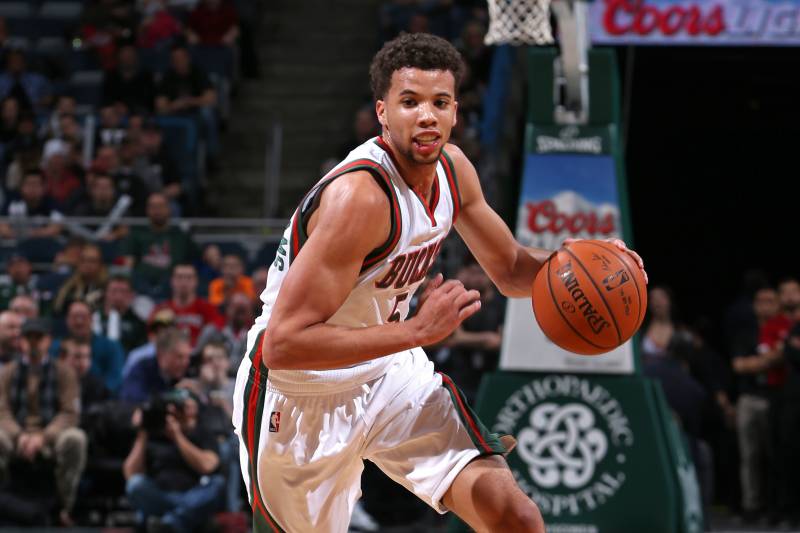 It was pretty shocking to see Philly give up on the young PG so quickly, but the process continued, and so did Carter-Williams's career. The Bucks were full of young talents like Giannis, Khris Middleton, and Jabari Parker, and the thought was that coach Jason Kidd would mold MCW into a true point guard. The Bucks finished the season 41-41 and even made the playoffs, losing to the Bulls in the first round. In 25 games with the Bucks, MCW averaged around 14 points, 6 assists, 4 rebounds, and 2 steals per game in around 30 minutes per game, all as the starting point guard. In the 6-game playoff series against Chicago, Carter-Williams numbers dipped a little, but the fact that he didn't hit a single 3-pointer might have been a reason the Bucks weren't as dynamic. In the next season, both the Bucks and MCW would take a significant step back, and after the season, Carter-Williams began to bounce around the league. The 2015-16 season was the last time Michael Carter-Williams average double-digit points, the last time he would play over 20 mpg, and the last time he would be considered a player with any type of potential. Since then, he's had brief stints in Chicago, Charlotte, Houston, and today he's a member of the Orlando Magic. 
So how does a 6'9" point guard and former Rookie of the Year find himself on the bottom of the bench averaging 7 ppg in just 6 seasons? There are a few key reasons why:
His Game
Although he only had a few years with significant playing time, Michael Carter-Williams was very turnover prone. He averaged over 3 turnovers per game in his first 2 seasons. Additionally, he wasn't a great 3-point shooter. In today's NBA, a point guard has to be able to stretch the floor. Steph Curry changed the game right as MCW was entering the league. All of a sudden, a driving and passing point guard wasn't as much of a need for a team. In his career, he's a 25% shooter from beyond the arc, and his inability to develop a consistent jumper pushed him out of the league at a rapid pace.
His Situations
When he was drafted by the Sixers, they were just starting their full rebuild. This was a dark period for Philly, as they were bottom dwellers in the NBA for numerous consecutive seasons looking for players through the draft. They cut ties with many of their top picks including Nerlens Noel and Jahlil Okafor. Carter-Williams was just the first piece of the puzzle that didn't fit. In Milwaukee, although the fit seemed to be good at first, it wasn't either. Jason Kidd turned out to be a rather lousy coach, and the Bucks realized they had a much brighter talent with Giannis Antetokounmpo, so they shifted their focus as an organization. Since then, he's only been viewed as a bench piece or a role player.
His Health
Carter-Williams has missed dozens of games in his career due to various nagging injuries. Even at his peak, he never played more than 70 games in a season. Because of this, teams were unwilling to invest money into a player that can't stay on the court. If he were to have been a healthy player, there's a great chance that he would've developed much faster and become a really solid NBA player.
Michael Carter-Williams still has a chance to become a valuable asset to a team again. This season, he turned two 10-day contracts with the Magic into a full-year contract. In 42 games off the bench, he has proven that he can be a good backup point guard. He still needs to develop a 3-point shot, but don't be surprised if he ends up being an important role player on a championship team down the road.