By: Andrew Hubschman
The Carolina Panthers have gone through a rebuilding stage with the departures of fan-favorites Cam Newton, Luke Keuchly, and Greg Olsen – along with long-time head coach Ron Rivera. Saying farewell to these franchise greats has caused many fans to lose hope and even go as far as their allegiance for the team, which I believe is just unmerited. Here are four reasons to keep everyone optimistic about the Panthers in the upcoming 2020 season and beyond.
4. Offensive Line Adjustment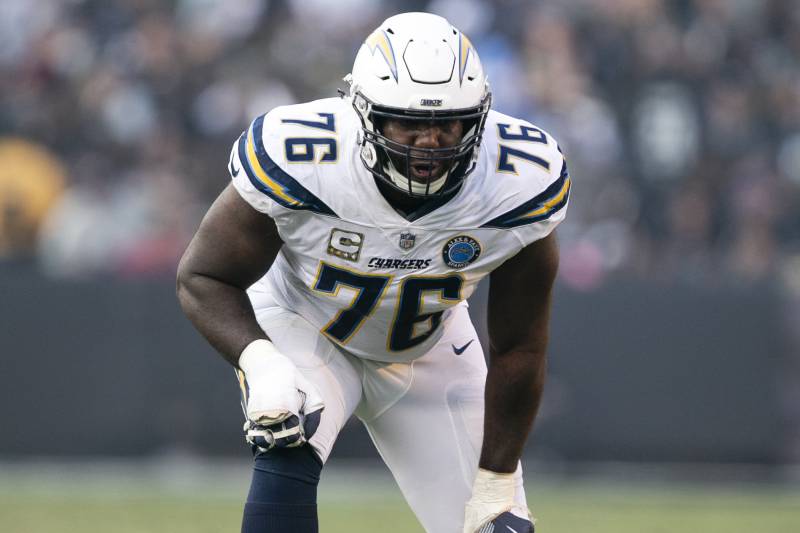 The first order of business is the offensive line, which was an immense struggle for the Panthers last season due to inconsistent play and injuries, but it will see some new faces next season. The signing of right guard Michael Schofield and acquisition of left tackle Russell Okung in exchange for right guard Trai Turner seems promising. What do Schofield and Okung have in common? They both played for the L.A. Chargers for the last three seasons. What else? They played for the Broncos in 2016. But that's not all: they played under offensive lines coach Pat Meyer in L.A. – who just so happens to be joining them in Carolina! The three-way chemistry between them brings strategic pass-blocking for QB Teddy Bridgewater. One thing to consider though is Okung's health: he is entering his eleventh season and has shown to be an injury-prone player. However, given what he showed last season with limited playing time, he still has some battery life left. Christian McCaffrey will be ready to get to work behind this new line – although he shouldn't worry given his over-productiveness he showed last season.
3. Defensive Rebuild
The shocking retirement of Luke Keuchly left emptiness in not only Panther fans' hearts, but in the defense as well. After this shocking news – along with letting cornerback James Bradberry sign with the Giants in free agency – needing to make a defensive impact became a must for the Panthers this off-season. Carolina used all their seven picks in this year's Draft on defensive prospects – most notably hard-hitting SEC Defensive Player of the Year-winning tackle Derrick Brown out of Auburn, and pass-rushing DE Yetur Gross-Matos out of Penn State. Lining them up on the left side next to Kawann Short and Brian Burns makes this D-Line sound pretty enticing. As for the secondary, drafting safety Jeremy Chinn out of Southern Illinois was also a great move by Carolina. He can ball-hawk, stop the run, and tackle for little or no gain or for a loss of yards, so having that versatile weapon in their secondary can influence the passing game. Veterans like Short, Tre Boston, and newly-acquired Eli Apple can mentor the rookies in hopes to transcend this young defense.
Aside from the defensive unit on the field, the Panthers hired Baylor defensive coordinator Phil Snow – who helped create an extraordinary turnaround for the program, with numerous of his defensive players going on to be named to the 2019 All-Big 12 Team – including tackle Bravvion Roy, who not only was named to the First-Team, but was drafted by the Panthers in the sixth round. The immediate connection between the two can develop Roy into an asset to this defense, and Snow's success with Baylor can only lead to more.
2. Teddy Bridgewater & Co.
Following the injury of Saints QB Drew Brees last year, back-up Teddy Bridgewater filled in the void by finishing 5-0 as the starting replacement until the former's return. Although Bridgewater has not been a full-time starter since his 2015 Pro-Bowl campaign, his accuracy, agility, and winning momentum shows that he still has his starter capabilities. During his six-game presence, he completed 67.7% of his passes and threw for 1,370 yards with 9 touchdowns and only 2 interceptions. Now suiting up in Panther Blue, he has some young talented receivers led by third-year and Pro-Bowl potential wideout D.J. Moore – who put up 87 receptions for 1,175 yards in a breakout season. Playing alongside Moore is the speedy Curtis Samuel – who had himself a hyped 2019 season by recording 54 receptions for 627 yards and 6 touchdowns, and has only excelled each year since the beginning of his career in 2017. The offense has also welcomed a new face to their squad: Robby Anderson – who led the Jets in receiving yards in 2017 and 2018 and finished 2nd in 2019, and has so much potential to grow even more with a better-looking offense. Like Moore and Samuel, Anderson is a deep-threat who can give Bridgewater more confidence to throw the ball further downfield. It is only reasonable to say that this young offense is bound to put up countless highlights in the future!
1. Matt Rhule & Co.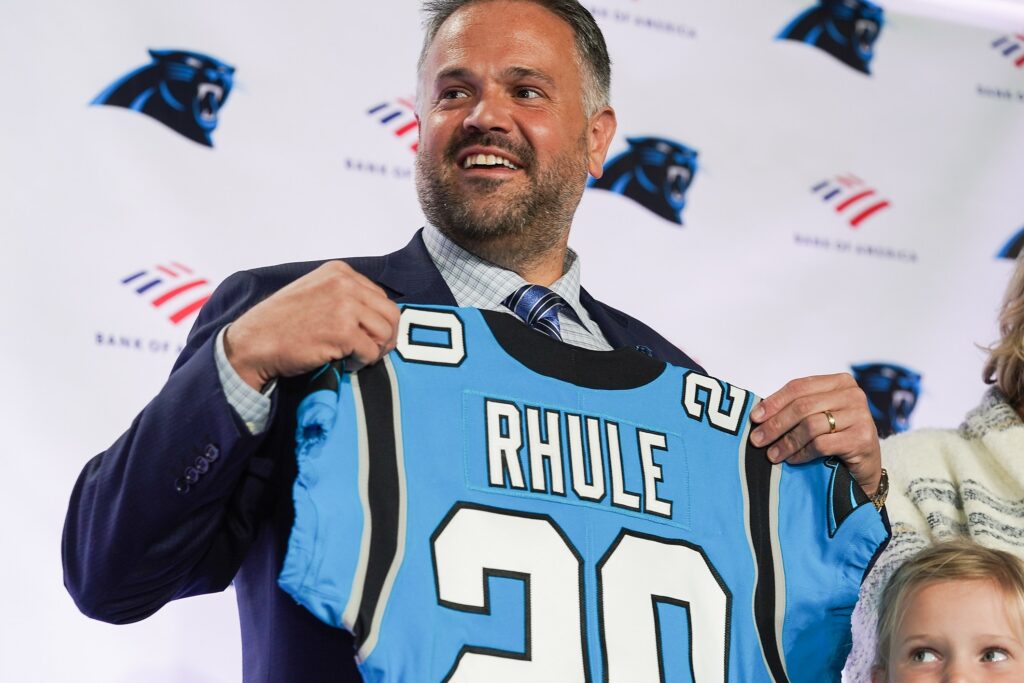 It will be weird not seeing two-time Coach of the Year Ron Rivera on the Panthers sideline next year, but newly-hired head coach Matt Rhule brings a winning strategy to the team – one that gave Baylor recognition throughout the 2019 College Football season. During his head coaching experience at Baylor, Rhule worked in conjunction with Snow to turn a team that went 1-11 in 2017 to 11-3 two years later – leading them to the Big 12 championship game. Joining them and aforementioned Pat Meyer on the offensive side is offensive coordinator Joe Brady – who won this year's CFP national championship with LSU as passing game coordinator. He quickly ignited LSU's offense by leading all of college football in expected points added per play (EPA/P), and is credited for Joe Burrow's sudden rise to fame. With these accomplishments and accolades to his name, Brady can revive Bridgewater's career and prove his recognition as the playoff QB he once was.
On the defensive side, Carolina has also added Packers defensive backs coach Jason Simmons to fill in the role of defensive pass game coordinator/secondary head coach. Serving numerous roles in his nine-year tenure in Green Bay, he spent the last two seasons as defensive backs coach. During that span, he saw nothing but improvement from his ball-hawking secondary led by should-have-been Pro-Bowler Jaire Alexander, Kevin King, and then-rookie Darnell Savage – who all combined for 9 interceptions and 37 passes defended. Together, they earned themselves a seventh-place overall finish by Pro Football Focus among coverage defenses. Simmons' defense jumped from 23rd overall in interceptions in 2018 with 7 to 3rd in 2019 with 17, and 26th in passes defended in 2018 with 59 to 11th in 2019 with 74. Simmons brings secondary development to Carolina, so expect to see progress in the passing game. Overall, I foresee a future revival for this Panthers franchise.