By: Andrew Hubschman
Chris Jones was a key player throughout the Chiefs SB LIV-winning season, and of course KC would want to keep their star defensive end for the long run. The team placed their franchise tag on Jones, who is disgruntled with the offer, asking for at least $20 mil per season which would make him among the top-three highest-paid defensive players in the NFL. After almost four months with no progress towards a deal, Jones posted on Twitter that he plans to sit out the 2020 season if no negotiations of a long-term agreement are met. Sound familiar? Le'Veon Bell held out during the 2018 season after being franchise-tagged by the Steelers, and ended up sitting out the entire campaign. The two holdouts have drawn comparison, but in truth, they actually differ from one another. Here's what you need to know: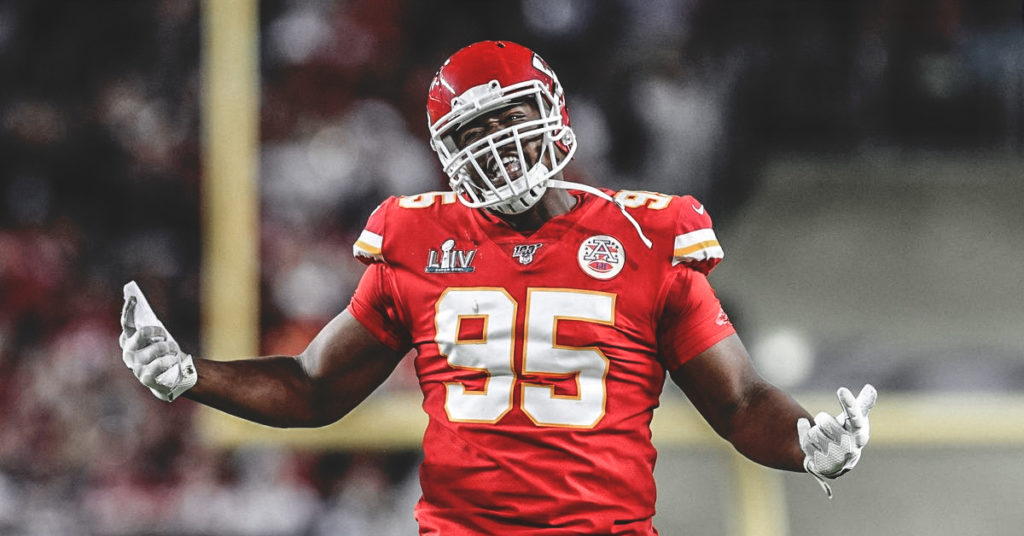 First order of business, what happened after Super Bowl LIV? After winning the Big Game, the Chiefs placed their non-exclusive franchise tag on their star defensive end – who added a pressure in the game that caused Jimmy Garoppolo to throw an interception; the tag would pay him $16.1 mil for the 2020 season. The non-exclusive franchise designation means that Jones is free to sign an offer sheet with any team. Must Jones sign an offer sheet with any team, the Chiefs would have the chance to match the offer and if they do, they will keep their DE. If they do not, the Chiefs would say goodbye to Jones and be compensated with two first-round picks. Jones has yet to sign his tender and has until July 15th to work out a long-term deal; if he misses the deadline, he will play the 2020 season under the franchise tag and will become an unrestricted free agent after the season.
This brings us to June 30th, when Arrowhead Live posted a short clip of Mike Garafolo from NFL Total Access discussing how Jones deserves a contract extension due to his supreme productivity over the past two seasons. He recorded 24.5 sacks in that span – ranking fourth overall among defensive ends. Jones tweeted this in response to the Chiefs not wanting him to play for at least $20 mil per season.
Bell's tenure in Pittsburgh ended in 2018 when he became only the fifth player in NFL history to sit out an entire season due to a contract dispute. He ended up signing with the Jets on the first day of the new league year in 2019.
Now how exactly do the two holdouts differ from one another? For starters, Bell was hit with the exclusive franchise tag, meaning that he cannot seek negotiations with other teams, whereas Jones has that privilege with his non-exclusive designation. Secondly – and more fundamentally – Bell was slammed with two designations in Pittsburgh, whereas Jones was hit with his first. The Steelers placed their exclusive tender on Bell in 2017, in which he held out due to his fear of getting injured before he could prove he was worth his desired compensation due to his dual-threat capabilities. He finally signed his one-year $12.1 mil tender before the start of the regular season, and he ended up having arguably the best year of his career. After sitting out the 2018 season in refusal to sign his $14.45 mil tender for the same purpose – and also to hit free agency after the season – the Steelers opted not to place their transition tag on Bell; therefore, letting him test the open market. In retrospect, he profited by taking only one year off to sign a long-term deal that made him the third-highest paid RB in the league.
So let's look at a hypothetical scenario: if Jones were to sit out this upcoming season, he would forfeit his entire one-year offer and become an unrestricted free agent in 2021 unless the Chiefs decide to tag him for the second year in a row – which could put a risk in the All-Pro DE sitting out ANOTHER season.
Jones clearly deserves to be compensated at an exceptional value for his outstanding performance, but will he eventually settle for this tender or will he act on his threat and skip the 2020 season…. and possibly 2021?