By: Owen Cooper
Although this MLB season will be short, star players will still have to prove their worth. When the season starts, every team will be in the pennant race, leading up to a finish we have never seen before. These players not only have a great chance of impacting their teams, but they are the best in the league at their position. 
Starting Pitcher
Jacob DeGrom
Gerrit Cole
Max Scherzer
In the last few seasons, two things have become evident. The first is that starting pitchers have gotten worse overall, and the second is that starting pitching is extremely important to have for playoff success. As bullpens become more important and teams scout for "super relievers", players like these will become even more treasured within the sport. Jacob DeGrom has been the best player in baseball for a few years. He continuously gets better despite being in a frustrating position for most of his career. Even when getting virtually no run support, he still finds a way to take home a CY Young award. In second is Gerrit Cole. Cole was once a top prospect, but when he came up with Pittsburgh he struggled. Ever since he was traded to Houston, Cole has been considered a top tier arm. Now, as a member of the Yankees, he looks to complete his childhood dream of bringing a championship to the Bronx. Like DeGrom, Max Scherzer has been a top-level starter for a while. Mad Max seemingly refuses to have a bad season as he continuously adds to his game. If he were a few years younger, he might still be the best pitcher in the game. 
Relief Pitcher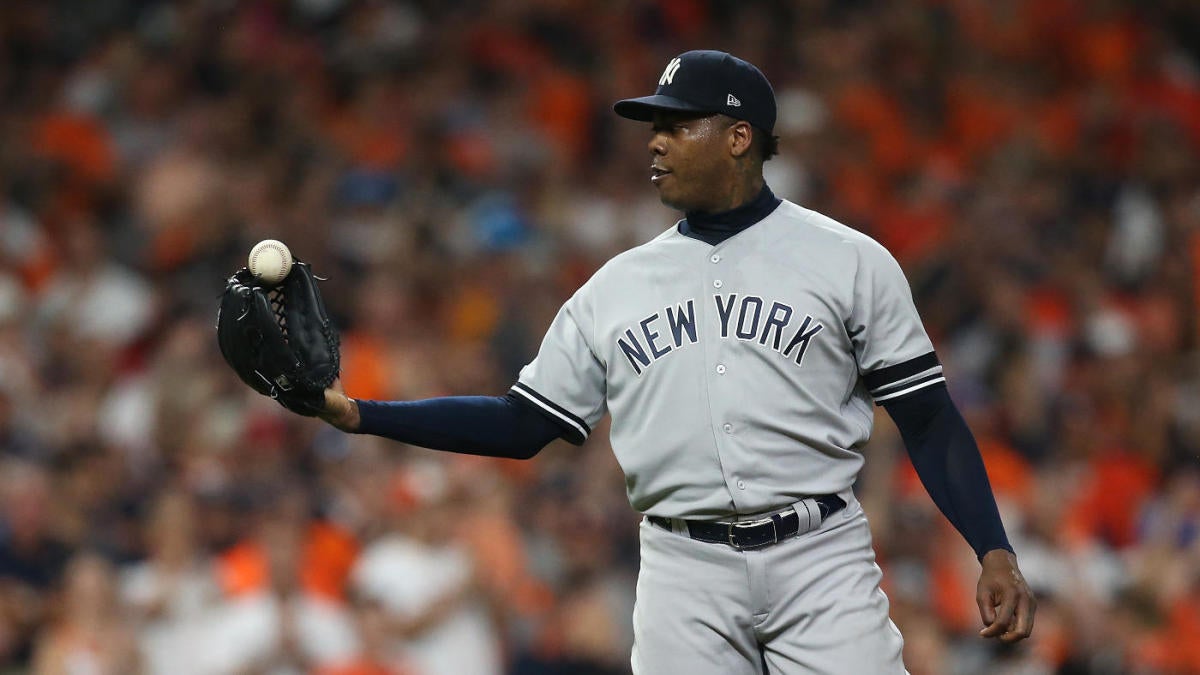 Josh Hader
Aroldis Chapman
Roberto Osuna
In contrast to starting pitchers, the bullpen arms have become a vital part of today's game. Relief pitchers are expected to pitch more innings and face more batters than ever before. The best reliever in the game is hands down Josh Hader. Ever since entering the league, he seems to be unhittable, and as he develops a change-up, he might actually become just that. Hader is still very young and could become a guy who consistently throw multiple innings at a high level. An older version of Hader is Aroldis Chapman of the Yankees. Chapman came into the league with one of the hardest fastballs the world has ever seen, but as he's aged he's lost some of his famous velocity. Through hard work, Champman has learned to get batters out with a multitude of pitches including one of the sports best sliders. Chapman has been elite for years, and he doesn't look to be slowing down anytime soon. It's hard to believe that Roberto Osuna is only 25-years old, but since breaking into the show at 20, Osuna has been a dominant force at the backend of the bullpen. Osuna has a wide array of pitches he throws and normally doesn't let the moment get to him. The scary thing about Osuna is that he still has a lot of time to get even better.
Catcher
JT Realmuto
Yasmani Grandal
Gary Sanchez
Catcher is a weird position for a lot of reasons. It is easily the hardest position to play in all of sports defensively, yet most catchers are judged more on what they do at the plate. Catching is both physically and mentally demanding as they have to block balls, call every pitch, throw out runners, crouch in the heat of summer, and still hit at a respectable level. JT Realmuto is the most balanced catcher in the league. He seems to do everything well, including running the bases. Yasmani Grandal is another top-tier backstop, as he can hit from both sides of the plate and is still very solid defensively. Coming in at third is Gary Sanchez of the Yankees, who could easily move up to first by the end of the year. Sanchez was red hot when he entered the league in 2016 and is extremely underrated for what he does in the batter's box. Sanchez has improved dramatically over the last few seasons behind the dish and has a cannon for an arm as well.
First Base
Freddie Freeman
Pete Alonso
Matt Olson
First Base is an NL East showdown for top dog. The best in the league is without a doubt Freddie Freeman, who has consistently been one of the most consistent hitters in the NL while also playing a top-level first base in the process. In second is Mets phenom Pete Alonso, who burst on the scene in 2019 breaking the rookie home run record with 53. If Alonso puts up numbers anywhere similar to that in his second campaign, Mets fans might actually have an argument for Pete being the best first baseman in baseball. In third is a sleeper pick. Matt Olson has been hiding out in Oakland, quietly putting up great numbers for the last 3 seasons. In addition to his plus bat, Olson has played stellar defense, and at only 25, he's still entering his prime.
Second Base
DJ Lemahieu
Jose Altuve
Ozzie Albies
If the Astros hadn't been blatantly caught cheating during their 2017 World Series season, and Jose Altuve's MVP season, maybe he would be higher up on the list, but based off of everything, DJ Lemahieu is the best 2nd baseman in the league. Last season, he played mostly first and third base, but now that the Yankees no longer have Didi Gregorius, DJ will go back to his natural position. Lemahieu had an MVP caliber season in many ways, becoming arguably the most dangerous hitter in a loaded Yankees lineup. The title for top second baseman is definitely up for grabs this season. Jose Altuve has had a great career, but it's hard to give equal respect to a known cheater. Even still, he's an extremely balanced and talented player who deserves a lot of credit for his success and where he is in his career. The third best second baseman in baseball calls Atlanta his home. Ozzie Albies is still extremely young, but if his 2019 campaign was any indication of how good he can be, the Braves could potentially have a future Hall of Famer on their hands. Albies' ability to hit from both sides of the plate and make two All-Star teams by the age of 22, puts him on a very promising trajectory.
Third Base
Nolan Arenado
Alex Bregman
Anthony Rendon
The hot corner is one of the most loaded positions in baseball currently. Many of the games biggest stars call third base their home. Hands down, the best third baseman in baseball is Nolan Arenado. Arenado has played all of his seasons with the Rockies and has put absurd numbers on offense every season. He gets a lot of criticism for having half of his games at Coors Field in the thin air, but his bat and glove speak for themselves. Arenado is all-time. The second-best third baseman in baseball is Alex Bregman of the Houston Astros. Bregman is young and extremely talented in the field and at the plate. Of course, Bregman will be tied to the Astros cheating scandal for the rest of his career, but he's still one of the most dangerous hitters in baseball. The third best third baseman is probably one of the most underrated players in the sport. Anthony Rendon has been quietly having a great career in DC, and this winter, he was finally paid for his services by the Angels. Rendon is one of the most consistent hitters in the game, and he will likely make the Angels into a borderline playoff team when the season starts.
Shortstop
Francisco Lindor
Gleyber Torres
Xander Bogaerts
All of the best shortstops in the gameplay in the American League, and the best calls Cleveland his home. Francisco Lindor is a switch-hitting, Gold Glove-winning superstar with Hall of Fame talent. Cleveland might not have the resources to keep their 25-year old star, but his next team will be adding one of the top few players in the sport. The second-best shortstop hasn't played much of this position in his career thus far, but this season, he will be taking the reigns for the New York Yankees. Gleyber Torres is only 23 but has already made two All-Star teams and is arguably the best player on the Yankees. Torres has a lot of room to grow still, but the potential has been shown, and his future is bright. Torres's rival is also the third-best shortstop in the game. Xander Bogaerts of the Boston Red Sox often gets overlooked, but his 2019 breakout campaign has his career back on track. In addition to his great numbers, Bogaerts also already owns two World Series rings, putting him on track to be an All-Timer.
Left Field
Juan Soto
Tommy Pham
Giancarlo Stanton
The left-field position is led by the now 21-year old Juan Soto, who was one of the most important pieces in the Nationals World Series lineup. Soto has shown top-level plate discipline, especially for his young age, and has also shown his ability to be unfazed by large moments. Soto has the chance to have an excellent career, and Nats fans can't get enough of him. Tommy Pham is very under the radar for most baseball fans, but the die-hards know how much talent this guy possesses. Pham has played for the Cardinals and Rays so far in his career, and he is known for his great at-bats and hot stretches he can go on. Pham will play for the Padres starting in 2020 and looks to continue his great career. Giancarlo Stanton has almost disappeared since being traded to the Yankees prior to the 2018 season, but Stanton is still unbelievably talented when healthy. The key words there are "when healthy," because Stanton has had a very tough time staying on the field for the Yanks. If Stanton plays a mostly full season, he is destined to have MVP-type numbers. 
Center Field
Mike Trout
Cody Bellinger
Ronald Acuna Jr.
Center Field might have the deepest talent pool of any position in the sport. The best center fielder in the league also happens to be the best player in baseball in Mike Trout, the Angel's generational talent. Although he's had virtually no playoff success, Trout has continued to get better throughout his career, and if he retired today, he'd already be a Hall of Famer. The second-best center fielder has barely even played the position. Dodgers' superstar Cody Bellinger has played mostly right field and first base for Los Angeles, but with the acquisition of Mookie Betts, Bellinger will slide over to center field. Last season, Bellinger won his first of likely many MVPs, and he looks to be the next face of baseball. In Atlanta, the Braves have their best center fielder since Andruw Jones, as Ronald Acuna made his first All-Star games, won his first Silver Slugger, and graced the MVP race in just his second season. Acuna still has ways to go before he can truly be compared to Mike Trout, but he's not far behind Cody Bellinger if he keeps his production up.
Right Field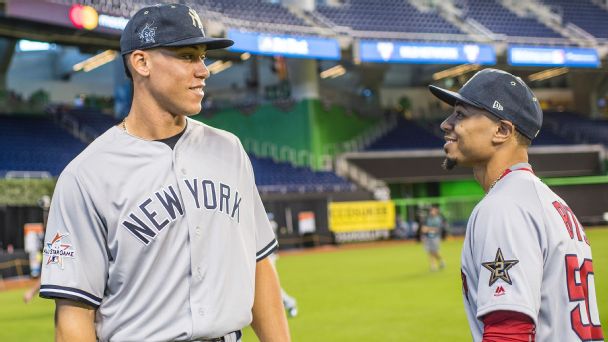 Christian Yelich
Mookie Betts
Aaron Judge
Ever since he was traded by the Marlins for a bag of marbles and a dishwasher, Christian Yelich has been one of the best players in our sport, winning an MVP in his first season in Milwaukee and finishing in second last season. Yelich has also improved defensively, but he is still very young and has a bright prime ahead of him for even more growth. The second best right fielder in baseball also has an MVP under his belt, but he will be wearing new colors if the 2020 season happens. Mookie Betts was known for being the face of the Boston Red Sox, but since his recent trade to the Dodgers, Betts and Cody Bellinger will make up the most star-studded outfield in baseball. Betts' former AL East Rival Aaron Judge is just behind him in the right field rankings. Judge had a storybook rookie year, hitting 52 home runs, bringing the Yankees deep into the playoffs, and finishing second in AL MVP voting (although Jose Altuve was cheating and really should give the trophy to Judge). Judge hasn't been very healthy since his rookie year, but the talent and potential are there. When he steps in the box, he is a decent swing away from putting one over the wall. Judge has the chance to be the face of the sport if he can stay healthy for a few seasons.