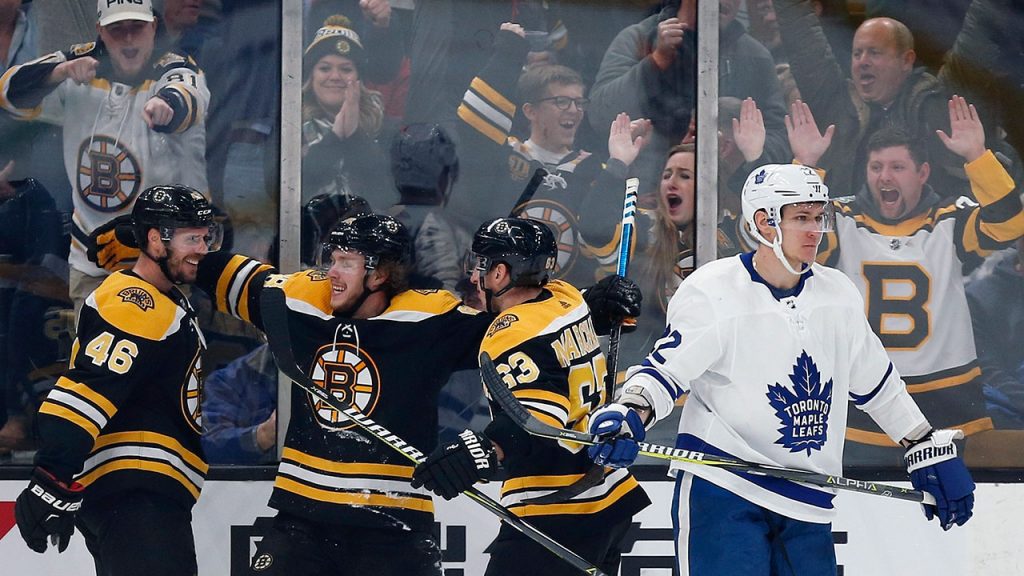 Why the Toronto Maple Leafs will be swept by the Boston Bruins in the first round.
Well its almost that time of year again or should I say the best time of the year? The weather where I am in the northeast is getting better. Spring and summer are right around the corner. In saying all this, this time of year is especially great because of what is happening in the hockey world. The Stanley Cup Playoffs are on the horizon as we are just days away from the second season starting. The level of excitement could not be any higher.
However, if I were the Toronto Maple Leafs I would definitely not be very excited. And it's because if I were the Maple Leafs I would be getting ready for a very short and terrible playoff series against the Boston Bruins. The Bruins look like a team that are destined to beat Toronto yet again in round number one. They also look like a team that may be able to slay that dragon named the Tampa Bay Lightning.
The Leafs are flat out STRUGGLING going into the playoffs. That's not a recipe for playoff success in the slightest. No this series won't go seven games like last year. It won't go six. It won't even go five. The Boston Bruins will sweep the Toronto Maple Leafs in the first round. Here's why…
Two Different Directions
As I stated earlier the Toronto Maple Leafs certainly are not playing their best hockey going into the playoffs. Since March 1, they have a record of 7-7-3. The record isn't quite the problem as much as the style of hockey they have been playing on top of the teams they have lost to. In that 7-7-3 span four of the teams Toronto has lost to are not playoff teams. This includes losing twice to leagues worst team the Ottawa Senators.
The Leafs have also lacked physicality, have played horrific defense, and have ultimately looked like they've lacked urgency at times. Toronto can use injuries as an excuse, as key defenseman have been missing from the lineup over this stretch. One thing is for sure though and that is the Bruins certainly don't use injuries as excuses.
The Bruins have had to deal with plenty of injuries to star players the ENTIRE season. This includes, Bergeron, Krug, McAvoy, Pasternak just to name a few. These injuries haven't seemed to stop Boston in any way. They have been playing tough, intelligent, hard-nosed, playoff type hockey for months now. Down the stretch since March 1st the Bruins have a very strong 11-6-0 record. The style they have been playing compared to Toronto is what scares me the most about this series.
Two Different Styles
The style that the Boston Bruins play is one that fits perfectly for playoff hockey. This is a heavy team that almost plays a western conference style of play. They have a deep forward lineup who are littered with players that are both skilled, physical, and smart. The defense seems to be the exact same way. This team is almost as physical as it gets in the east which is huge plus in playoff hockey.
The goaltending is a tad of a concern because Tuuka Rask has not had has best season and has had a fair share of injuries on top of it. Lucky for the Bruins goaltending is deep. If Rask falters Jaroslav Halak, the former New York Islander starter, can take over goaltending duties. Halak has been a terrific backup this year for the Bruins. In 39 games he has a record of 21-11-4 with a 2.40 GAA and .920 save percentage.
The Maple Leafs going into the playoffs do not play a style that is great for playoff hockey. Toronto has a ton of speed, depth, and skill, but not a ton of physicality. Also, their best forwards aren't great defensively. The Bruins best forwards are. The Leafs defensively are significantly weaker than Boston too.
The goaltending will be key for the Leafs as I think Andersen may be the better goalie, however he will have to play near perfect to win this series. We also see that Andersen can let up some clunkers as well, especially in big games (cough cough, Game 7 vs. Boston last season).
Final Thoughts
Yeah, so Bruins in 4 and I'm very confident in it. (Jeeez I'm going to look like a moron if I get this wrong, but I rather go down swinging then not swing at all.)
Have at me leafs nation!