By: Andrew Hubschman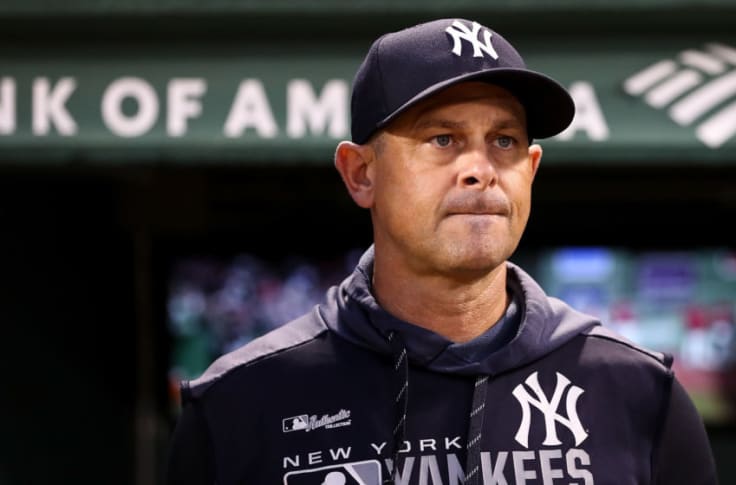 New York Yankees' manager Aaron Boone has been the subject of scorn all season long from fans due to his questionable decision-making on both sides of the lineup, more notably in regards to his team's pitching. Many of his decisions have paid off, while others have resulted in disappointment. Last night's game against the Red Sox ended in heartbreak after Boone made another costly bullpen decision which – if that wasn't enough – resulted in another:
Game Recap:
The Yankees arrived at Fenway Park coming on a four-game winning streak that included two wins against Boston and a two-game sweep of the Phillies at Yankee Stadium. Both teams struggled to score due to strong performances from their starting pitchers: New York's Jordan Montgomery finished 5 2/3 shutout innings and recorded six strikeouts while Boston's Tanner Houck lasted 4 2/3 innings while allowing one unearned run and striking out eight batters. The Yankees scored first with a Gleyber Torres RBI groundout and preserved their lead until a game-tying RBI sacrifice fly by Enrique Hernandez in the seventh inning. The Yankees rebounded, scoring two runs off of former teammate Adam Ottavino to take a 3-1 lead. And then…
Chad Green
After his team retook the lead in the eighth inning, Aaron Boone sent Luis Cessa to the mound to pitch in the bottom frame. Cessa recorded all three outs in just five pitches with groundouts by Xander Bogaerts, J.D. Martinez, and Hunter Renfroe. With the score remaining 3-1 heading into the bottom half of the ninth, Boone replaced Cessa with Chad Green – who gave up a game-tying two-run double to Enrique Hernandez with two outs. The next batter, Rafael Devers, flied out to end the threat.
In an earlier article discussing the Yankees' pitching flops, I mentioned that Chad Green should be the temporary closer while Aroldis Chapman regains his confidence, and last night's game went accordingly with my proposal. On the contrary, however, while knowing the circumstances of Cessa's brief outing, it would be most reasonable to send Cessa back out to the field to close out the game knowing he had thrown only five pitches. An earlier incident that merits this notion occurred back in Game 1 of the Yankees' Jul. 4 double-header against the Mets where Green, coincidentally, was taken out before the seventh inning in favor of the struggling Chapman after throwing just two pitches to record the last out in the sixth inning to preserve his team's 5-4 lead. Chapman blew the save in the seventh by giving up three runs and was taken out before the Yankees halted the Mets to six runs in the 10-5 loss.
Brooks Kriske
After scoring the go-ahead run off a Brett Gardner sac fly in the top of the 10th, Aaron Boone sent out Brooks Kriske in an effort to close out the game. Boston shortstop Xander Bogaerts led off the bottom frame while Rafael Devers started the inning at second base. Devers advanced to third on a wild pitch, the first pitch of the inning, and came around to score the tying run off of another one. After Bogaerts walked, J.D. Martinez watched Kriske throw two more wild pitches that advanced Bogaerts from first base to third; Martinez's at-bat ended when he struck out swinging. The next batter, Hunter Renfroe, swung at the first pitch he saw which was caught by Greg Allen in deep right field, resulting in an RBI sacrifice fly that gave Boston a 5-4 victory. Following the game, the Yankees optioned Kriske to the Scranton/Wilkes-Barre RailRiders – their Triple-A affiliate.
Ways To Solve The Yankees Pitching Crisis Part II:
The Yankees' 2021 summer story has been their bullpen dilemma, as their relivers have blown four last-inning leads – all of which resulted in losses. It also does not help when some of the Yankees' best relivers – such as Jonathan Loaisiga, Nestor Cortes and Darren O'Day – are on the injured list and Zack Britton gets himself into bases-loaded jams, although one could give him the benefit of the doubt since he just returned from being injured himself.
Being that these problems, mainly the pitching collapses, have cost the Yankees several wins, Boone needs to play by two fundamentals: which reliver(s) to send to the mound in a certain moment, and when to take him out, if at all. For now, the best relievers that the Yankees have to rely on are Chad Green, Lucas Luetge, and Luis Cessa. Typically a sixth inning reliver, Green has demonstrated that he does not have closing capabilities, so it only makes sense for him to appear at his signature time. Luetge and Britton should take turns pitching in the seventh and eighth, while Cessa tries out the closing role.
Conclusion:
Bottom line, the Yankees need to be repair their bullpen issues today, because if they don't end up playing in October, their fans will know why. Going into their second game in a four-game series against their rivals, the Yankees sit eight games back in the American League East Division race and four-and-a-half games behind of a Wild Card spot. Today would be the perfect opportunity for New York to begin a new bullpen trail, but they need to find a routine that will guide them to the postseason because time is ticking.