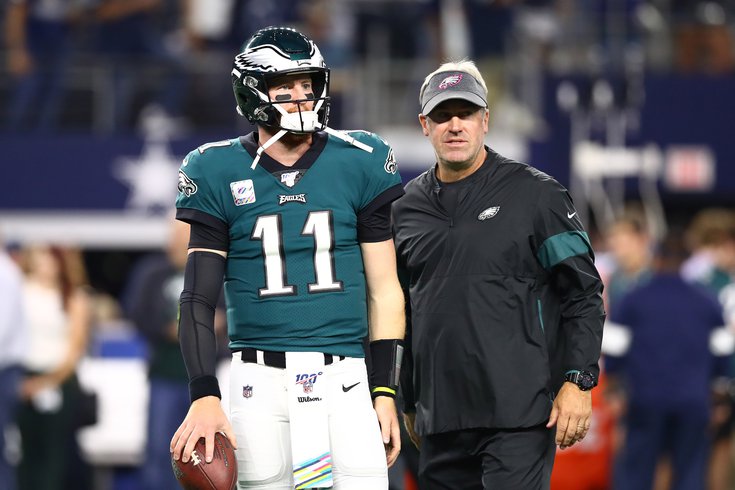 By: Ross Sutton
To be blunt, this season has been a complete disaster for the Philadelphia Eagles. They finished the season with a record of 4-11-1 (last place in one of the worst divisions in NFL history), the team has made Carson Wentz a worse quarterback than when he first entered the NFL, and players and fans are up in arms about Doug Peterson deciding to bench Jalen Hurts for a third-string quarterback this Sunday when the NFC East had not been decided yet.
While the Eagles appear to be inching closer and closer to a total rebuild, one thing seems clear; Carson Wentz will not be the team's starting quarterback next year.
In all fairness, the Eagles have played better football with Jalen Hurts under center as opposed to Wentz, but to see Wentz go from an MVP-caliber quarterback to a backup is upsetting to see as a football fan. The biggest issue with trading Carson Wentz is his contract, as he is signed for four more years, and according to spotrac.com, if the Eagles traded Wentz before the new league year starts (June 1st), then the team will incur a dead cap of approximately $33M. This equates to a cap savings of less than a million dollars for the Eagles in 2021, making a trade meaningless. Fortunately though, if the Eagles trade Wentz after June 1st, the team would save about $10M on the cap even though they would still create $24M in dead cap for 2021 by trading Wentz. This gives the Eagles an opportunity to shed themselves of Wentz's contract while still creating some desperately needed cap space for next year. According to overthecap.com, the Eagles are projected to be approximately $70M OVER the cap in 2021, meaning they are going to need to be extremely frugal over the next few months. Since it is clear that Wentz would rather have an opportunity to start somewhere else and the Eagles want to move forward with Jalen Hurts at quarterback, it makes plenty of sense for the Eagles to trade Wentz. Now for the fun part, speculating which teams would be the best fit to trade for Wentz this summer.
1. Indianapolis Colts
The Colts are the team that everyone seems to expect Wentz to be traded to, and it makes a ton of sense why the Colts would want the Eagles quarterback. First off, the Colts' current head coach, Frank Reich, was the Eagles' offensive coordinator when Wentz was playing the best football of his career, so if anyone knows how to get Wentz back to playing like an MVP, it's Frank Reich. Second, the Colts are projected to have approximately $65M in cap space in 2021, so they certainly have the money to take on Wentz's contract. Finally, the Colts have a need at quarterback, as Philip Rivers could retire after this season. For all of these reasons, the Colts are a fairly obvious possibility when it comes to trading for Wentz, and as a football fan, this is where I would most like to see Wentz be traded because I think the Colts present the best chance for Wentz to become the player he once was.
2. New England Patriots
The Patriots haven't been talked about nearly as much as the Colts when it comes to this discussion, but they too would be a good fit for Carson Wentz. Just like the Colts, the Patriots have a ton of cap space available next year ($63M to be exact) and they certainly have a need for a new quarterback, as it has been reported by Adam Schefter that Cam Newton will not be re-signed by New England in the offseason. Furthermore, after a disappointing season in 2020, I'm sure that Bill Belichick would love to get his hands on a quarterback that has the potential that Carson Wentz has.
3. San Francisco 49ers
After a disappointing 6-10 season that was riddled with injuries and sub-par quarterback play, the 49ers could be another team that decides to pursue a trade for Carson Wentz. Like the Patriots, the 49ers don't have the coaching connection that the Colts do regarding Wentz, but they do have one of the best offensive minds in football (Kyle Shanahan) as their head coach, so I am confident that he could fix Wentz's game. The 49ers also have the cap space needed to pull off a trade for Wentz (about $21M), and the need at quarterback, as Jimmy Garoppolo was injured again this season after playing underwhelming football through six games. Unlike Wentz though, Garoppolo has an easily tradable contract that would create $24M in cap space in 2021 for the 49ers if he was traded after June 1st, so if the 49ers traded for Wentz and then needed to trade Garoppolo, I am sure that they could. The biggest hold-up in a potential deal between the 49ers and Eagles would likely be whether or not the 49ers think Wentz would be better than Garoppolo next year, but if they do believe that Wentz would be better, then I could certainly see the two teams striking a deal.
4. Denver Broncos
Everyone knows that Broncos' executive and Hall of Fame quarterback John Elway loves a big quarterback with a strong arm, so why not trade for Carson Wentz? It is almost certain that the Broncos will try to upgrade at quarterback this offseason, as Drew Lock does not appear to be the answer for the Broncos. Denver also has some cap flexibility (approximately $19M), so they would be okay financially if they decided to trade for Wentz. The Broncos don't have the coaching connection to Wentz that the Colts do, but their offensive coordinator, Pat Shurmur, is a well-respected offensive mind around the league. Additionally, like I mentioned before, John Elway has a lot of power in the Broncos organization, and I am sure he would do all he could to help Wentz improve. Then once you factor in the young weapons the Broncos have on offense like Courtland Sutton, Jerry Jeudy and Noah Fant, it is reasonbale to say that Carson Wentz would probably have a good chance to play like his old self again if he was traded to Denver.