By: Andrew Hubschman
This four-part series explores the best active quarterbacks wearing each number. 18 and 19 are not won by any QB currently, so here are the top QB's to rock each number; counting down from 17:
17. Ryan Tannehill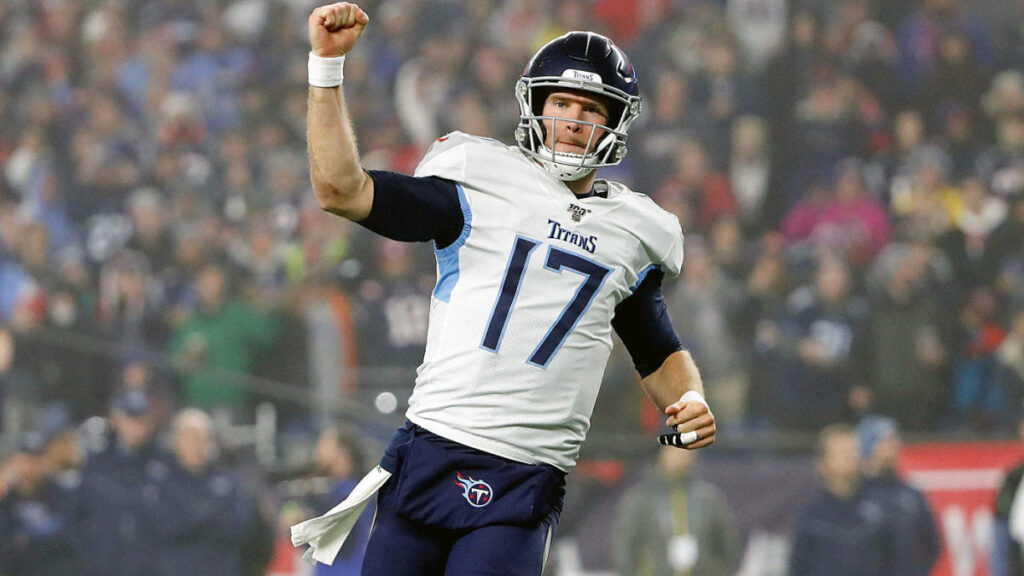 This might raise questions as to why I didn't pick Josh Allen or Philip Rivers, but Ryan Tannehill deserves more recognition than he gets. In his first six seasons (he missed the 2017 season after tearing his ACL), the Dolphins (whom he led to one playoff appearance in 2016) held him back of his true potential we saw last season. Tannehill made one short appearance early in the 2019 season before Marcus Mariota was benched in favor of the former Texas A&M star during their Week 6 contest against the Broncos – which they wound up losing 16-0. Tannehill led a turnaround for the Titans – who started 2-4 entering Week 7 – to a 9-7 record while clinching a postseason berth. He finished with 2,742 passing yards in 12 games (10 starts); threw for 22 touchdown passes against only 6 interceptions; finished with a completion percentage of 70.3% – which ranked third overall eligible QB's; and led the league in passer rating with 117.5. He may have had a limited performance this past postseason as his offense was carried by Derrick Henry, but it's important to consider two things: 1. Would they have gotten to the playoffs with a struggling Mariota? and 2. When he kept the ball from Henry, he performed well against two of the top 8 defenses in the NFL (Ravens and Chiefs). He threw for 88 yards on just seven completions against the Ravens, and 209 on 21 completions against the Chiefs. He threw for two touchdowns in both contests. The best No. 17 wearer last season, Tannehill has the chance to carry that momentum into next season.
Honorable mentions: Josh Allen, Philip Rivers
16. Jared Goff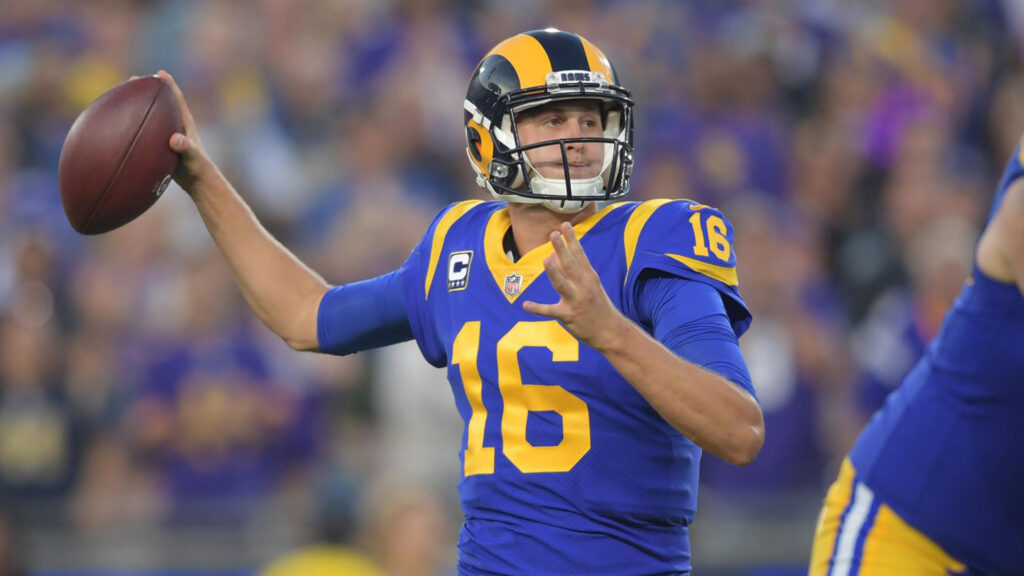 The only starter wearing #16, Jared Goff treats this number with great care. Following a rocky rookie season in 2016, he set the stage for the Rams the following two seasons – leading them back to the playoffs for the first time since 2002, and then to their first Super Bowl appearance since Super Bowl XXXVI. However, the Rams missed the playoffs this past season, and Goff has taken a lot of the blame for their 9-7 and 3rd place divisional turnout. He has suddenly become one of the most under-appreciated QB's of today's game, which is just unfair. Truthfully, his 2019 stats declined after the 2018 season; this past season, he threw 22 touchdowns (10 less than last season), 16 interceptions (4 more than last season), and a passer rating of 86.5 (last season's rating was 101.1). His incomplete pass total went up from last season by 35; finishing with 232 for the 2019 season. On top of that, his bad throw percentage went up 2.7% and total bad throws went by 30; finishing with 123 on the year. However, his offensive line allowed him to be blitzed 219 times – 68 more times than last season. They allowed him to be blitzed 20+ times in four games, whereas in 2018, the most they surrendered in a game was 17. Goff was blitzed 15+ times in only three games in 2018, which helps display the great protection he had that helped set the foundation for his dominant campaign. Goff may be partly responsible for the Rams' sudden regression, but he is not a liability. Despite all the negatives, he threw for 4,638 passing yards (3rd in the league) – only 50 yards less than his total last season (where he finished 4th overall). No matter what people think, Goff is a franchise QB, and when he gets better protection from the O-Line again, he will once again prove to everyone why the No. 16 jersey rests in good hands.
Honorable mention: Danny Etling
15. Patrick Mahomes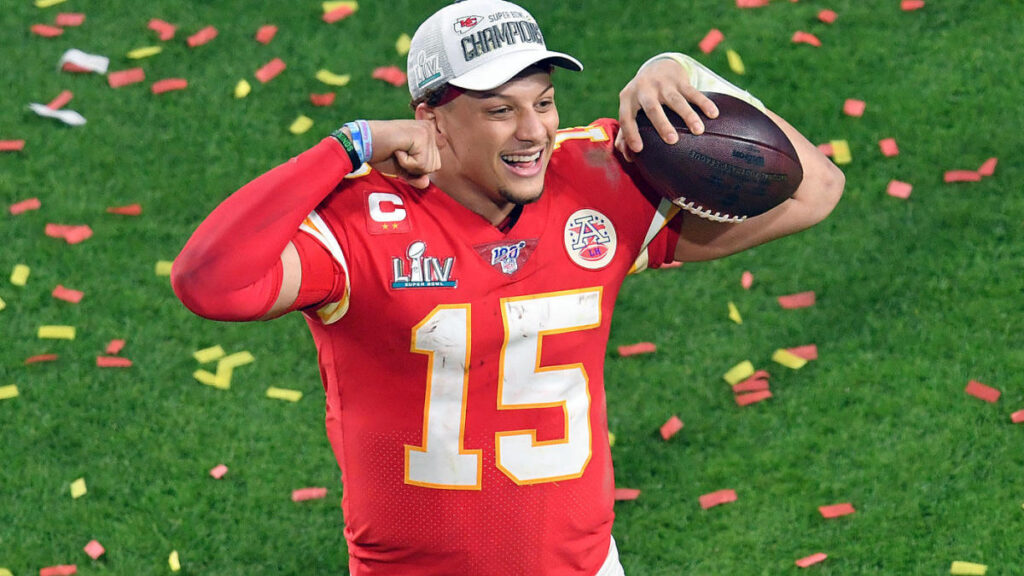 This one is definitely a no-brainer, and Patrick Mahomes' first two years as a starter speak for itself. His 2 Pro-Bowls selections, 2018 First-Team All-Pro honor, 2018 Offensive Player of the Year and MVP awards, Super Bowl LIV title, and SB LIV MVP trophy are not typical accomplishments one can say they achieved by just 24 years of age – let alone with 3 years of service. Oh and if that's not enough, he threw for 50 touchdown passes in his MVP season – becoming only the THIRD QB to ever throw for at least 50; the other two to accomplish this extraordinary feat were Brady (2007) and Peyton Manning (2013). Mahomes has also broken numerous records – including most TD passes, passing yards, and 300 passing yard games in a QB's first career 25 games. Mahomes is waiting to break another potential record for the most lucrative deal, which would be at least $40 mil per year. This contract extension would pass Russell Wilson – who is making $35 mil for four straight seasons since he signed his own during the 2019 off-season. Mahomes as of right now OWNS the No. 15 jersey, and will continue to do so for years to come.
Honorable mention: Gardner Minshew
14. Sam Darnold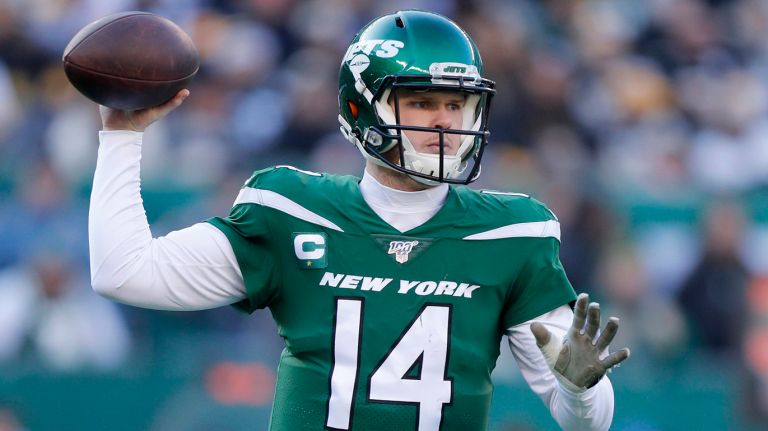 During his sophomore year in 2019, Sam Darnold was one of three starting QB's who wore No. 14; the others were Ryan Fitzpatrick and Andy Dalton. Darnold was the only one of the three to put up more wins than losses, finishing 7-6 in 13 starts. Meanwhile, Fitzpatrick and Dalton finished a combined 7-19 (5-8 and 2-11, respectively). Darnold was absent for three games (Weeks 2, 3, and 5) due to his battle with mono, but his recovery made him stronger. In his first game back, he outperformed Dak Prescott and the Cowboys and led the Jets to their first win of the year after starting 0-4. He went on to start for the Jets' final 11 games – finishing 6-5 in those games. In 13 games played (the same number he played during his rookie season), he set career highs in almost every category, including completions, completion percentage, touchdown passes, and passing yards. One setback entering next season, however, is the loss of his favorite wideout Robby Anderson, but Darnold has a couple starting solid weapons he can rely on: tight end Chris Herndon (assuming he stays healthy), and wide receiver Jamison Crowder. He also has aggressive rookie Denzel Mims – who proved to be an impact for Baylor's offense everywhere on the field. Coming in clutch when he was needed, he was greatly reliable inside opponents' half of the field – even more so inside the 30; scoring 10 touchdowns inside that range during his senior year. Darnold's offense can increase their red-zone percentage and add more six-point drives with the addition of Mims. Overall, Sam Darnold looks like he can improve year-by-year, and entering his third season, he's the best current QB wearing No. 14.
Honorable mention: Ryan Fitzpatrick