It's almost here. Draft season in the NBA has arrived and with June 20 right around the corner, it's time for mock drafts. Freshly off an exhilarating new lottery selection, the picks after #1 prospect Zion Williamson are completely up in air. In this special mock, writers Ryan Miller and Zach Wylie will be playing the roles of the teams, as they will go back and forth and determine who is best suited to go where.

1. New Orleans (Zach)
Pick: Zion Williamson, PF, Duke
Why: This is the one pick in the draft we all know is a given. During the lottery, the analysts even kept saying things like "You ready to see what team you're going to Zion?" The real question is if Anthony Davis will think about staying now that Williamson is coming to town. While unlikely, the thought of Zion, Jrue Holiday and AD sounds pretty enticing. Zion is going to be a Pelican, no doubt. Unless of course, he goes back to Duke. But I'd bet my money on him going to NOLA.
2. Memphis (Ryan)
Pick: Ja Morant, PG, Murray State
Why: Rumors are swirling around the Grizzlies trying to move away from Mike Conley, and there is no better player to replace him in my mind than Ja Morant. Morant is an absolute stud that has the ability to take over a game. The Grizzlies should be looking for a flashy, athletic, instinctive player who is improving in shooting. I can't wait to see his NBA Highlight reels.
3. New York (Z)
Pick: RJ Barrett, SG, Duke
Why: Ladies and Gentleman, we have gathered here today to mourn the passing of Zion Williamson as a Knick. But cheer up NYC, it's not all bad. Barrett brings a multitude of skills to a Knicks team in need of energy and talent. His three point shot and fantastic athletic ability is something the Madison Square Garden have not seen much of on their side of the ball. With the potential additions of KD and Kyrie being a major factor of the Knicks offseason, Reddish could be the final piece to a Knicks big 3, unless of course they trade for Anthony Davis, which is still well in the mix.
4. Los Angeles Lakers (R)
Pick: De'Andre Hunter, PF, Virginia
Why: The Lakers defense struggled heavily this past season, and one of the best defenders this draft is Hunter. The Virginia superstar locked down his opponent all over the court. I think the Lakers are looking for someone with the ability to impact both ends of the court. Hunter has the ability to score although his shot is inconsistent. This LA pick could easily go to New Orleans in a trade for Anthony Davis.
5. Cleveland (Z)
Pick: Jarrett Culver, SG, Texas Tech
Why: I am very excited to watch Jarrett Culver in the NBA. Hiding in the shadows of Williamson, Morant and other future stars, the sophomore guard from Lubbock has huge potential, specifically on the defensive side of the ball. He helped the Red Raiders lead the NCAA in defensive efficiency this season. His shot needs a little more work, but with a little bit of time, Culver could possibly be Cleveland's next big star, complemented by sophomore point guard Collin Sexton.
6. Phoenix (R)
Pick: Darius Garland, PG, Vanderbilt
Why: Garland could finally take the attention away from Devin Booker in Phoenix. The 6' 3" true point guard can pull up from anywhere and is a force to be reckoned with under the basket. Like Zach's excitement for Culver, I think Garland could wow fans as a Phoenix Sun. Garland is a one and done from Vanderbilt who I think with his quickness and creativity could truly open up the Suns offense. There are rumors the Lakers are really interested in the point guard after LeBron James has raved about him.
7. Chicago (Z)
Pick: Coby White, PG, North Carolina
Why: The Bulls have gone through their struggles for awhile now. You could say their last big star was Jimmy Butler, and I might agree. But the last time the Chicago Bulls were a dominant team was when they had Derrick Rose in his prime. They're looking for their next Rose and Coby White could be it. He's a wonderful complement to Zach Lavine, making this backcourt one of the most talented in the NBA. White's three-point ability and quickness up the court makes him a great target for a team wanting to get back to its winning ways.
8. Atlanta (R)
Pick: Cam Reddish, SF, Duke
Why: Reddish was not a standout superstar in his one year at Duke, but he was also sharing the court with the two best players coming out of high school. The small forward from Pennsylvania shocked many with his clutch shooting at times and with Williamson out he was a terrific counterpart to spread out the offense. The Hawks are in a massive rebuild and an all around guy like Reddish could boost their offense tremendously.
9. Washington (Z)
Pick: Jaxson Hayes, PF, Texas
Why: Texas has a great recent history of producing big men that can play. The likes of Tristan Thompson, Myles Turner, and Mo Bamba have all came from Austin and been impact players for their respective teams. Hayes is a great defender and although his mid-range shot needs some work, he is great underneath the basket. Hayes would take over the starting PF spot eventually, as Bobby Portis wouldn't be able to hang on to it forever.
10. Atlanta (from Dallas) (R)
Pick: Bol Bol, C, Oregon
Why: Atlanta picks a big man to take over. The 7' 2" center's college career was short lived, playing just 9 games due to injury. However, Bol averaged 21 points and shot well above .500 from everywhere on the court. Bol has unique athleticism for his size and terrific ball handling. His frame could fill out a little bit and he has a lot of work to do if he wants to be able to defend big men in the NBA.
11. Minnesota (Z)
Pick: Rui Hachimura, PF, Gonzaga
Why: The Wolves need help at point guard, but that is more likely to come later in free agency. This pick will add some length underneath the basket. Hachimura is one of the unique talents in this draft with a height of 6'8" but a wingspan of 7'2". For anyone wondering, those are some long arms. He led the Bulldogs in points and could be a huge help to a struggling Minnesota team.
12. Charlotte (R)
Pick: Kevin Porter, SG, USC
Why: Charlotte might lose superstar Kemba Walker, and Porter Jr. might be the solution to their massive rebuild. Porter's freshman year at USC was rocked by injury and suspension, but he has a lot of potential. Pick 12 might be a little too early for Porter considering his experience, but he provides great upside and Charlotte could benefit greatly as they begin to rebuild.
13. Miami (Z)
Pick: Sekou Doumbouya, PF, Guinea
Why: The top international prospect in this draft, Doumbouya has great potential to be great in the NBA. Like most out of country players, his game is still very raw and is learning as he goes along. The Guinea native is great in transition and the post, which can help him overtake James Johnson for the starting position. The Heat need help in the post, and Doumbouya can be a huge help for sure.
14. Boston (from Sacramento via Philadelphia) (R)
Pick: PJ Washington, PF, Kentucky
Why: The sophomore out of Kentucky averaged 15.2 PPG last season on 52% shooting. Boston is likely to lose Kyrie Irving and with 3 first round picks can create some serious depth with a player like PJ Washington who just keeps getting better. Washington can play at nearly every position and has a high basketball IQ.
15. Detroit (Z)
Pick: Romeo Langford, SF/SG, Indiana
Why: The Hoosier leader is staying nearby. Langford, who led Indiana in scoring and was 6th in the Big Ten, has great athletic ability and has extreme versatility. Detroit needs a solid playmaker and the former five-star recruit can do it all. From scoring to rebounding to defense, Langford has a build unlike any of the other prospects, as he is bigger than a lot of star guards in the league. His wingspan reaches near seven feet, an insane number for a combo guard/forward. This allows him to shoot over defenders much easier and can make Langford really dangerous in Detroit.
16. Orlando (R)
Pick: Nickeil Alexander-Walker, SG, Virginia Tech
Why: The guard out of Virginia Tech can play anywhere on the court and his three point shooting is phenomenal. Orlando has a lot of young talent at the moment and Alexander-Walker may be someone who can provide leadership early on. A lot of people have him going to a team like the Wizards who need help in anyway possible.
17. Brooklyn (Z)
Pick: Nassir Little, SF, North Carolina
Why: This is one player that has huge upside on a developing team like Brooklyn. Little is an athletic freak with long arms and the ability to drive down the court. He struggled at UNC and became more of an "off-the-bench" type of player, but his potential cannot be ignored by teams. He gives 100% off the court and could definitely develop into a franchise player. The Nets would get some huge help here, potentially creating a star alongside D'Angelo Russell.
18. Indiana (R)
Pick: Carsen Edwards, PG, Purdue
Why: In this mock draft, I have Edwards staying right at home in Indiana for the Pacers. Edwards lit it up for Purdue this past season, and has remarkable shooting ability and the ability to take over a game. Indiana might be looking for size in this year's draft as the lineup is pretty small already, but I believe the Purdue junior has the ability to break out. I could also see him taken by Philadelphia who are in desperate need of pure shooters. His play style is comparable to that of Damian Lilliard's.
19. San Antonio (Z)
Pick: Brandon Clarke, PF, Gonzaga
Why: Gonzaga really knows how to make'em. Clarke and Hachimura paired up to create one of the most dominant frontcourts in college basketball, and now they'll both have opportunities to thrive in the NBA. San Antonio is looking for another Tim Duncan, and Clarke has the ability to become that. He was second in scoring for the Bulldogs, behind only Hachimura, and led the team in rebounds and blocks. Keep an eye on him to become huge with the Spurs.
20. Boston (from LA Clippers via Memphis) (R)
Pick: Grant Williams, SF, Tennessee
Why: Williams was the true leader of the Volunteers this past season, leading them deep into March Madness. Boston has 3 first round picks this year, and with the likely departure of Kyrie Irving and other big names for the Celtics, Williams can step up alongside of Jayson Tatum and keep progressing as a leader in the Eastern Conference. Brad Stevens can perfect Williams best qualities that made him one of the best in the SEC.
21. Oklahoma City (Z)
Pick: Keldon Johnson, SF, Kentucky
Why: Another year, another set of first rounders from Kentucky. Johnson gets taken by OKC, who is looking for the role players to finally get Westbrook and George to the promised land. The Wildcat swingman is a great playmaker with the ability to become an excellent shooter. He's a bit risky right now and is definitely going to need development, as his shot is still a little inconsistent. However, with a little work, Johnson can be a great addition to the Thunder.
22. Boston (R)
Pick: Tyler Herro, SG, Kentucky
Why: In Boston's third pick, I have them taking another Wildcat in Tyler Herro. Herro does just about anything for Kentucky but is mostly a perimeter shooter who is still improving. Herro would almost certainly come off the bench for Boston for a while, as they already have superb talent, but Herro can develop in to someone they can rely on.
23. Utah (Z)
Pick: Ty Jerome, SG, Virginia
Why: Utah wants a championship, so they draft a champion. Jerome was a key part of the Cavaliers championship team this year, as he was one of the top scorers for the team. He is a smart, athletic player who can score very well off the dribble. He's not the most physically gifted player in the draft, but his basketball IQ with shots and passes makes up for it.
24. Philadelphia (R)
Pick: Matisse Thybulle, PG, Washington
Why: Thybulle is a defensive monster who can also manage to score. The senior from Washington developed well and has been compared to a player like Andre Roberson. Philadelphia might be looking to add more predominant shooters at this pick, but I think Thybulle could shock many as he goes to the NBA.
25. Portland (Z)
Pick: Goga Bitadze, C, Georgia (the country)
Why: I will be 100% honest here. I had no idea who this was until I began doing this mock draft. And when I first looked him up, I thought he went to UGA, hence the parentheses indicating he is from Europe. Anyways, Bitadze is another international prospect that teams should be careful not to overlook. A great rebounder and shot blocker at 6'11", the Georgian player is great underneath and can add to a decent frontcourt for the Blazers.
26. Cleveland (from Houston) (R)
Pick: Bruno Fernando, C, Maryland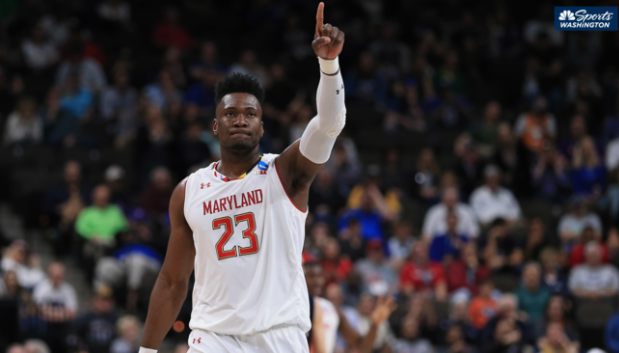 Why: Believeland has a huge rebuild ahead of them, and need to begin moving away Tristan Thompson. Bruno Fernando is an athletic stud in the paint for the Cavs and provides much needed athleticism. I can easily see Maryland's center catching lobs from Sexton. Fernando has also developed his mid-range and his defense gets better every game. Fernando's defense is a bit worrisome but his offensive game makes up for his lack of coverage.
27. Brooklyn (from Denver) (Z)
Pick: Cameron Johnson, SG, North Carolina
Why: Back-to-back UNC forwards for Brooklyn, as they get a great shooter in Cameron Johnson. The Heels utilized Johnson all season from beyond the arc and all over the court. His stats? No big deal. He just led one of the top college basketball programs in the country in points per game and three-point percentage. Johnson and Little team up in the Big Apple to help try and push the Nets back into the playoffs.
28. Golden State (R)
Pick: Luguentz Dort, SG, Arizona State
Why: The Freshman out of Arizona State has a lot of developing to do, but Dort is an athletic stud who can put up a lot of points at any given time. Golden State doesn't really need any young players right now but picking Dort here would be a high risk high reward for the future of the organization. Many think Dort should continue developing in college, however.
29. San Antonio (from Toronto) (Z)
Pick: Dylan Windler, SF, Belmont
Why: This is one of my favorite picks of the entire draft. Here we have a guy who I consider to be one of the most underrated picks of the year. Windler has great shooting ability and is very tough underneath, leading the Belmont Bruins in both points scored and rebounds per game. San Antonio would be getting someone who could immediately contribute off the bench and be an impact player.
30. Milwaukee (R)
Pick: Eric Paschall, PF, Villanova
Why: Paschall is another lockdown defender who was a monster for Villanova after Jay Wright asked him to transfer. The forward is 22 years old, but he is NBA ready and would need no further development. Paschall fits perfectly with the Bucks star player in Antetokounmpo. He might not be as flashy as some of the other players in this draft, but Paschall is a solid late first, early second round pick.