Last weekend, the top lacrosse players in the world met at the incredible IMG Academy to meet with their teams and coaches for the first time. The training camp featured individual team practices as well as scrimmages against other lacrosse clubs in the league.
The scrimmages offered big hits, slick shots and ultra-competitive atmosphere that ignited the players to play their best lacrosse. Yet, the most impressive thing that the PLL did this weekend had nothing to do with lacrosse in general.
The way the PLL has been using social media is remarkable, for the first time ever fans are getting a behind the scenes look at players, coaches and teams that we have never seen before at the professional level.
Sure, the NFL has the infamous show "Hardknocks" that is shown every summer on HBO. But, that takes a week to produce, the PLL is able to give fans feasible access to players, executives and coaches instantaneously every day. Whether it's in the office, dining hall, locker room or on the field, the social media team of the PLL is able to display to the world an inside look at it's players through Instagram stories, stories and vlogs on Youtube.
Their social media host RJ Kaminski has been absolutely KILLING IT. He brings a fun, exciting atmosphere to the vlogs and does an awesome job at connecting with the players. It truly seems as if RJ is best friends with the players, coaches and executives which he very well could be but, I think his most impressive attribute is the ability to humanize the players. He shows the world that these players are just like anyone else in the world, the only difference is we know that they are professional athletes.
Huge shoutout to RJ though, he's absolutely killing it for the PLL and any other sports league would be lucky enough to get someone like RJ in their league.
Look at what RJ brought to the table at training camp:
Obviously, there are a ton of people behind the scenes that don't get the credit they deserve for what they are putting out on social media and to those people: Thank you!
I'm a big believer that if you are not ahead of social media, your already too late. The fact that the PLL is growing on social media at an astonishing rate gives me more hope that the league is here to stay, even if you don't like it.
Just take a look at this unbelievable stat of interactions on social media with fans :
The PLL more than tripled the interactions than the next closest professional sports team. Oh, which by the way is an NFL team, and if you didn't know the NFL is the National Football League and is arguably the most popular sports league in America. In case you forgot, this was just at the PLL training camp…
THEY HAVEN'T EVEN PLAYED A GAME YET.
Amazing what they are doing.
Just look at what the social media team was able to capture during the training camp scrimmages:
And for all the doubters in the ESPN Instagram comment section that says lacrosse is only for "white-privileged preppy kids." You simply couldn't be more wrong.
Meet Myles Jones the 6'5 240 pound former Duke Blue Devil.
You don't think that beast could play basketball or football? No, he chose lacrosse because of its creativity and physicality. Not to mention the fact that he's currently one of the best players in the world.
As a former lacrosse goalie myself, I always am astonished by what the professional goalies can do. When I was a scared, little, scrawny freshmen goalie playing against seniors, I was fortunate getting absolutely shredded by Chrome Lacrosse Club's Justin Guterding, one of the best players in the world right now.
Imagine me, as a little freshmen in high school, having to face this…
So, I am always impressed by what the pros can do. But, I guess that's pretty obvious, isn't it?
Check out this stellar point-blank save by Atlas Lacrosse Club's Jack Concannon.
For all the young players out there, I wish I had this type of exposure to the professionals when I was playing back in the day. I know when I was in middle school and elementary school I used to look up to all the high school lacrosse players in my town because I would see them in the deli, at Chipotle or even just walking the dog down the street. For some reason, they were like idols to me. I think that's because I saw them almost every day.
We get an inside look at Paul Rabil the player as well as Paul Rabil the executive as well. I still wonder if he can be the next great executive-player, just like Jackie Moon from Semi-Pro.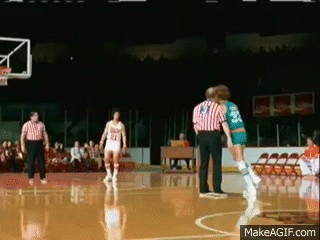 But, Paul is not Jackie Moon, he's a professional millennial who understands the importance of social media in today's day and age. He's smart enough to realize he doesn't NEED to be on camera but, he should be because fans want to see him.
I also didn't know the PLL could start a band with the beautiful voices they have. It sounds like a mix between Fergie and Jesus…
Now, you youngins' get to see what professional lacrosse players do every day just though your Instagram. I wish when I was growing up that professional lacrosse was like this.
Really quick, a little quick personal note to all my loyal readers. I know your probably sick and tired of me posting my blogs everywhere on my social media but, it's because this is my dream, writing about sports. The fact that I started my blogging career around the same time as the Premier Lacrosse League has been a blessing in disguise.
The Premier Lacrosse League has been extremely generous, transparent and responsive to me through their incredible public relations manager, Julian Galano. Recently, I received very thrilling news that I got approved to be a credentialed media member for the Premier League Lacrosse's opening weekend next weekend at Gillette Stadium. I would feel like I would be doing a disservice if I did not thank them for this incredible opportunity and I'm extremely appreciative of the platform they are giving me. So to Julian and the rest of the PLL team: THANK YOU!
Words cannot express how excited I am to get to Gillette next weekend.
For the future: I will be doing weekend previews of each team's matchup for that weekend following up with a weekend recap. You should expect the previews to be on Friday's and the recaps to be on Monday's.
I love lacrosse, I love writing and this truly is a dream come true for me.
This is not the final step, this is only the first, but this is a first step in the right direction and it makes me extremely hopeful for future opportunities.
Make sure to follow the Premier Lacrosse League on Twitter: @PremierLacrosse
Or follow this link: PLL Twitter
Follow their Instagram: @pll
Or follow this link : PLL Instagram