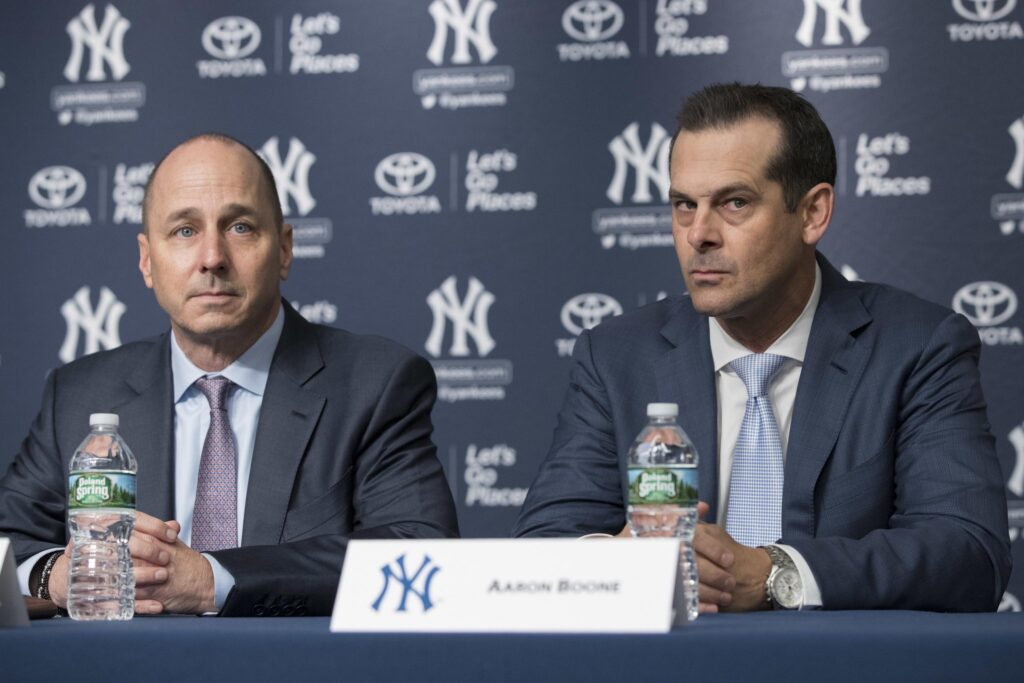 By: Ross Sutton
Now that the World Series and thus the 2022 season is over, the offseason is officially upon us. For the Yankees and their fans who have now seen 13 seasons come and go without a Yankees World Series title or appearance, this feels like one of the most important offseasons in quite some time. The biggest storyline for the Yankees (and the entire league) this offseason is which team Aaron Judge will decide to sign with, and after his historical platform year, he will certainly have his choice of teams to play for. Outside of Judge, the Yankees have plenty of work to do in the coming months, as there are a number of key decisions that must be made before Opening Day, so let's get right into it.
Aaron Judge:
After breaking the steroid-free single season home run record and (likely) winning AL MVP, Aaron Judge is the most coveted free agent in baseball. Luckily for the Yankees though, it seems like Judge wants to remain a Yankee. Hopefully this is true and it won't be too excruciating for the Yankees to re-sign their All-Star right fielder because without Judge, the Yankees would be a mess. I have faith in the Yankees offering Judge enough money to retain him, but just how much will that be? The Yankees offered Judge a 7-year $213.5M ($30.5M AAV) contract during spring training, but Judge will certainly command much more than that in free agency. Judge will almost certainly earn more on an average annual value basis than Mike Trout, who signed a 12-year deal paying him about $35.5M per season, and many in the industry think Judge's deal will be for $40M per year. I agree with that estimate, and even though teams like the Dodgers, Giants, or Mets are a threat to sign Judge, my prediction is that Judge re-signs with the Yankees for 9 years and $360M ($40M AAV). As a bonus prediction, I also think that the Yankees will name Judge as the team's official captain if/when he re-signs with the team.
Shortstop and Third Base:
Even though it meant getting rid of Gary Sanchez, many Yankees fans have a sour taste in their mouth from trade that brought Josh Donaldson and Isaiah Kiner-Falefa to the Bronx in exchange for the aforementioned catcher and fan favorite Gio Urshela. IKF's speed on the bases and ability to make contact at the plate helped address areas that hindered the Yankees in years past, but his defense was not as good as expected and it ultimately led to his benching in the playoffs. Donaldson, on the other hand, played elite defense at third base, but he could never get going offensively, and his stats reflected that, as he finished the year with a .222 batting average and a 94 OPS+, and that simply isn't good enough for a guy that batted fifth for the majority of the season.
Although IKF is signed via arbitration for 2023, I believe there is a significant chance that the Yankees have a different starting shortstop come Opening Day. The reason why I and many others have this belief is due to the fact that the Yankees have two highly rated shortstop prospects that are expected to be ready for the majors in 2023. One of these players, Oswald Peraza, has already seen some playing time in the majors, as he was called up late in the season and played in 18 games, including 3 playoff games when he took over for IKF in the ALCS. Peraza is rated as the 50th best prospect in baseball and third best prospect in the Yankees minor league system, so many believe he will be the starting shortstop when the season starts. The other intriguing shortstop in the Yankee organization is Anthony Volpe, who is the number five prospect in all of baseball. Many Yankee fans (myself included) are clamoring for Volpe to be called up to the major league roster, but while I think we will see Volpe in the Bronx at some point in 2023, I do not think it will be Opening Day. Peraza showed a lot of promise during his brief time in the majors, as he batted .308 with a .832 OPS while also playing tremendous defense. Additionally, the Yankees refused to include Peraza in a trade that would have sent Luis Castillo to the Yankees instead of the Mariners, so the organization clearly envisions Peraza as a major part of the team moving forward. For these reasons, I think Oswald Peraza will be the Yankees starting shortstop to begin the 2023 season. This should then result in the Yankees using IKF as a utility player off the bench. The Yankees could then let Marwin Gonzalez sign elsewhere in free agency and then available roster spots would not be an issue. Pivoting to an unproven player like Peraza while a number of elite shortstops are available in free agency might make some Yankees fans wish George Steinbrenner was still running the show, but if the Yankees re-sign Aaron Judge, they will have two huge contracts (Judge's and Cole's) on their books for nearly the next decade, and I highly doubt ownership will want to make that three by adding someone like Carlos Correa or Trea Turner when there are very good in-house options.
As for Josh Donaldson, I think there is a strong possibility that he has played his last game with the Yankees. If the Yankees re-sign Judge, then I'm sure ownership would love the idea of trading Donaldson and the $21M he is owed this year. Teams certainly won't be lining up to trade for Donaldson considering his sizable contract and poor offensive numbers in 2023, but his defense is legitimately elite, he is only signed for one more year, and I wouldn't be surprised if a team was willing to trade for him with the hope that he finds his former self at the plate. I would be surprised if the Yankees could receive anything of value in exchange for Donaldson, but with D.J. LeMahieu and Gleyber Torres on the roster, the Yankees are set up well at third and second base, so trading Donaldson could represent an addition by subtraction type of scenario for the Yankee front office. Additionally, with Oswaldo Cabrera's spot on the roster virtually guaranteed and Volpe's call up looming, the Yankees have plenty of strong options in the infield for 2023. Therefore, I predict that the Yankees will trade Josh Donaldson with plans to start D.J. LeMahieu at third base. I also think it is very possible that the Yankees move Anthony Volpe to third base and make him their full-time starter at some point this season. Not only would this move decide the position battle between Volpe and Peraza at shortstop, but it would also allow D.J. LeMahieu to DH more often, which might be needed after two injury-plagued seasons.
Left Field: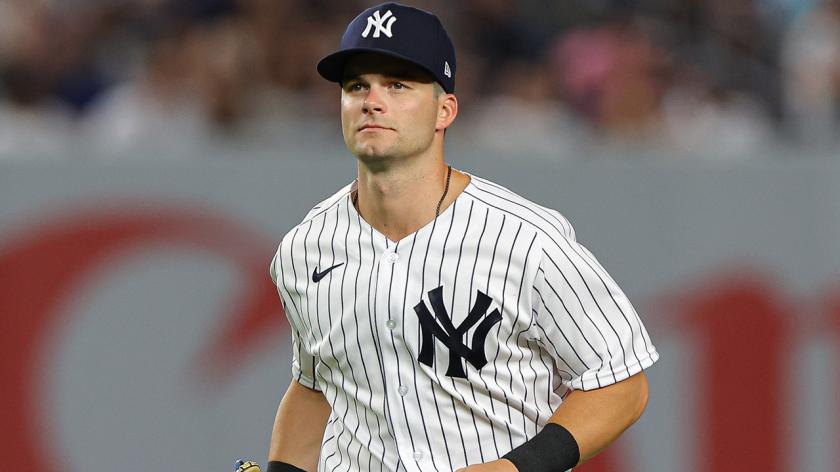 Harrison Bader quickly became a fan favorite after his Yankee debut this September, and since he is under contract via arbitration for next year, he will be the Yankees starting center fielder on Opening Day. Additionally, we all know that the Yankees want Aaron Judge to be their right fielder for the foreseeable future. That leaves left field as the biggest question mark in the Yankees outfield. The Yankees traded for Andrew Benintendi last year at the trade deadline with the hopes that he would be an impactful contact hitter in a lineup that was forced to start Joey Gallo and Aaron Hicks way too much. After starting to get hot at the plate as a Yankee, Benintendi broke his wrist, was unable to return in 2022, and is now a free agent. Oswaldo Cabrera was then asked to fill in for Benintendi and played great, but many think that the Yankees could be in the market for a left fielder. I can't say I would blame them, as there are a number of options on the free agent market that could be great fits for the Yankees. Some players that I think could be targeted by the Yankees are: Andrew Benintendi, Brandon Nimmo, and Michael Brantley. One thing you might notice is that all of these players are left-handed hitters, and I assume that if the Yankees turn to free agency to fill their hole in left field, then they will target a left-handed hitter to offset all of the righties in the Yankee lineup. Many have connected Benintendi and Nimmo to the Yankees, but I think the Yankees would love to bring in Michael Brantley, who looked like his usual effective self before injuring his shoulder and miss the majority of the season. I could see the Yankees preferring to sign younger, more athletic players like Benintendi or Nimmo that are in the prime of their respective careers, but I could also see the Yankees going for Brantley, who will likely be more cost-effective than those other outfielders while still having a similar impact on the team. I think the Yankees will ultimately sign one of these players, but my official prediction is that the Yankees re-sign Andrew Benintendi. Now that the Yankees have spent big money on Gerrit Cole (and hopefully Judge), they have to be all in on trying to win a World Series as soon as possible, so there is no reason to pinch pennies, and I think they will be willing to spend a lot of money to sure up the left field position. The elephant in the room that I have not addressed to this point is Aaron Hicks, who is signed for another three years (plus a team option for a fourth year) at about $10M per year. Hicks was terrible in '22 and I think much like Donaldson, the Yankees would love to move off of Hicks, even if it means attaching a prospect to him to make a team to trade for him.
Starting Rotation:
In my eyes, the Yankees starting rotation for next year is essentially set. Gerrit Cole, Nestor Cortes, Luis Severino, Frankie Montas, and Domingo German/Clarke Schmidt will likely be the starting rotation at the beginning of the season. Some believe that the Yankees will be in on Carlos Rodon, and while I would love that as a Yankees fan, I do not see the Yankees spending big money on Rodon when starting pitching was not their problem last year. You can criticize whether the Yankees should be thinking like that, but I don't think the Yankees will make any major moves with their starting rotation. It's also possible that the Yankees could look to bring Jameson Taillon back, as he was very consistent for them this season and should not be too expensive, but I do not think that Taillon will be a priority for the Yankees this offseason.
The Bullpen:
The success of the 2022 New York Yankees was in direct correlation with the performance of their bullpen. In the beginning of the year when the Yankees were the best team in baseball, the combination of Clay Holmes and Michael King was nearly unhittable, but then King got hurt and missed a lot of the season and Holmes lost his command for nearly all of the second half of the season. By the time the playoffs rolled around, the Yankees were a bullpen by committee and did not have a trusted closer that they could confidently hand the ball to in the ninth. Therefore, even though the Yankees have a lot of good bullpen arms signed for next year such as Clay Holmes, Michael King, Jonathan Loaisiga, Wandy Peralta, Ron Marinaccio, and Lou Trivino, I think they will try to find a legit closer this offseason. Unfortunately though, now that the Mets have re-signed Edwin Diaz to a 5-year, $102M contract, the free agent market this offseason no longer has a lockdown closer. Among the free agent closers are Kenley Jansen, Craig Kimbrel, Aroldis Chapman, and David Robertson. Jansen, Kimbrel, and Robertson are all aging, and there is zero chance the Yankees want to bring Chapman back, so I think a trade might be the best avenue for the Yankees to pursue if they want to acquire a top closer. The one potential trade candidate that would likely solve the Yankees bullpen issues is David Bednar from the Pirates, but with four more years of club control, the asking price for Bednar would surely be sky high. This area of need is the one in which I have the least amount of confidence in my prediction because I do not see any clear answers, but for the purposes of this blog, my prediction is that the Yankees will add David Robertson to their bullpen this offseason and start the season with a closer by committee again until someone emerges.
Other Questions :
First baseman Anthony Rizzo had a $16M player option for the '23 season, but he has opted out. Reports have indicated that Rizzo wants to re-sign with the Yankees on a multi-year deal. Rizzo is a huge part of the current Yankees team, and with the banning of the shift, Rizzo's stats are expected to improve significantly, so the Yankees need to do everything they can to bring him back.
Matt Carpenter was a revelation for the Yankees until he too was seriously injured last season, and he is now a free agent. Carpenter feels like a DH more than anything else at this stage of his career, but he was extremely valuable to the Yankees during his brief time with the team last season. Having a veteran presence like Carpenter in the locker room is always a good thing, and if the Yankees believe he can play the way he did when he was healthy, then it might be hard for them to not re-sign him.
Some Yankee fans are fed up with Cashman and Boone, but all reports indicate that they will return next year, so I have no reason to believe the Yankees will have a different general manager or manager come Opening Day.