By: Ross Sutton
If you are a Yankees fan like me, you just endured one of the most emotionally draining seasons in recent memory. Now that the season is over, the offseason is officially upon us, and these next few months will be especially interesting for the Yankees, as I could see them making a number of different moves to shake up this flawed roster. So without further ado, here is what I think Brian Cashman should do this offseason.
As the roster currently sits, the Yankees 2022 payroll is $152M (according to Spotrac). Assuming that the luxury tax threshold of $210M stays the same after the MLB and MLBPA – hopefully – agree to a new collective bargaining agreement this winter, the Yankees will have about $60M to spend this offseason. Unfortunately though, the $152M that the Yankees currently owe to players under contract in 2022 does not include players that will be signed via arbitration as part of their rookie contracts. This includes players such as: Aaron Judge, Joey Gallo, Chad Green, Jonathan Loaisiga, Jordan Montgomery, Gary Sanchez, Jameson Taillon, Gleyber Torres, Gio Urshela, Luke Voit, and a few others that project to be on the major league roster next year. These players were all major contributors at some point in the last few years, so signing them will not be cheap. For example, Aaron Judge alone could make about $30M in arbitration, so the Yankees don't exactly have a ton of money to spend if they remain committed to staying under the luxury tax threshold. With that being said though, the Yankees did stay under the luxury tax in 2021, which means that the penalty level for going over the threshold in 2022 is reset to a lower amount. With a lower penalty for going over the luxury tax, the Yankees have much less reason to stay under the $210M threshold, so maybe they will feel free to spend big this offseason.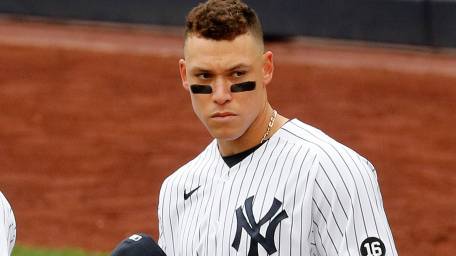 The Extension
The number one priority for the Yankees this season needs to be signing Aaron Judge to a long-term extension. Judge is on the last year of his rookie contract, and I assume that the Yankees would prefer to lock up their star right fielder now rather than letting him hit free agency after next season. Judge is the heart and soul of this team, and without him, their chance of winning a World Series astronomically decreases, so if the Yankees are truly committed to winning a championship, they have to extend Judge. This extension will be costly, but the time has come for the Yankees to pay up for the face of their franchise. Judge is 29 right now, so I estimate an extension for him will probably be for 7 or 8 years, with an average annual value of approximately $30M. This equates to a total of about $210M-$240M.
The Infield
The next big decisions that the Yankees have to make are related to Gleyber Torres and Gary Sanchez. Both players had disappointing seasons in 2021, but they are both regarded as players with star potential. Sanchez is on the last year of his rookie deal, while Torres is not a free agent for another two years. Two of the major problems with the Yankees current roster are a lack of speed/athleticism and too much "swing-and-miss" on offense. With these problems in mind, I think it is much more likely that the Yankees bring back Gleyber Torres than Gary Sanchez. If the Yankees were to trade Sanchez, pending free agent Buster Posey would be a spectacular fit. Posey has a great approach at the plate that leads to balls being put in play and he would be an ideal veteran locker room presence. He wasn't as good defensively this year, but he won the Gold Glove Award in 2016 and he probably deserves some credit for being the primary catcher of the second best pitching staff (3.29 team ERA) in the MLB this year. Additionally working in favor of Torres being kept over Sanchez is the fact that Gleyber looked really solid defensively while playing second base at the end of the regular season this year, while Sanchez still leaves much to be desired behind the plate.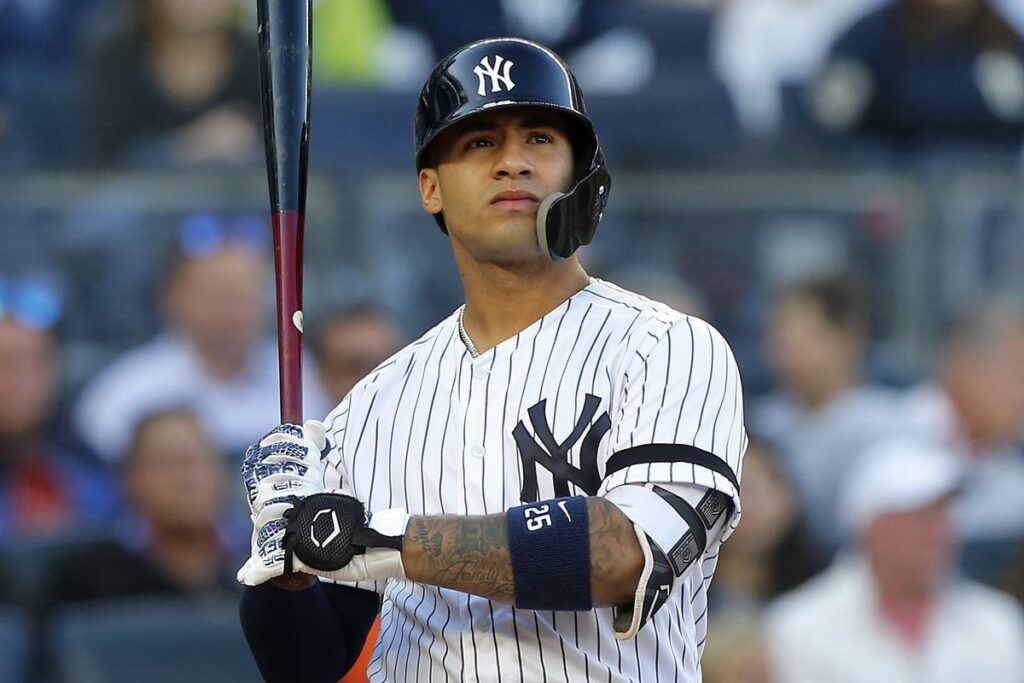 If the Yankees commit to Torres as their second baseman, they could permanently move D.J. LeMahieu to first base. LeMahieu is a really solid second baseman, but he has also played very well at first base when given the opportunity. Furthermore, LeMahieu was injured at the end of this year, and considering the Yankees gave him a 6-year contract last offseason, it would behoove the Yankees to move D.J. to the much less physically taxing position of first base. By moving Torres to second and LeMahieu to first, this creates a hole at shortstop. Luckily for the Yankees, the free agent shortstop market this offseason is star-studded, as Trevor Story, Carlos Correa, Marcus Semien, Corey Seager, and Javier Baez are all free agents. Of this list of players, I think Corey Seager would be the best fit for the Yankees. Not only does Seager hit left-handed (which would be perfect since moving LeMahieu to first would close the door on the Yankees re-signing Anthony Rizzo), but Seager put up some really impressive numbers this year as he had a slash line of .306/.394/.521. Seager is an average defensive shortstop, but a Yankees infield of LeMahieu, Torres, Seager, and Urshela would be a significant upgrade from last year both offensively and defensively. Seager won't come cheap though, as he projects to get a lengthy deal for about $30M per year in free agency this winter, and like I said, the Yankees don't have a ton of money if they are going to stay under the luxury tax threshold.
The Outfield
Even though I would love to see the Yankees make a move to replace the injury-prone Aaron Hicks in centerfield, I'm not going to get my hopes up since he has four more years on his current contract, so I'm going to slot Hicks into the Yankees lineup for the foreseeable future. I do not think that the Yankees will move off of Joey Gallo either, as his ceiling is too high to justify giving up on him this quickly, especially when he won't be all that expensive next year. Therefore, I project that the Yankees starting outfield in 2022 will be Gallo, Hicks, and Judge, which is pretty solid in my opinion.
The Lineup
If Brian Cashman made all of the moves I just described, the 2022 Yankee lineup could potentially look something like this:
1B D.J. LeMahieu (R)
SS Corey Seager (L)
RF Aaron Judge (R)
DH Giancarlo Stanton (R)
LF Joey Gallo (L)
C Buster Posey (R)
2B Gleyber Torres (R)
CF Aaron Hicks (S)
3B Gio Urshela (R)
The Rotation
The Yankees starting pitching staff really kept them afloat through the worst parts of this season, and the only starting pitcher from that staff that is not under contract next year is Corey Kluber. This means that the Yankees have Gerrit Cole, Luis Severino, Jameson Taillon, Jordan Montgomery, Nester Cortes, and Domingo German as options for the starting five. The Yankees also have some promising young pitchers such as Luis Gil, Clarke Schmidt and Deivi Garcia, so I would not say that the Yankees necessarily need more starting pitching, but if we are shooting for a World Series here, the Yankees might need to add one more arm to be truly elite. The Yankees could decide to just re-sign Corey Kluber, but I think there are more appealing options.
The two free agent starting pitchers that I could see the Yankees having interest in are Marcus Stroman and Robbie Ray. I would love to see the Yankees go over the luxury tax, sign Stroman, and then have a starting rotation of Cole, Stroman, Taillon, Severino, and Montgomery, but I'm not sure how likely that is due to budgetary constraints, so the Yankees might have to get a little creative if they want to acquire another top arm. If the Yankees were to replace Sanchez with a different catcher and sign Corey Seager, then they could package some combination of Gary Sanchez, Luke Voit, Clint Frazier, Miguel Andujar, and one of the Yankees top shortstop prospects to get a really good starting pitcher that is on their rookie contract. This could be, for example, someone like Pablo Lopez of the Marlins or Luis Castillo of the Reds. Since the Yankees would have so many talented players leftover from this year's squad with severely diminished roles in this scenario, I think it makes the most sense to package some of them together and get the starting rotation another weapon.
The Bullpen
Fortunately, the Yankees bullpen remains largely in tact in 2022, as they have Aroldis Chapman, Chad Green, Jonathan Loaisiga, Clay Holmes, Wandy Peralta, and Joely Rodriguez under contract next season. Then, if you add in some of the guys that miss out on the starting rotation like Nester Cortes, Domingo German, and Luis Gil, you have a really deep group of bullpen arms that I think is more than capable of winning a World Series. Therefore, I would not really do much to the Yankees bullpen this offseason, and I do not expect that the team's actual front office will make many changes to this group either.
The Manager
A fair amount of Yankee fans want the team to fire Aaron Boone, but according to this Tweet from Jon Heyman, it does not seem very likely.
Overall, the Yankees certainly have a lot of work to do this offseason, as I am exhausted just from writing this blog, but there are plenty of ways in which the Yankees can fix this roster, and I am hopeful that the Bronx Bombers will come back as strong as ever in 2022.