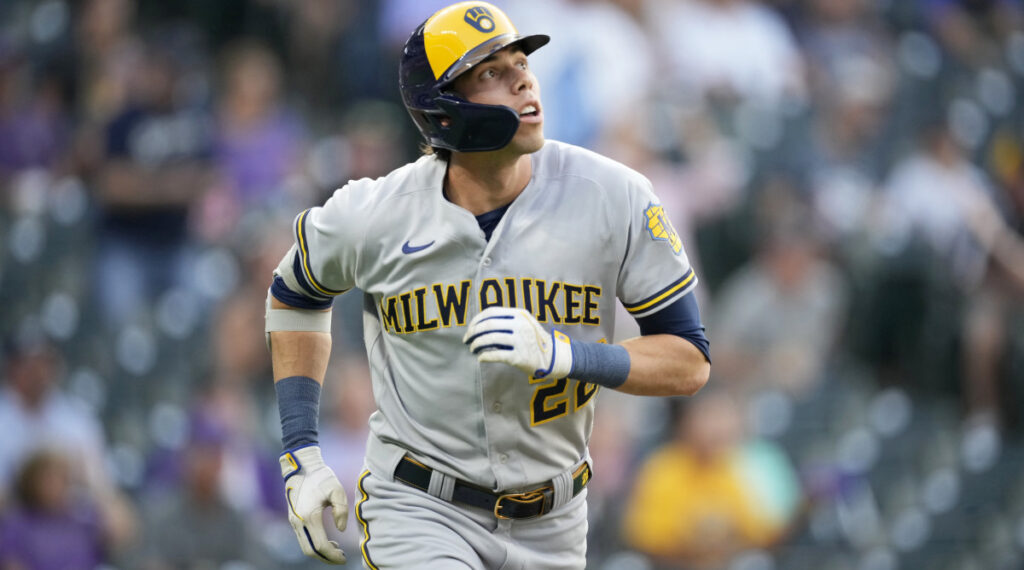 By: Ross Sutton
The Yankees have likely already made their biggest moves of the offseason by signing Aaron Judge and Carlos Rodon, but just about everyone that follows the Yankees expects them to add a left fielder and possibly make a move for a new third baseman after Josh Donaldson's offensive struggles last season. When I wrote about the Yankees offseason outlook about a month and a half ago, I predicted that Andrew Benintendi would re-sign with the Yankees, and while I was perfect with my Aaron Judge predictions in that blog, I whiffed on my Benintendi prediction, as he recently signed with the White Sox for 5 years and $75M ($15M AAV). I wish the Yankees had made that deal with Benintendi, as I thought he was perfect for what the Yankees want in a left fielder, but now that Benintendi and the other left fielders that I mentioned in that blog (Nimmo and Brantley) are no longer free agents, the Yankees might have to get creative while trying to acquire a left fielder.
Free Agent Options:
Jurickson Profar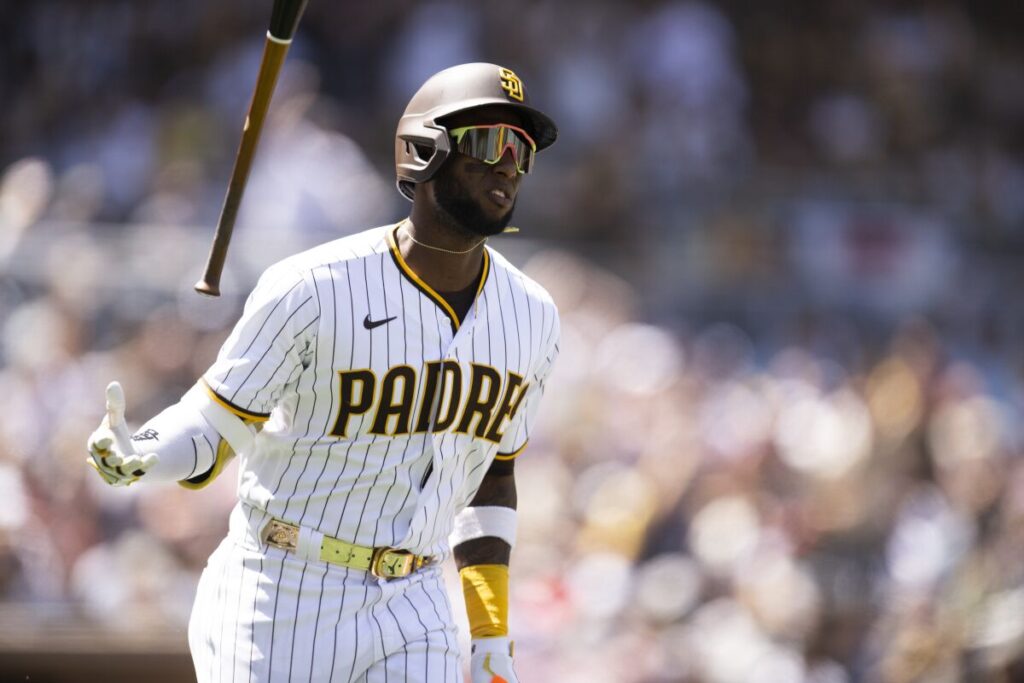 The left field options currently on the Yankees roster are Aaron Hicks and Oswaldo Cabrera, but no one really seems to believe that either of those guys have much of a chance to be the Yankees starting left fielder on Opening Day. The only two remaining free agent outfielders that I could see the Yankees bringing in to play left field are Jurickson Profar and Michael Conforto. Profar is coming off a pretty good year with the Padres, as he hit leadoff for most of the year for and finished the season with a 111 OPS+. Not only this, but Profar profiles as the kind of player that the Yankees seek to play left field, as he doesn't swing-and-miss or strike out frequently, and he also draws a lot of walks. Profar has been a versatile and athletic player over the course of his career , but as he enters his age 30 season, there might be questions as to whether he can handle playing a notoriously difficult left field at Yankee Stadium. It is hard to gauge how accurate defensive metrics are, but last season, Profar graded out well in Defensive Runs Saved (DRS) and poorly in Outs Above Average. Spotrac projects that Profar will receive a contract worth about $15M per year, and while I think that projection might be slightly high, it sounds about right and I would be okay with the Yankees signing him for a couple of years at that value. If the Yankees signed Profar, here is what I project the team's Opening Day lineup would be: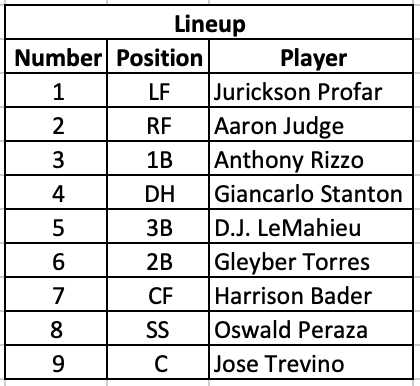 Michael Conforto
Former Mets outfielder Michael Conforto could be an interesting option too, as he has a career OPS+ of 124, and has played pretty solid defense in right field. Conforto is a hard player to evaluate right now due to the fact that he missed the entire 2022 season because of a shoulder injury, but many believe he can still be a high quality everyday player. While Conforto is more of a power hitter than Profar, he probably still fits the profile of a player that has good bat-to-ball skills that I previously mentioned the Yankees seem to want in their new left fielder. The injury risk associated with Conforto is what could possibly deter the Yankees from signing him, but I do think Conforto would be a good fit in the Yankees lineup that could use some more pop after the first four hitters. Since Conforto has not batted leadoff much in his career, I think the Yankees would have to feel pretty confident that D.J. LeMahieu will be fully healthy next year for Conforto to be a realistic option. With that being said though, Aaron Boone did recently say that he believes LeMahieu won't need surgery on his toe, so maybe D.J. will be okay to start the season. Spotrac projects that Conforto will get a one-year deal worth $20M this year, but I have a hard time believing that a team will give him that much money given his injury history. However, there is not much risk in signing a player to a one-year deal so maybe a team will be willing to roll the dice on Conforto for $20M. If the Yankees signed Conforto, I think their lineup would look something like this:
Trade Options:
Bryan Reynolds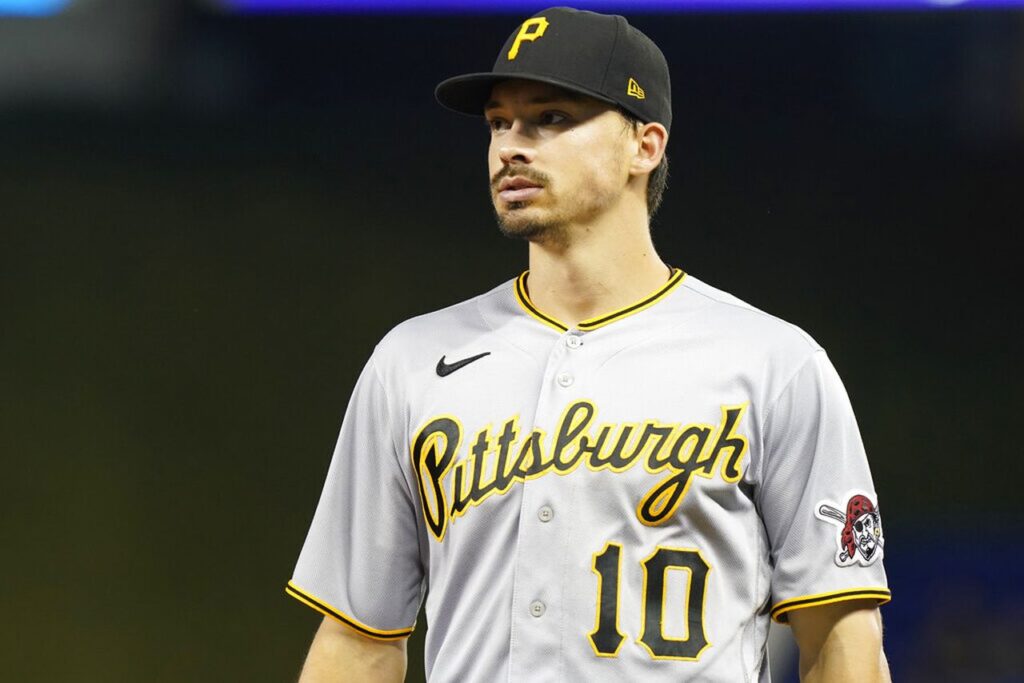 Bryan Reynolds represents the best possible option for the Yankees in left field, as he is an All-Star caliber player that is signed via arbitration for the next three years, meaning he will come relatively cheap to whichever team he is on. Reynolds is a fantastic hitter with a career OPS+ of 127 and I think his swing from the left side of the plate would translate very well in Yankee Stadium. Reynolds has primarily played centerfield in his career, but he does not grade out well defensively in terms of DRS or Outs Above Average, so maybe a move to left field would help Reynolds become a more effective defender. There is little to no question as to how valuable Reynolds would be to the Yankees, but pulling off a trade for him is probably going to be difficult, as the Pirates really like him and have stated that they have no plans to trade Reynolds even after he formally requested a trade this offseason. Using the trade values given on baseballtradevalues.com, I made a mock trade, but in order to strike a deal with the Pirates, the Yankees would likely have to part with significant prospects. Here is the trade that I mocked:

It's hard to say whether either team would actually accept this trade, but it seems pretty fair to me, as the Pirates would be getting an elite prospect in Dominguez, another good prospect in Pereira, and two solid prospects in Schmidt and Sweeney. If the Yankees made this trade, then they would have a pretty awesome Opening Day lineup: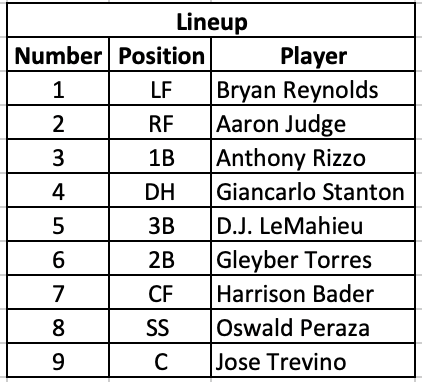 One problem with this trade is that it does not solve the Donaldson/Hicks dilemma like some of the other trades that I am going to mention do, so maybe the Yankees do not think it would be worth it, but it would certainly solve the Yankees problem in left for the next three years.
Christian Yelich
This is the one trade that I am going to mention in this blog that no one seems to be talking about, but it might be my favorite option, so I couldn't leave it out. Since winning two consecutive NL batting titles in 2018 & 2019, Christian Yelich has had three down years (by his standards), thus making his contract look pretty unpalatable for the small-market Brewers. Yelich is currently signed through the 2029 season for about $25M per year, and it is very possible that this deal could inhibit the Brewers from signing one or both of their elite starting pitchers the same way that the Orioles could not extend Manny Machado after they signed Chris Davis to a big contract. Not only might Yelich's recent play and big contract make the Brewers interested in trading him, but Milwaukee's top five prospects are all outfielders, and four of those five players are nearly ready to be called up to the majors. Therefore, I believe that the Brewers would be interested in trading Yelich, so here is the mock trade I put together that would send Yelich to the Bronx:

Even though baseballtradevalues.com thinks that this trade would be a huge win for the Brewers, I think it would be a win-win for both teams involved. For the Yankees, they get a quality player to man left field and hit lead off, they shed the contract of Josh Donaldson, and they get Mike Brosseau, who I think is a very solid player. On the Brewers side, they get a ton of salary relief, as Donaldson's contract is up after this year. Then they obtain Gleyber Torres, who has two years of arbitration remaining on his rookie contract and would slide in nicely at second base as Kolten Wong's replacement. I also think that the Brewers would be interested in acquiring more pitching depth (German and Beeter).
This trade would give the Yankees a very strong top 4 in their lineup, and it would also ensure that the Yankees have team control over all of their top 5 highest paid players (Judge, Cole, Rodon, Yelich, Stanton) through 2028, giving the Yankees an established core of players to pursue the franchise's 28th World Series.
Max Kepler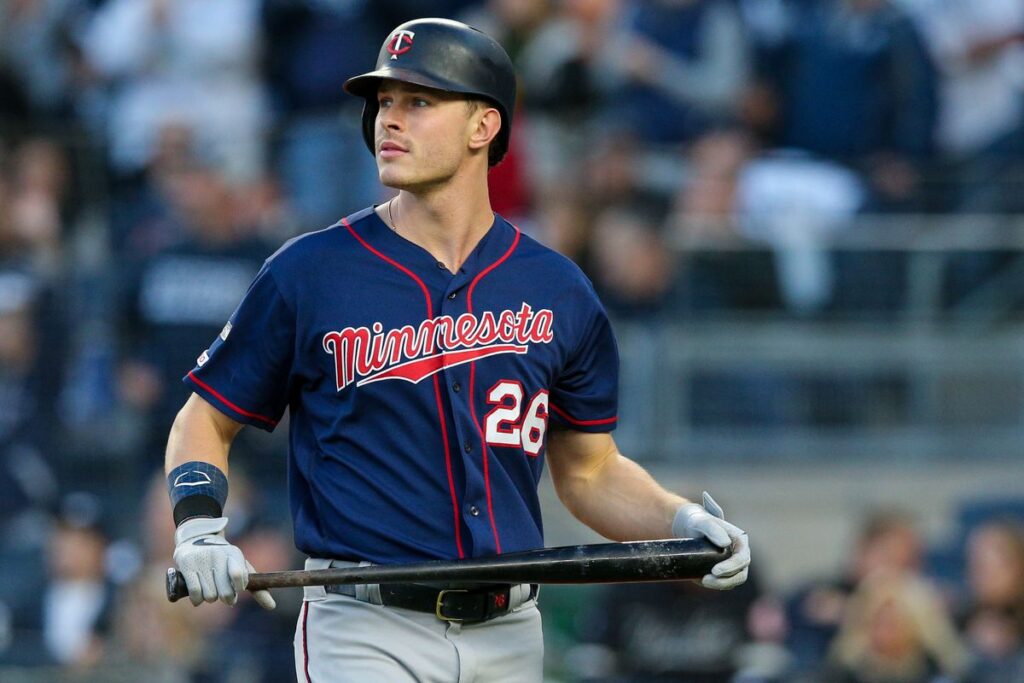 Another popular name that has been mentioned when discussing possible left field options for the Yankees is Max Kepler of the Minnesota Twins. Kepler has been a stud on defense for the Twins as a right fielder, and I see no reason why that elite defense wouldn't translate to left field. Kepler's baseball savant page suggests that he is the kind of contact hitter the Yankees seek, and with the recent signing of Joey Gallo and outfield prospects waiting in the wings, the Twins are likely willing to trade Kepler. Another thing about Kepler that I think the Yankees value is the fact that he can play center field as well. After signing Aaron Judge to a massive deal, the Yankees might not want wear out Judge by using him as their backup center fielder, so Kepler's ability to play center is likely a plus in the eyes of the Yankee front office. The Twins currently lack pitching depth, so here is the trade I put together for Max Kepler: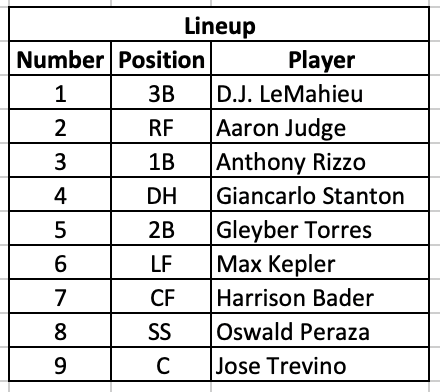 The main flaw with this trade is that Hicks and Donaldson would both remain on the Yankees, but maybe Brian Cashman can offload one of those guys in a separate trade.
Jake McCarthy
McCarthy is probably the least recognizable player I am mentioning in this blog, but there was a report recently that teams are calling the D-backs about their bevy of outfielders and Jake McCarthy is probably the most likely of the bunch to be traded, as the D-backs would probably demand a big haul for Daulton Varsho. McCarthy is super fast, a contact hitter, can play all three outfield positions, and he had a good batting average (.283) this past season. McCarthy is also young (entering his age 25 season), and very cheap in terms of payroll as he hasn't even reached his arbitration years yet. His contract situation only increases his value though, so it will likely take a decent haul to acquire him. Here is the trade I came up with: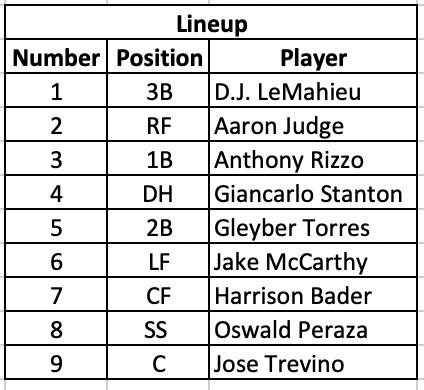 Since the Yankees would only be trading minor league players in this trade, it causes more of a roster crunch issue for the Yankees, but hopefully they would find a way to shed some other pieces to make this move. Additionally, trading for McCarthy seems like an awkward move, because if you're going to trade good pieces for a young, unproven player, then why wouldn't you just start Oswaldo in left.
Overall, I feel very confident that the Yankees will acquire one of the players I mentioned in this blog and make them the starting left fielder on Opening Day, but it will be really interesting to see what the Yankees ultimately decide to do. Trading for Bryan Reynolds feels like the most aggressive option, trading for Christian Yelich feels like the most creative option, and acquiring one of the other four players I mentioned feels like the low upside options.