By: Ross Sutton
Despite the team's good offseason to this point, just about everyone knows that the Yankees are still trying to improve in left field, as in-house options Oswaldo Cabrera and Aaron Hicks are probably better suited for bench roles. In recent days, Brian Cashman has even publicly stated that the team is actively looking to acquire another left fielder. However, there have also been numerous reports that the Yankees do not want to surpass the $293M luxury tax threshold. So the Yankees now have a difficult task on their hands: add a starting caliber left fielder while also not adding to the team's payroll. Luckily, due to some recent moves from around the league, the Yankees might have an opportunity to accomplish this daunting task.
Monday evening, the Twins acquired Michael A. Taylor from the Kansas City Royals, thus creating a bit of a logjam in the outfield for Minnesota, as they now have the following outfielders on their active roster: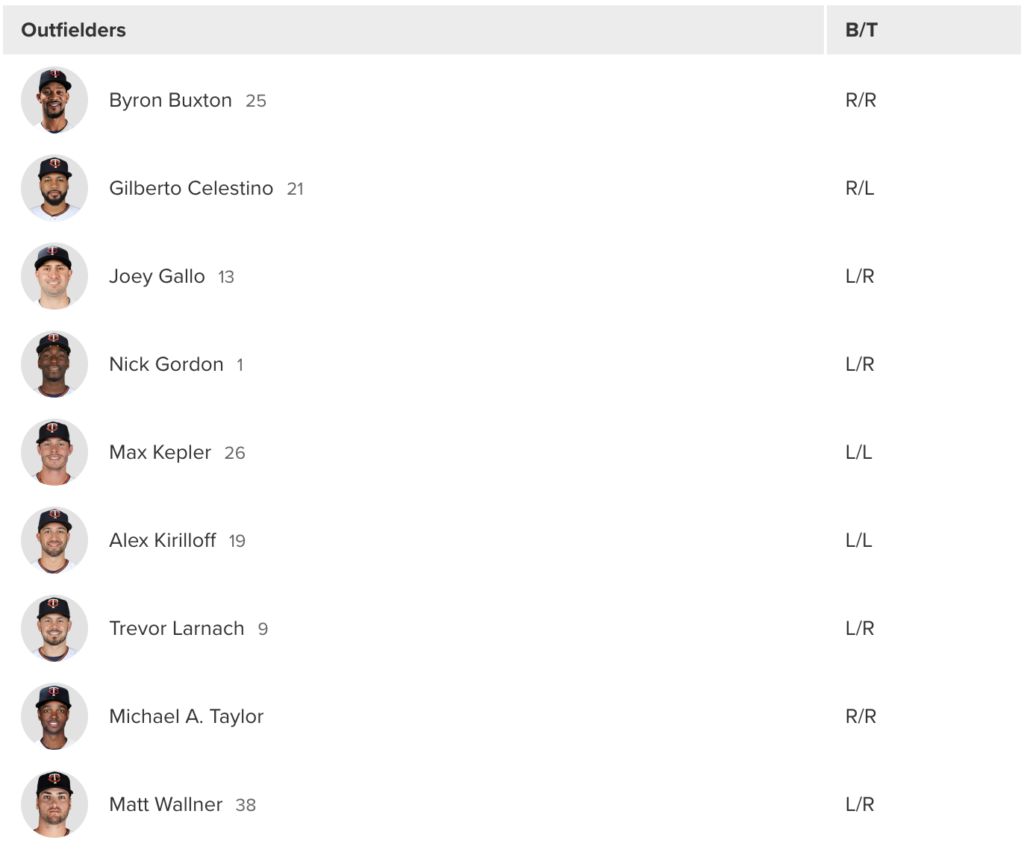 There is obviously no way that the Twins would keep nine outfielders on their Opening Day roster. Even if Kirilloff plays first instead of the outfield and they send a player or two down to the minors, there are still too many outfielders on the roster. Therefore, I think the Twins would be smart to trade one of these players. There has been some buzz this offseason that the Yankees are interested in Max Kepler, and I think he would be a great fit on the Yankees roster. I also think Nick Gordon would be a pretty good fit for the Yankees, but he is still in the early years of his rookie contract, so I think the Twins will want to hold onto him. The Twins have had a really good offseason so far, as they re-signed Carlos Correa to a long-term deal, and added to their starting rotation by trading for Pablo Lopez. However, I do think they could benefit from adding a third baseman to their roster, as their current options at third are Jose Miranda and Nick Gordon. Jose Miranda profiles as more of a DH, and Gordon has only played three games at third in his career, so there certainly seems to be a need at third for the Twins.
As anyone that follows the Yankees knows, the team has a bit of a logjam themselves, only theirs is in the infield, where players like D.J. LeMahieu, Josh Donaldson, Gleyber Torres, Oswald Peraza, Oswaldo Cabrera, and Isaiah Kiner-Falefa will be fighting for playing time at second, short, and third. The Twins outfield depth and the Yankees infield depth make the two teams perfect trade partners, but what kind of trade might be acceptable to both teams? Despite a disappointing offensive season from Josh Donaldson in 2022, I think he would be a really good fit for the Twins, and the team knows he can succeed in Minnesota, as he had a 128 OPS+ in 2020 and 2021 as the Twins starting third baseman. Despite the poor offensive numbers as a Yankee in 2022, Donaldson played a nearly perfect third base last year, as he was one of the best defensive third baseman in the league in terms of Outs Above Average.
The least appealing aspect of trading for Josh Donaldson is his contract, as he is owed $21M this season, with an $8M buyout for 2024 if his team does not exercise their part of the $6M mutual option. Therefore, I think the Yankees should offer to pay up to $12.5M of Donaldson's '22 salary. If the Yankees paid up to $12.5M of Donaldson's salary in a Kepler trade, then when you add in the $8.5M of Kepler salary for this season, the Yankees do not add to their payroll. The Yankees might also have to give the Twins a few mid-level prospects in this deal to make it more appealing for the Twins, but I actually believe the Twins would/should be interested in trading Kepler for Donaldson if the Yankees offer to pay a significant portion of Donaldson's salary. This would allow the Twins to move newly acquired Joey Gallo to right field where he has previously won a Gold Glove, and Nick Gordon to left field, where he played most of his games last year. Then in the infield, the Twins could start Donaldson at third, Correa at short, Polanco at second, Kirilloff at first, and Miranda at DH. Even if Donaldson doesn't quite bounce back offensively, this trade would make the Twins a much more well-rounded team in my opinion, as I think the Twins would rather play Donaldson at third and Gordon in left than Gordon or Miranda at third and Gallo in left. This would also make the Yankees roster more well-rounded, as they could start Kepler in left, and then make D.J. LeMahieu the regular starting third baseman with Oswaldo Cabrera backing him up and Hicks as the team's fourth outfielder. I think this hypothetical trade makes a ton of sense for both teams, as neither team would have to add to their payroll, and both teams would be trading a player from a position of depth in exchange for a player from a position of need.