By: Andrew Hubschman
Manager Aaron Boone finalized his Opening Day starting rotation – and yes Gerrit Cole is scheduled to pitch twice before first-year addition Jameson Taillon, but more on that shortly. Overall, Yankee fans should be excited to see this five-man rotation get to work:
1. Gerrit Cole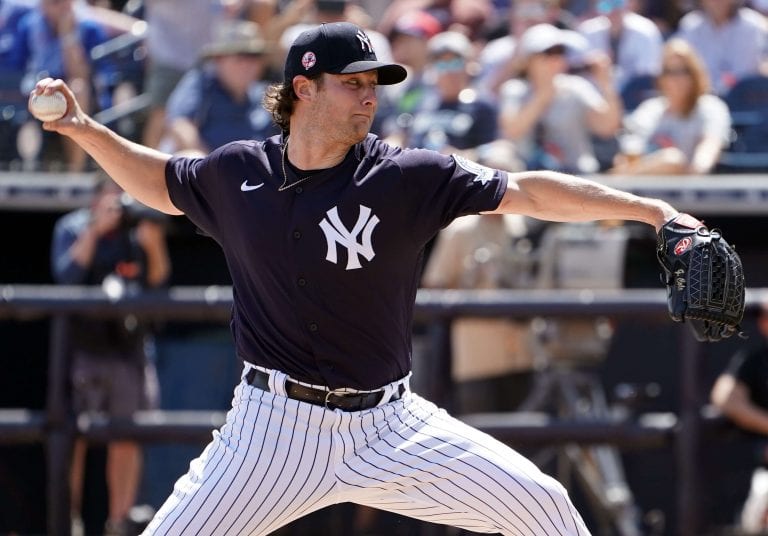 First and foremost, Gerrit Cole will open up the Yankees' 121st season in franchise history against the Blue Jays at Yankee Stadium on Thursday, April 1st. Cole had a shaky start to his spring training, but also provided a strong finish. In five starts, he finished 3-0 with a 2.45 ERA. In 18 1/3 innings of work, he gave up five earned runs (3 in his last 14 1/3), 15 hits, three walks, and three home runs; he struck out 24 batters in the process.
Coming off five days of rest heading into his first full season as a Yankee, Cole is looking to pick up where he left off in spring training and live up to his nine-year deal he signed 15 months ago.
2. Corey Kluber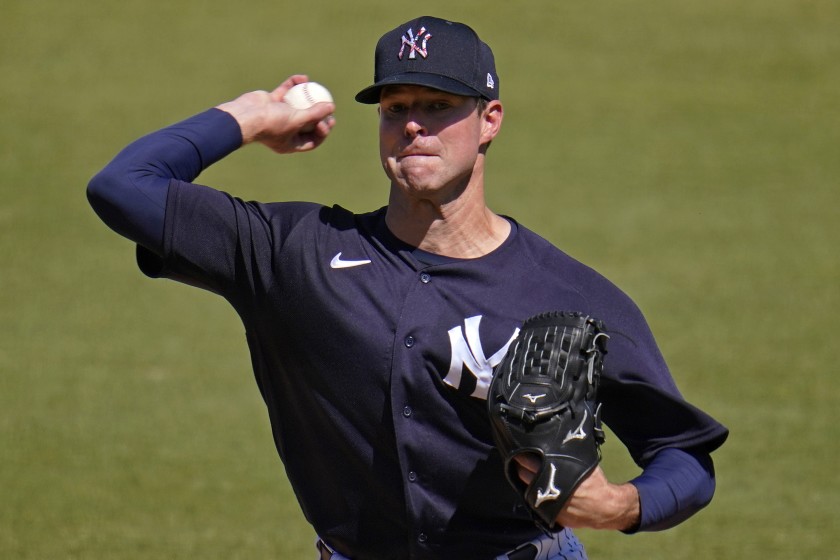 A former postseason foe turned ally, Kluber is looking to get back on track following a shortened two-year stretch in which he made just eight appearances on the mound. Following his final spring start this afternoon, he finished 1-1 with a 2.77 ERA in and gave up 10 hits, five runs (four earned), one home run, three hit by pitches, and seven walks in 13 innings pitched; he also struck out 14 batters.
Kluber credits his signature curveball for his strikeout total, a pitch that has fooled many opponents throughout his career. One concern, however, is his four-seam fastball which topped at 92.8 MPH during the spring; his average speed has been on a downward trend since his first Cy Young season in 2014 but Kluber is not worried, reasoning that he often comes slowly out of the gate but then finds his "sweet spot" down the stretch.
Kluber, 34, will start in Game 2 against Toronto on Saturday. Expect to see the 11th year veteran have a quality season in a much-needed bounce-back year.
3. Domingo German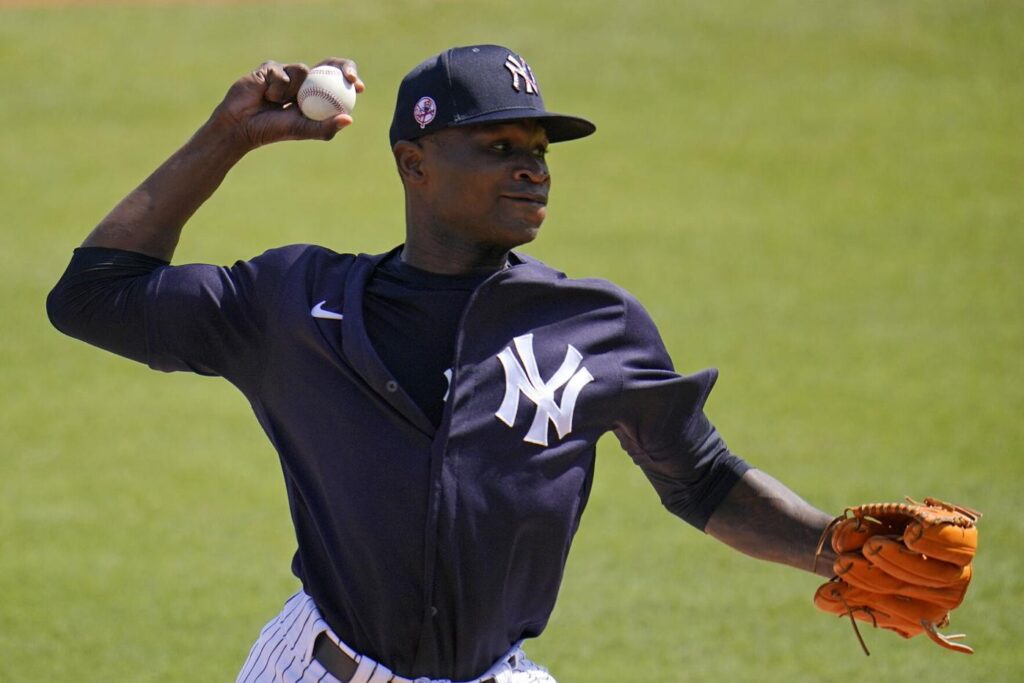 After showing great potential in his shortened 18-win 2019 campaign, German is looking to regain trust in his teammates following his domestic violence incident involving his then-girlfriend now-wife. While though it may be easy for some of his teammates to forgive and difficult for others (cough, cough Zack Britton), German showed some promise of a comeback season.
In just three games (all starts), German allowed just five hits and one walk in nine scoreless innings – despite not earning a decision in any game; he struck out 13 batters in the process. Whether you forgive him or not, we can all hope he shows that he has matured both as a player and person and that he never again become a distraction to our championship dream.
The fourth year right-hander will pitch tomorrow in the Yanks' spring training finale against the Tigers, and then will have five days of rest before starting the third and final game against the Blue Jays on Sunday.
4. Jordan Montgomery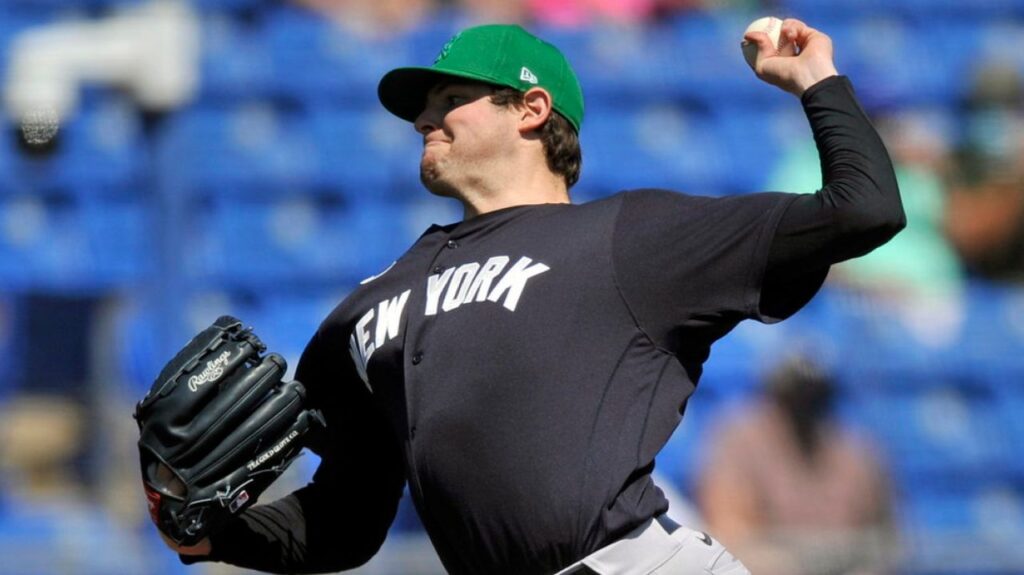 As the lone southpaw in the Yankee rotation, Jordan "Gumby" Montgomery will be given the chance to rebound off of a shaky 2020 campaign in which he posted a 2-3 with a 5.11 ERA in ten starts, allowing 25 earned runs in 44 innings pitched.
Montgomery attempted to turn the tide with a solid spring training, earning a win in each of his three starts and posting an overall ERA of 0.90. In ten innings pitched, he gave up one run on four hits; hit one batter while walking three; and struck out seven opponents.
Having rested since the day after his March 17th outing against Toronto, Montgomery will start on Monday, April 5th in the series opener against the Orioles at Yankee Stadium, hoping to prove to everyone why he is well-deserving of his return to the rotation.
5. Jameson Taillon
Rounding off the Yanks' starting rotation is Jameson Taillon – but not before Cole returns the mound against the Orioles on Tuesday, April 6th. Upon presenting his final draft to the media, Boone reasoned that Taillon would benefit with more rest time due to recovering from Tommy John surgery that sat him out the entire 2020 season.
"That's just the order I wanted to do it in frankly," Boone said. "With Jamo, it gives us an opportunity to slow play Jamo a little bit. We feel like he's in such a good spot physically, but with the off days that we have in April, we just want to be mindful of building these guys up properly."
Taillon had a dominant spring, appearing in four games while starting three. He finished 1-1 with a 1.08 ERA (his only run came in the Yanks' 4-0 loss to the Phillies) and gave up nine hits, four walks, and struck out 14. Taillon will start the team's series finale against Baltimore the next day.
Final Thoughts:
Although this was the expected outcome by most fans, we should all be excited to see what these guys have to offer this season and possibly beyond. Sure, Paxton and Tanaka are greatly missed – as well as Luis Severino's presense – but this upgraded rotation staff will be ready to prove themselves as a true force not to be reckoned with.